Laser Resurfacing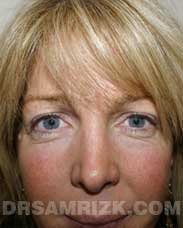 Before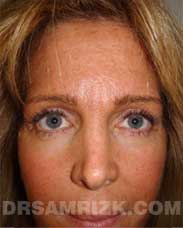 After
45 yo female who has bags and wrinkles under her eyes and redundant upper eyelid skin. Patient underwent upper and lower blepharoplasty and lower eyelid fractionated CO2 laser resurfacing. Patient is shown 1 year after surgery. It is important to note an eyelift (blepharoplasty) does not reduce wrinkles around the eye and this is where the role of laser is to reduce the wrinkles. An eyelift removes redundant skin and reduces excess fat.
*Results may vary.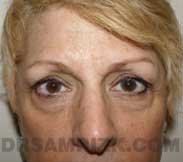 Before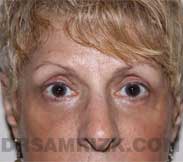 After
56 year old patient who underwent upper blepharoplasty and lower transconjunctival blepharoplasty with external skin resurfacing with fraxel_co2 laser. Note patient is shown early in postoperative period and is still slightly swollen. The lower lid incision was inside eyelid, avoiding an external incision. Additionally, very conservative fat removal with laser was done in lower lid to avoid the hollow look. Some fat from the lower lid was redraped into the line below the baggy area to prevent that older hollow look. The laser addresses the wrinkled poor quality skin which cannot be improved with a regular skin-removal blepharoplasty alone. Also by avoiding excision of lower eyelid skin, you avoid a malpositioning (lowering) of the lower lid.
*Results may vary.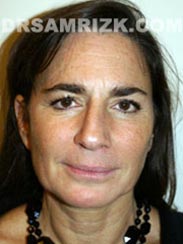 Before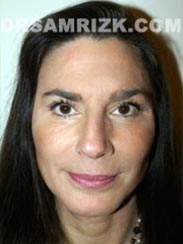 After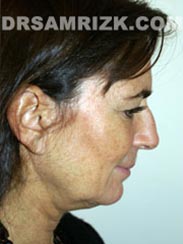 Before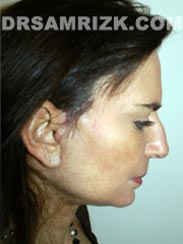 After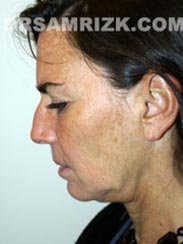 Before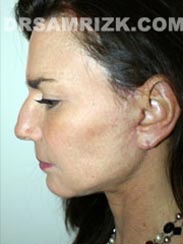 After
50 year old female wanted facial rejuvenation. Patient underwent a facelift/necklift as well as upper and lower eyelift, endoscopic partial browlift and fraxel-co2 laser full face. Patient is shown post surgery at 6 weeks. There is still some residual swelling but note definition achieved in jawline and cheek region.
*Results may vary.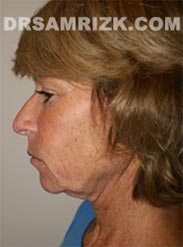 Before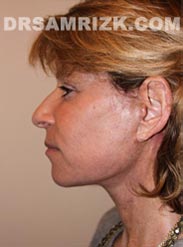 After
50 year old female with history of sun damage and would like a more defined jawline and neck. Patient is shown 3 weeks after lower facelift/necklift with a smaller incision and full face fraxel-co2 laser. Note the neck definition and invisible small scar inside ear. The neck was further defined using the 3 dimentional high definition telescope technology which increases visualization, safety and expedites recovery.
*Results may vary.
Disclaimer: The images viewed on this page are actual patients of Dr. Rizk who have given consent to show their images on this website. Dr. Rizk respects the privacy of his patients and has blocked the eyes to conceal some of his patient's identities.