Stem Cell Fat Grafting
Individual results and healing process varies depending on skin thickness, other factors, and in revision surgery, amount of scar tissue.
Before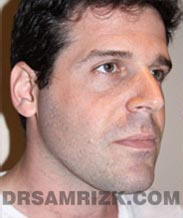 After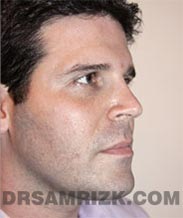 35 yo male who requested a more youthful cheek and forehead. Patient underwent stem cell autogenous fat transfer (fat grafting) from the abdominal fat into the temple and cheek area. Note the hollowing in the cheek/eye area is much improved as well as the sinking of the sides of forehead. This technique with stem cell fat grafting has a rejuvenating effect which is more than just volume. The stem cell regenerate the youthful glow and youthful look to the cheeks and the skin of the face.
*Results may vary.
Disclaimer: The images viewed on this page are actual patients of Dr. Rizk who have given consent to show their images on this website. Dr. Rizk respects the privacy of his patients and has blocked the eyes to conceal some of his patient's identities.