Voted by peers to New York Magazine's 2013 Top Doctors -
Facial Plastic Surgery; Rhinoplasty Revision; and Nasal Surgery.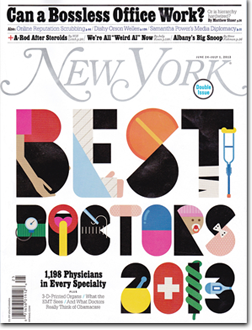 Facial Rejuvenation Using Platelet-rich Plasma (PRP)
Over the last several years there has been much excitement surrounding applications of platelet-rich plasma (PRP) in aesthetic medicine, including facial rejuvenation. Increasing the number of platelets and growth factors in the blood can have regenerative effects on the skin, slowing or reversing the signs of aging. Some facial plastic surgeons, including Dr. Rizk, use PRP treatments in areas where dermal fillers, neurotoxins and lasers aren't always effective, including around the eyes and mouth.
Stem Cells in PRP
Our bodies naturally produce stem cells that help us heal by stimulating the growth of collagen, as well as blood vessels that deliver oxygen to bodily tissues. Platelets and growth factors found in the blood stimulate stem cells, and platelet-rich plasma (PRP) contains three to five times as many of these substances as normal blood. PRP has been used for years to heal wounds and for other purposes. Today, PRP therapies are also available for facial rejuvenation and other areas of aesthetic medicine. Research suggests that PRP therapies may eventually be able to treat everything from fine lines and wrinkles to acne scarring and rosacea.
PRP Treatment for the Periocular (eyes) and Perioral (mouth) Areas
Dr. Rizk uses platelet-rich plasma therapies to treat the areas around the eyes and mouth. PRP injections may be effective in delicate areas such as the tear trough, adding plumpness and improving skin texture. They can also be used to treat crow's feet. Platelet-rich plasma is also contained in filler products used to treat deep or fine lines and wrinkles in the perioral area — the area around the mouth.
It should be noted that the effects may be short-lived in some cases. And as with any medical treatment, there is always a chance of side effects with PRP facial rejuvenation.
Contact Dr. Rizk for more information on platelet-rich plasma (PRP) for facial rejuvenation.
Platelet-rich Plasma (PRP) Q & A
What is the latest in facial rejuvenation in the USA?
Injections involving platelet-rich plasma (PRP) are the latest wave in facial rejuvenation. Facial rejuvenation with PRP is also known as PRP facial rejuvenation, blood facelift and Blood PRP Lift. PRP is blood that contains higher concentrations of platelets and growth factors than normal blood. These substances stimulate stem cells to produce collagen and blood vessels, in turn slowing or reversing the signs of aging.
How is it done?
A patient's blood (about 20cc) is placed in a centrifuge and spun in order to separate the blood from the growth factors, platelets and stem cells. This rejuvenative mixture is then micro-injected in areas of the face where signs of aging have appeared, such as the areas surrounding the eyes, cheeks, mouth and forehead.
How is it different from fat transfer?
The regenerative cells in PRP are different from the ones in the fat used in fat transfer procedures. Also, fat transfer has a more "volumizing" effect than the regenerative cells in PRP. However, the two can be combined for a more comprehensive procedure.
Can PRP facial rejuvenation be done both alone and with other procedures?
Yes. If done alone it can be performed under local anesthesia or sedation. But in many cases, PRP facial rejuvenation is performed with a lower facelift, jowl lift, necklift, or eyelift and browlift surgery. It can also be combined with fat transfer for a more volumizing effect, and with laser resurfacing.
How long is recovery?
Minor bruising or swelling will last about a week if the procedure is performed alone. Most patients look presentable and return to work in 2-3 days. If it is performed in conjunction with laser treatment, recovery will last about a week. If PRP facial rejuvenation is performed with fat transfer, the recovery is about a week.
How long do the rejuvenative effects last?
All cosmetic filler injections require maintenance, including PRP facial rejuvenation.This is a new procedure that is still under investigation, so at present we do not know for certain how long the rejuvenative effects last. But a good estimate is nine to 24 months.
Does PRP have other uses also?
Yes, for years it has been used successfully in orthopedic medicine to regenerate lost cartilage in various joints, particularly the shoulder and knee joints. PRP also has been used in injured muscles to repair the muscle tissue.
Who is an ideal candidate for PRP?
Because PRP facial rejuvenation is a minimally invasive procedure, most adults with signs of aging are good candidates. The fact that it is less invasive makes it an attractive option for elderly patients, since the incisions made in facelift and other invasive facial procedures take longer to heal in older patients. However, it should be noted that PRP injections do have their limits; they cannot make an elderly patient look 25 years old.
How many treatments are needed?
It's difficult to know because the procedure is so new, but "maintenance" treatments are required. Results should last nine to 24 months, depending on the patient's anatomy and individual circumstances.
What facial features benefit from PRP?
All areas of the face, including the eyes, cheeks, mouth and forehead, can benefit from PRP injections.
Can it really get rid of wrinkles?
Yes, though it's unclear exactly how long the results last, it can be an effective way to reduce wrinkles, especially when combined with fillers.
What's the difference between Selphyl, Blood PRP Lift and traditional fillers like Juvederm and Restylane?
The Blood PRP Lift uses a Selphyl PRP product to restore collagen and blood flow to tissues for regenerative purposes. It may take longer to see results from PRP injections, but the results may last longer. Juvederm and Restylane are hyaluronic acid fillers that have immediate results; but the results most likely do not last as long as results from the Blood PRP Lift and other PRP-related procedures.
Is PRP combined with fat transfer effective?
Yes, because fat transfer has a more volumizing effect, it is a great complement to PRP injections.
How much does PRP facial rejuvenation cost?
Cost varies based on where you live and how many areas of the face are injected with the PRP product. It also depends on the practitioner. To minimize complications and maximize the benefit, it is very important that you choose a facial plastic surgeon with extensive experience. It is also important to note that not all PRP injections are alike; they can vary widely depending on individual factors, and the cost varies accordingly. Dr. Rizk's fees start at $7,000 and go on up depending on which areas of the face are being treated.
Are PRP injections safe?
PRP facial injections are minimally invasive and very safe. There are no scars, few side effects and allergic reactions are rare.
Can PRP injections replace facelift?
No, the facelift procedure is far more extensive, and results last longer. However, because PRP injections are much less invasive, they may be better for many patients — especially those requiring a less dramatic transformation. These injections also involve far less healing time.
Does PRP have any side effects?
All procedures have potential side effects, and PRP injections are no exception. The procedure is very new, so it's possible that there are longer-term side effects we don't know about. Common effects of all injected facial fillers include minor itching and irritation, mild swelling, and bruising.