Chrissy Teigen Speaks Openly About Facial Plastic Surgery
Posted by Dr. Sam Rizk January, 01/05/2022 - 10:28 PM
Obsessed over by the media, Chrissy Teigen, The New York Times Best Selling author of Cravings, openly shared her most recent facial cosmetic surgery – removal of her buccal fat pads. Performed by Dr. Diamond, the procedure is typically offered to patients with round faces who feel that their cheeks are too large.
Dr. Rizk explains that these fat pads are located within the cheek area, surrounded by other tissues and muscles. The surgeon typically removes about half of the fat in each pad and as a result, the area under the cheekbones looks slimmer and Chrissy's jawline looks sharper.
Chrissy, the wife of multiple award-winning artist, John Legend, had also admitted that she barely wears make-up following an eyebrow transplant procedure. A surgeon used the NeoGraft device to extract hair follicles from the back of her head (the donor area) and transplant into the eyebrow area (the recipient area), giving her brows a fuller look, naturally.
Renewed Self-Confidence
"Facial plastic surgery is a form of artistry that requires clear direction from the patient and an exceptional eye for detail and surgical precision", reflects Dr. Rizk, a double board-certified plastic surgeon. With this in mind, he approaches each unique patient with the intent to have a clear understanding of their desired look to ensure the best outcome.
Celebrities also suffer from insecurities which can be exacerbated by  the constant criticism that they face in the media spotlight. Their facial features and body are looked at through the harsh judgments of social media and gossip sites, and many shame celebrities for even the slightest imperfections.
Dr. Sam Rizk is often visited by celebrities who wish to maintain their privacy and look for ways to enhance their appearance while maintaining a natural, well-balanced look.  
Plastic Surgery Is Beneficial
If you are interested to learn more about buccal fat pad removal and other techniques to rejuvenate the cheek and jawline areas, schedule an appointment with Dr. Rizk. Contact his Park Avenue office at (212) 452-3362 to schedule your self-esteem-boosting consultation.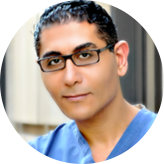 By Dr. Sam S. Rizk, M.D., FACS.
Dr. Rizk is a double board-certified facial plastic surgeon who specializes in rhinoplasty surgery and a recognized expert on the latest advances in facial plastic surgery techniques. He performs a range of facial plastic surgeries at his New York practice.