Young Entrepreneur Undergoes Plastic Surgery to Look Like Chinese Billionaire Jack Ma
Posted by Dr. Sam Rizk February, 02/17/2017 - 05:54 PM
The founder of the Internet colossus Alibaba Group, Jack Ma, is one of the most famous people in China. Sadly, he isn't usually admired for his looks, which is why the following story is so strange. It seems that one man is so obsessed with Ma's looks that he has spent a king's ransom on plastic surgery in order to look like the famous entrepreneur.
Hailing from Shenzhen, the man, Huang Jian, says he has spent about $150,000 on cosmetic surgery in his quest to resemble Ma. According to Jian, he has undertaken this process in the hope that he will be able to meet Ma someday.
At least one Chinese publication reports that Jian doesn't look just like Ma yet, but he is on his way, with some similarities already apparent.
Other People That Have Had Plastic Surgery To Look Like Someone Else
As odd as Huang's quest may seem, he is not alone in obsessing over someone's (or thing's) looks to the point of pursuing facial cosmetic surgery. Here are just a few other extreme examples (there are many others) of people who have had plastic surgery to look like someone else.
Michelangelo's David. A Japanese man named Alan has decided he wants to look like Michelangelo's David, and he's willing to go to extremes to achieve this goal. He says he was teased growing up because of his effeminate features, and as a result he wants to permanently alter them. Why David? According to Alan, he wants to look "foreign," with an "ageless face." Apparently looking like Michelangelo's masterpiece is the way to achieve this.
The Human Ken Doll. Another man has gleaned quite a bit of attention for his obsession with Barbie's main squeeze, Ken. Originally from Brazil and now living in England, the Human Ken Doll has had some 20 plastic surgery procedures in order to resemble his favorite doll, including three rhinoplasties, jaw liposuction, pectoral implants, calf shaping, and abdominal etching to achieve six-pack abs. He also has Botox injections a couple of times a year.
Jennifer Lawrence Super-fan. Lots of people appreciate the acting abilities of Jennifer Lawrence, but few as much as a super-fan named Kitty. A dog trainer by trade and mother of a young daughter, like our other examples Kitty has gone to great lengths to look like the object of her obsession. To achieve her goal, Kitty set out on a month-long cosmetic surgery journey back in 2014, having rhinoplasty, breast augmentation, liposuction (face and body), and fat grafting to the cheeks.
Aspiring Drag Queen. The aptly named Collagen Westwood, 21, has been an admirer of drag queens since she was a child. Now she is on a mission to resemble one. The London resident says she was bullied as a little girl and has wanted to alter her looks ever since. Westwood, who is a singer, claims she grew up in the presence of drag queens and idolized them. These days, she not only dresses like a drag queen when hitting the town but also forks over as much money as it takes to look like one on facial plastic surgery and collagen injections. Westwood says she still plans on having breast implants and even wants to have some ribs removed so that she is able to don tighter corsets.
Dr. Sam Rizk's Observations
When a person goes too far with facial plastic surgery — especially when they go so far as to try to look like someone else — there can be serious physical and mental repercussions. Many of the procedures undergone by the people discussed above can be dangerous because they entail unnatural changes to important structures and tissues.
Dr. Sam Rizk strongly believes that facial plastic surgery should be done to look your best you, not your best someone else. This is why he will not perform surgery on anyone that demonstrates a desire for dramatic alterations.
A good candidate for facial plastic surgery is one that wants subtle changes, so if you are trying to resemble another person (or doll!), you most likely are not a good candidate for facial plastic surgery.
To learn more about facial plastic surgery and setting proper expectations, please contact the office of Dr. Sam Rizk today.
Related Blog Posts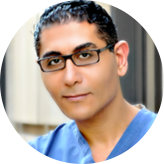 By Dr. Sam S. Rizk, M.D., FACS.
Dr. Rizk is a double board-certified facial plastic surgeon who specializes in rhinoplasty surgery and a recognized expert on the latest advances in facial plastic surgery techniques. He performs a range of facial plastic surgeries at his New York practice.