Meet The New Fillers On The Block
Posted by Dr. Sam Rizk March, 03/30/2017 - 05:05 PM
New soft tissue fillers are being approved at a rapid pace, and for each new entry, there are likely three more fillers in the pipeline waiting for the US Food and Drug Administration's coveted nod.
Most of the newbies are hyaluronic acid-based (HA) fillers. HA, also a popular skin care ingredient, is found naturally in every tissue of our body. Our natural HA stores dwindle as we age. These fillers seek to replace our natural supply, and undo some of the effects of advancing age (namely wrinkles and folds.)
And youth seekers can't get enough of them. Hyaluronic acid based injections were the second most popular procedure requested by men and women of all ages in 2016, according to statistics from the American Academy of Facial Plastic and Reconstructive Surgery.
The First Families of Fillers
There are several HA filler families available in the US, and each member has nuances and subtleties that sets them apart from their relatives. Some of the newer crop is considered designer or site-specific fillers. For example, Allergan's Juvederm Voluma is approved for use in the mid face or cheeks, while sister product Juvederm Volbella is for lip plumping. The latest, Juvederm Vollure XC, corrects moderate to severe facial wrinkles and folds, such as nasolabial folds, in adults older than 22, and lasts up to 18 months, which is significantly longer than other HA fillers. The originals — Juvederm XC, Juverderm Ultra XC — also smooth lines and folds. (XC means there is a small amount of lidocaine mixed with in to numb the area.)There are other Juvederm fillers available outside of the US that may also come to our shores in the not-to-distant future.
Another first family of fillers, Galderma's Restylane, also comprises a host of injectables aimed at specific parts of the face. The latest Restylane Refyne and Restylane Defyne are approved for smile lines, and flex whe you smile and laugh for a more natural rejuvenation effect. This is due to XpresHAn Technology (pronounced ex-ˈspre-shən). Restylane Refyne and Defyne have been used in Europe under the name Emervel since 2010. Defyne goes deeper than Refyne. The results of these two newbies last can last up to 12 months. Restylane Silk is specifically for lip augmentation and the smoothing of the lipstick lines
around the mouth, and Restylane Lyft is approved for cheek augmentation. Restylane and Restylane-L (Restylane with lidocaine to reduce the need for separate shot of anesthetic) correct moderate to severe facial wrinkles and folds.
The Belotero family of HA fillers currently includes Belotero Balance, which is FDA-approved to temporarily smooth out and fill in moderate to severe laugh lines. There are a host of other Belotero products in use through Europe that will likely come to the US in the not too distant future, creating a third strong family of injectables.
Dr. Rizk's Observations:
Hyaluronic acid fillers are excellent FDA approved choices that are suitable for almost all patients. I now have many more options for patients who are interested in non-surgical facial rejuvenation so that I can meet everyone's individual expectations. I liken it to crayons. When Crayola first introduced their crayons in 1903, there were eight colors – and this was good. Now, however, there are literally hundreds of hues. Instead of blue, a young artist can chose periwinkle, cornflower or midnight when coloring a sky. In facial aesthetics, having more choices allow us to mix and match the right fillers with the right patient for the right facial zone to achieve a fully customized approach to facial rejuvenation. There is no one-size-fits-all filler or cocktail of fillers anymore. Choosing a board certified facial plastic surgeon who has extensive experience with all types of injectables is the best way to maximize your results and satisfaction.
Related Blog Posts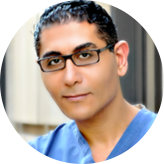 By Dr. Sam S. Rizk, M.D., FACS.
Dr. Rizk is a double board-certified facial plastic surgeon who specializes in rhinoplasty surgery and a recognized expert on the latest advances in facial plastic surgery techniques. He performs a range of facial plastic surgeries at his New York practice.