GLOBAL FACIAL REJUVENATION
Posted by Dr. Sam Rizk December, 12/07/2017 - 03:17 PM
Picture a glossy, plump mouth – and then, a slow smile. Instead of revealing the pearly whites you were expecting, the smile gives way to discolored, cracked and uneven teeth. You gasp and quickly look away. An unhealthy smile can mar even the most beautiful facial plastic surgery results. This is why cosmetic dentistry and aesthetic facial surgery go hand in hand. Diminishing fat and collagen stores are responsible for facial aging, but not in isolation. Facial aging also occurs when teeth wear down and the jaw recedes and there is bone loss over time. Addressing some signs of aging but not others can lead to poor cosmetic outcomes.
Dr. Rizk's observations:
"Dental rockstar Dr. Michael Apa and I have done many combined procedures for patients consisting of a surgical lip lift with cosmetic dentistry. Since most patients today want to be able to have treatments done in one stage to avoid additional downtime, this is a great benefit for those who want to get back to their social lives quickly, without having to come back and do things separately.
By studying each patient's face and analyzing the strengths and weaknesses, I try to recommend an optimal treatment plan that will make the biggest improvement in the least invasive way. I always stress the importance of a shorter lip-nose distance which elongates with age. This can age women in their 40s and 50s and beyond, and it is all too often addressed just with overfilling the top lip, which does not look natural.
Osteoporosis in the jaw bone and decaying teeth significantly age a person. When nose-to-mouth creases are present, either minimally-invasive treatment with dermal fillers or a mini-facelift procedure may be appropriate, but only after dental work has restored the patient's teeth and improved their mouth.
If a patient has receding or weak teeth, I will often refer them to Dr Apa prior to performing my signature lip lift with  hyaluronic acid fillers. The combination of world class porcelain veneers with additional lip work is a win-win for patients.
Dr. Apa and I work well together because we share a similar aesthetic, and he also has very high standards for long-lasting, natural-looking results and after care. I have consistently been impressed with the quality of results I have seen him achieve in patients. If you are concerned about your teeth and the health of your smile, ask your facial plastic surgeon if he or she routinely works with a cosmetic dentist. It's a good idea to seek an evaluation before booking your facial rejuvenation surgery so that all procedures are well-timed and your results will be harmonious.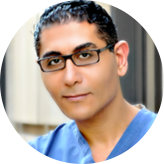 By Dr. Sam S. Rizk, M.D., FACS.
Dr. Rizk is a double board-certified facial plastic surgeon who specializes in rhinoplasty surgery and a recognized expert on the latest advances in facial plastic surgery techniques. He performs a range of facial plastic surgeries at his New York practice.