3 Nose Care Tips After Rhinoplasty Surgery
Posted by Dr. Sam Rizk October, 10/21/2020 - 03:13 PM
Dr. Rizk shares some of his best advice, when it comes to quick recovery and optimal results following a nose surgery. The success of your rhinoplasty procedure lies with both the surgeon and the patient. The best doctor in the world could perform the surgery, but how the patient approaches their recovery journey can greatly affect the final outcome.
Listen to your surgeon and nurses
Advice from friends and family is well-intentioned, but no two people or surgeries are the same, and everyone heals differently. The most important advice and recommendations following your surgery will come from your facial plastic surgeon and his medical team, who will give your specific instructions on how to best look after yourself and help with your recovery time and quality.
Along with supplements and medications to take and care advice to heed, they may also require you to use a special spray to gently wash the inside of your nose, and apply ointment to sutures. Following all of these care requirements and recommendations will ensure you have a quick and easy recovery.
Rest and let your body heal
After a rhinoplasty, it is crucial to take time to rest and recover – some patients even need 10-14 days of rest or low activity before you start to feel better. You will need to sleep in a reclined position for approximately a week after surgery in order to reduce and prevent swelling in the nose and highly recommended you refrain from plane travel for 14 days in order to avoid the possibility of sinus blockage.
Short walks during the day are permitted, but any exercise or high levels of activity that raise your blood pressure and heartbeat should be avoided for at least three weeks.
Care for the outside and inside of your body
Did you know – your diet plays a large part in how well you heal. Plenty of water, fruits, vegetables, fiber, protein, and vitamins stimulate an optimal healing environment in the body. However, don't forget a small treat either. You have just had surgery after all! For patients who smoke, we recommend stopping smoking for at least two weeks after surgery, as smoking delays the healing process. Take your prescribed medications on time and with regularity – it is easier to prevent pain than control it.
For the outside, avoid the sun for up to 60 days and use sunblock (at least SPF15+) to protect your nose. In the first few days after surgery when swelling is at its peak, you may gently ice your nose with frozen peas, crushed ice in a zip-lock bag, or other specialist ice pack for 10 minutes at a time. Do not blow your nose for 7-10 days after surgery, and if you need to sneeze, aim to do so with your mouth open to reduce the strain on your nose.
And last but not least – it takes time for your nose to settle into its new position, often six to eight weeks or more. Seeing a prominent part of your face swollen and bruised, and covered in bandages can be a shock! Remember to be patient, be kind to yourself, and take the advice of your surgeon.
Book Your Rhinoplasty Consultation Today
As a double board-certified facial plastic surgeon in NYC and one of the world's true rhinoplasty experts, you can be sure that you will receive the best of care before, during, and after your surgery with Dr. Sam Rizk.
If you would like to book a rhinoplasty consultation with New York facial plastic surgeon Dr. Rizk, contact us today.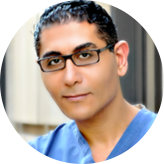 By Dr. Sam S. Rizk, M.D., FACS.
Dr. Rizk is a double board-certified facial plastic surgeon who specializes in rhinoplasty surgery and a recognized expert on the latest advances in facial plastic surgery techniques. He performs a range of facial plastic surgeries at his New York practice.