How Does Dr. Sam Rizk Fix A Broken Nose?
Posted by Dr. Sam Rizk March, 03/03/2014 - 10:00 AM
Dr. Rizk decides how to fix a broken nose on a case by case basis. He may use one or more techniques depending on what part of the nose (tip, septum, etc.) is broken, and on other factors unique to the patient and circumstance.
If the septum is fractured, it can generally be reset within the first 10 days with a closed procedure. If it's been longer, Dr. Rizk will most likely advise to wait up to three months for the swelling to subside before undergoing a septoplasty procedure, some form of rhinoplasty (nose surgery), or a combination of the two (septorhinoplasty). In some cases these procedures may involve the use of cartilage or spreader grafts to strengthen the cartilage.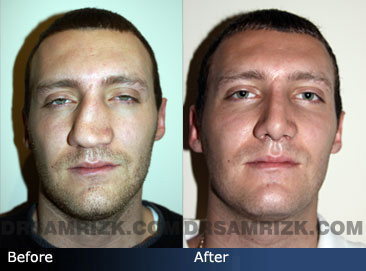 The nasal tip is less likely to fracture than the septum. If you see deformity in the tip after an accident, the tip cartilages may simply be displaced, or the septum may be fractured, which can cause the tip to droop.
Dr. Rizk's goal when fixing a broken nose is to repair the nasal structure is such a way as to provide for both optimal breathing and beautiful aesthetic results. To accomplish this, he typically uses small internal incisions to access the damaged, deviated or obstructive tissue. He also uses 3D imaging technology to view the tissues. This allows him to minimize trauma to the tissues and therefore reduce recovery time.
For more information on the methods Dr. Rizk uses to fix a broken nose, contact his office today.