Top 6 Common Nose Shape Concerns that Rhinoplasty Can Resolve
Posted by Dr. Sam Rizk April, 04/03/2020 - 04:15 PM
Rhinoplasty is a popular cosmetic procedure. The main two reasons to choose nose surgery is to improve the functionality of the nose and/or enhance its aesthetic appeal. A nose job is a complex procedure and choosing the right facial plastic surgeon is important for its success.
Dr. Sam Rizk is an NYC rhinoplasty expert and double board-certified facial plastic surgeon. He performs hundreds of rhinoplasty procedures each year in NY, is trained to provide excellent solutions for both aesthetic and medical rhinoplasty and specializes in revision rhinoplasty. In this blog post, he shares the top 6 common nose shape concerns that rhinoplasty can resolve.
Rhinoplasty and its Benefits
For years rhinoplasty scores in the top 10 of most performed surgical cosmetic treatments. This is because the treatment can have such a big impact on a person's life. Many rhinoplasties are chosen for medical reasons, as the procedure can restore people's ability to breathe properly. Reparation of a deviated septum, for example, is a common procedure to restore a patient's full breathing function. When it comes to aesthetic goals, rhinoplasty is a versatile procedure that can enhance the most typical nose shape concerns.
Top 6 Common Nose Shape Concerns that Rhinoplasty Can Resolve
When it comes to enhancing the shape of a nose, rhinoplasty can help in many ways. In fact, an increase in confidence is named as the main benefit after rhinoplasty. Common nose shape issues are often due to birth defects, such as lumps, clefts, masses or underdevelopment. Another common concern is facial asymmetry. A well-performed procedure by an experienced, double board-certified surgeon can correct a misshapen or crooked nose permanently. Below you see an overview of the top 6 common nose shape concerns that rhinoplasty can resolve:
Size of the nose
Width of the nasal bridge
Profile of the nose (depressions or humps)
The shape of the nasal tip (too large, drooping, bulbous or upturned)
Asymmetry
Nasal deviation
Choose a Trained Rhinoplasty Surgeon
Dr. Sam Rizk is a highly trained, double board-certified facial plastic surgeon in New York with an extensive understanding of the inside and outside of the nose. He uses innovative techniques for cartilage resculpting instead of removal, as he is keen on preserving optimal breathing capacity and internal support of the nose. Rhinoplasty is a decision for life and selecting the best nose job surgeon is important. Dr. Sam Rizk is recognized by his peers, patients, and numerous celebrities as a top rhinoplasty surgeon. He has an outstanding capability to resculpt a unique nose in harmony with a person's face using the latest technologies to create natural-looking results.
Correct Common Nose Shape Concerns with Dr. Rizk in New York
Dr. Sam Rizk has the skill and expertise to perform successful rhinoplasty and revision rhinoplasty to address your nose shape concerns. As an NYC double board-certified rhinoplasty expert, Dr. Rizk can alter both the inside structure as well as the outside aesthetic of a patient's nose with minimal downtime and scarring. He has performed thousands of NYC rhinoplasty procedures and revised many rhinoplasties to achieve the results his patients were looking for. Book a consultation at his New York office to get more information about rhinoplasty possibilities for your specific situation.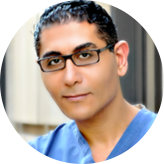 By Dr. Sam S. Rizk, M.D., FACS.
Dr. Rizk is a double board-certified facial plastic surgeon who specializes in rhinoplasty surgery and a recognized expert on the latest advances in facial plastic surgery techniques. He performs a range of facial plastic surgeries at his New York practice.