How Millennials Are Changing the Shape of a Nose Job
Posted by Dr. Sam Rizk December, 12/14/2020 - 08:30 PM
In New York City and all around the globe, millennials are making waves in the cosmetic industry – particularly when it comes to nose jobs. Millennials are the generation born approximately between the years 1981 and 1996, making the youngest 24 and the oldest 39 this year. It's estimated that this group of people make up about 22% of the US population.
In this post, Dr. Rizk dives into how millennials are changing the way nose jobs (known as rhinoplasties) are talked about, idealized, and performed.
The filter effect
Selfies, Instagram, Snapchat, filters, FaceTime, and Zoom – there is no doubt that millennials are the generation that has spent the most time looking at themselves – digitally, at least.
The prevalence of this type of media, particularly the availability and sophistication of 'filters' that are used to change or improve a person's appearance, has had a major effect on the way people see themselves or the way they want to look.
In recent years, many people have inquired about having surgical procedures to replicate the way they look after applying their favorite filters.
Using celebrities as inspiration
Many millennial nose jobs aren't just altering the typical imperfections or concerns that are altered during surgery, rather they are actively seeking out noses that are modeled off favorite celebrities.
Popular women's nose inspiration often comes from women like Nicole Kidman, Emma Stone, Natalie Portman, and Kate Middleton, the Duchess of Cambridge. Men often request noses modeled off Ben Affleck, Jude Law, and Josh Duhamel.
Open conversations about cosmetic procedures
Being the first social media and internet natives, millennials have grown up with more access to information than any other generation, and are used to sharing intimate details of their lives with others over platforms like Facebook and Instagram.
A trend that has come from this is that they have embraced skincare and cosmetic treatments – with a willingness to invest in their health and have open and frank conversations about their favorite procedures or recent surgery.
Your rhinoplasty consultation
The aspiration to have a nose that looks like a filter come to life, or is modeled off a celebrity can be achievable with a skilled surgeon. However, it is crucial to take the overall shape of the face and its characteristics into account when determining the results of a rhinoplasty.
Trends may come and go, but your nose is with you forever – some have found that an ideal they had while a teenager no longer fits their character or changes to their face as they age.
In consultation with Dr. Sam Rizk, he welcomes open discussions to consider the aims and expectations of your rhinoplasty and to present an end result that is beautiful, natural, and fits harmoniously with the face. As an expert in rhinoplasty double board-certified facial plastic surgeon, he strives to produce the best experiences and results for all patients.
If you would like to book a rhinoplasty consultation with New York facial plastic surgeon Dr. Sam Rizk, contact us at Manhattan Facial Plastic Surgery today.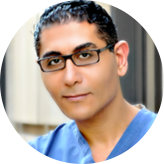 By Dr. Sam S. Rizk, M.D., FACS.
Dr. Rizk is a double board-certified facial plastic surgeon who specializes in rhinoplasty surgery and a recognized expert on the latest advances in facial plastic surgery techniques. He performs a range of facial plastic surgeries at his New York practice.