How Zoom Increased the Demand for Facial Plastic Surgery
Posted by Dr. Sam Rizk January, 01/14/2021 - 06:24 AM
2020 has been an extraordinary year for all of us. Due to social distancing, we are used to seeing each other on-screen more than face to face. We have had many video conferencing platforms to choose from, such as Skype, Facetime, and Zoom. The latter became the gold standard for New Yorkers.
Our patients have been spending hours a week seeing themselves on video. Not everyone is pleased with what they see on their screen and this results in a boom in cosmetic procedures, as was recently confirmed by the Washington Post.
Dr. Sam Rizk is a double board-certified facial plastic surgeon and can confirm that he has seen more patients in his NYC office over the last few months. People seek him out because of his specialties in advanced facelift, neck lift, rhinoplasty, and eyelid surgery.
How Zoom increased the demand for plastic surgery
Whether it is for private or business reasons, people see themselves more on screens than in the mirror nowadays. They tend to intensely scrutinize their frown lines, tired looks, wrinkles, droopy skin and double chins.
Because of the position of the camera in Zoom, the chin, neck, and jawline are accentuated and the image is not the most flattering. We are also not used to looking at ourselves for so long. Many people feel more self-conscious on video than in real life conversations.
The Washington Post strikingly calls it a Zoom boom. Facial cosmetic procedures are by far the most popular in this period, including surgery that requires downtime. Patients see the COVID crisis as an opportunity to get surgery done while they are at home. They are not expected to attend social events or physically go to work.
Private consultation with Dr. Rizk
Dr. Sam Rizk is an internationally renowned double-board certified facial plastic surgeon. He has the eyes of an artist and the hands of an expert surgeon.
Upon consultation, he will examine your face, listen to your concerns and always give you honest and professional advice about what can be done to meet your aesthetic goals so you can make a well-informed decision. Book a consultation in our NYC office and see what will best work for you.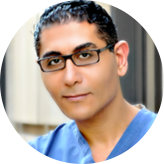 By Dr. Sam S. Rizk, M.D., FACS.
Dr. Rizk is a double board-certified facial plastic surgeon who specializes in rhinoplasty surgery and a recognized expert on the latest advances in facial plastic surgery techniques. He performs a range of facial plastic surgeries at his New York practice.