Kim Kardashian: Is Comparison The Thief Of Joy?
Posted by Dr. Sam Rizk March, 03/30/2022 - 05:02 PM
In a recent interview, celebrity, Kim Kardashian expressed her concern and frustration with being associated, or referenced as a beauty template that many want to mold themselves into. This brings into question the blurred lines of beauty and the standards that many compare themselves to – often, creating a more unrealistic expectation of perfection, reflects New York based facial plastic surgeon, Dr. Sam Rizk.
Shape Me Like A Kardashian
This is a request that many cosmetic surgeons have heard from their patients. Not deterred by the reality of their request that might not fit their unique features. Cosmetic surgeons like Dr. Rizk face a difficult cosmetic dilemma that calls for discretion and finesse.
Kim admits that the weight of her influence on how people see themselves, and the lengths that they would go to in order to achieve this, is not easy to live with. She herself never felt the need to emulate others' standards of beauty while growing up – and she struggles with so many wanting to emulate, with some going as far as cosmetic procedures to achieve the Kardashian look.
Now, as a parent, her beauty and influence has become a thief of joy.
Dr. Rizk Keeps It Real In NYC
Double board-certified Dr. Sam Rizk specializes in facial cosmetic surgery, and emphasizes, with concern – that "looking like a Kardashian" should not come at a risk to the overall safety and wellbeing of his patients. His exceptional ethics ensures that he will not agree to perform any surgery on a patient if he believes that the end result will not be beneficial to his patient.
Thus, not all nose jobs or facelifts will have you looking like Kim. Facial cosmetic and reconstructive surgery is about far more than a surgeon contouring your chin or cheeks to a mirror image of your favorite celebrity.
Embrace What Makes You Unique
Dr. Rizk empathizes with the weight that modern-day beauty standards place on celebrities, some who themselves have achieved their ideal features through cosmetic surgery, and encourages his New York patients to embrace what makes them unique.
While there is a place for plastic surgery to accentuate what is already there, it must be understood that cosmetic surgery is a quick fix for desires that require long-term solutions, especially where body positivity is concerned. In addition, the obsession with looking a certain way, could also be a symptom of body dysmorphic disorder, a condition that affects 1 in 50 people, and requires psychological intervention and support.
Consult with a board-certified cosmetic surgeon, or better yet, contact Dr. Rizk for a consultation on your desired results and he may surprise you with an alternative to achieve that Kardashian look, without risking what makes you unique.
Beauty, afterall, is a state of being at peace with the person that you are inside and out first before going under the knife with unrealistic expectations that could be counter-productive to achieving your ideal results.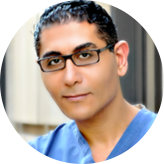 By Dr. Sam S. Rizk, M.D., FACS.
Dr. Rizk is a double board-certified facial plastic surgeon who specializes in rhinoplasty surgery and a recognized expert on the latest advances in facial plastic surgery techniques. He performs a range of facial plastic surgeries at his New York practice.