Non-Surgical Brow Lift: Does it Work?
Posted by Dr. Sam Rizk December, 12/30/2020 - 06:06 PM
Skin wrinkling and droopiness are natural phenomenons that occur with age. Exacerbated by the fast-paced New York lifestyle, our body simply produces less collagen after our 30's which lets our skin sag and creates more fine lines and wrinkles. As the skin is much thinner in the area of the eyelids and eyebrows, aging is often noticeable even for people in their forties. Zoom meetings only make us more aware of heavy eyelids and a tired look.
There are new technologies and injectables that claim to be able to lift the brows without surgery. The only question is – Does it Work?
Non-surgical Brow Lift
A non-surgical brow lift will temporarily elevate the brow area so that there is more space between the eyes and brows, the eyelid will look tighter and the overall effect is a younger, fresher face. Most people think that non-surgical brow lifts are safer than surgical brow lifts, but this is not always the case:
1) Injectables
Botox has a paralyzing effect – it is injected into the muscles that pull the eyebrows down. The lifting effect may be achieved by also injecting a facial filler, such as Juvederm or Relystane to add volume and fullness.
While this is an easy treatment, the results are temporary. The treatment needs to be repeated 2-3 times a year and there is a risk of overdoing it. Common risks of too much Botox are an overly surprised look, sagged eyelids, or a frozen face. Dermal fillers have risks as well, like swelling, infections, or even tissue death. Over time, Botox often becomes less effective.
2) Ultrasound / Radiofrequency waves
Ultrasound or RF (radiofrequency) wave energy powers devices that some doctors use to target the brow area. Ultherapy and ThermiTight, for example, are devices used to stimulate collagen production in deeper skin layers for tighter and firmer skin.
The Surgical Approach
Non-surgical brow lift treatments may work for those who want affordable, fast, and temporary results. As you can see above, non-surgical brow lifts are not without risk. If you are looking for accurate, long-term significant improvement, brow lift surgery may be the best option for you.
Dr. Rizk is a highly experienced, double-board certified NYC facial plastic surgeon who customizes the surgical plan for each individual. His endoscopic technique enhances the youthful appearance by lifting droopy eyebrows and straightening the forehead. His minimally invasive brow lifts result in faster recovery time and less scarring.
If you want to explore your options, schedule a consultation for an honest evaluation, and a conversation with Dr. Rizk.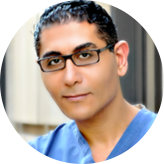 By Dr. Sam S. Rizk, M.D., FACS.
Dr. Rizk is a double board-certified facial plastic surgeon who specializes in rhinoplasty surgery and a recognized expert on the latest advances in facial plastic surgery techniques. He performs a range of facial plastic surgeries at his New York practice.