Broken Nose & Sports Injuries
As many weekend warriors, student or professional athletes know a broken nose is a fairly common occupational hazard. Broken noses can occur from facial injuries sustained during contact sports or falls. The sports that are most likely to cause a broken nose may include football, hockey, baseball basketball, boxing or wrestling.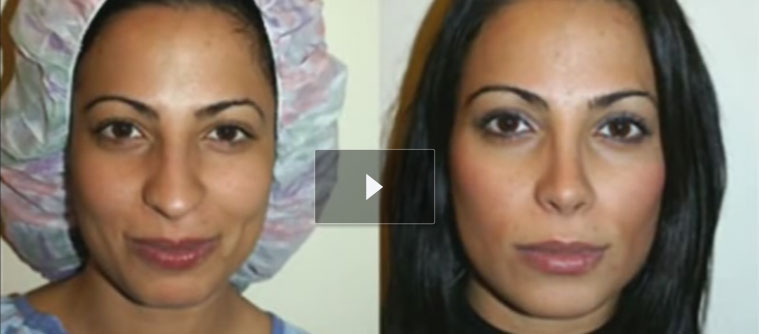 Your nose is made up of two bones at the bridge and a long piece of cartilage that gives your nose its shape. A broken nose can impact the nasal bone and/or cartilage. If you have broken your nose playing sports, you know that it hurts- a lot. You will also experience some bleeding and difficulty breathing through your nose after a sports-related broken nose. There will also be some swelling and you may get black eyes.
Specifically, a broken nose may cause a deviated septum. This occurs when the thin wall dividing the two sides of your nose (the septum) is displaced to one side. A deviated septum will affect your ability to breathe through your nose. When you break your nose, you may also develop a nasal septal hematoma or collection of blood that can block one or both nostrils. This is considered a medical emergency and requires prompt treatment.
In general, it is important that you stop the bleeding and see a qualified doctor if you think you may have broken your nose while playing sports. New York City facial plastic surgeon and rhinoplasty expert Sam Rizk, MD, has a great deal of experience evaluating and treating broken noses including those that occur as a result of a sports injury.
Rhinoplasty to treat a sports injury can address form and/or function. Dr. Rizk will identify the problems affecting your nose and plan a surgery to reverse the damage caused by the sports injury, while maintaining or improving your breathing ability. Some individuals may also want to make aesthetic changes to their nose, and the sports injury serves as the catalyst. Be sure to discuss your goals with Dr. Rizk during your consultation. This will empower him to know what you are hoping to achieve through rhinoplasty. He will also be able to tell you if your expectations are realistic and can be met with the nose reshaping surgery.
As part of the consultation process, Dr. Rizk will ask how the fracture occurred. He will examine your nose and the surrounding areas including your eyes, jaw, and teeth. An x-ray or computed tomography (CT) scan may help determine if your nose is, in fact, broken.
He will also want to see "before" photos to get an idea of how your nose looked before the break. This is a good time to discuss any additional aesthetic changes that you may be considering.
Timing of the surgery is another factor. Some individuals may undergo nose surgery soon after the sports injury, while others may be advised to wait for the swelling to abate. Dr. Rizk will provide his expert opinion on the most appropriate time for your surgery after the initial consultation. Some athletes may choose to have the surgery during their off-season so they can recover without temptation of going back to their sport prematurely and risking re-injury.
Your nose surgery will be based on the severity of the break as well as your aesthetic and functional goals. Some non-complex nasal fractures will heal well on their own. For simple breaks, your nose may just need a cast to reposition the broken bones. Complex breaks, however, will require more involved surgeries. Dr. Rizk is experienced at performing the most complicated primary and revision rhinoplasties including the repair of broken noses from sports injuries.
Broken nose repair surgery is typically performed on an outpatient basis under general anesthesia. Sometimes local anesthesia is an option. Dr. Rizk uses advanced imaging technology to guide the procedure. This 3-D technology leads to less bleeding, reduced downtime and a better outcome. Put another way: it can get you back on the playing field much more quickly. Still, contact sports should be avoided for a couple months after your nose surgery. Dr. Rizk performs both advanced open (external) and closed (endonasal) nose shaping surgery with this rapid recovery technique. As part of the nose reshaping surgery, he crafts precise incisions inside the nasal cavity to access the obstructive, deviated, or damaged tissue. This tissue may be removed or repositioned. In some cases, grafts may be needed for additional support. Dr. Rizk uses tissue sealants or glues inside noses rather than packing after rhinoplasty to further reduce swelling and bruising.
Expect some pain during your rhinoplasty recovery. Dr. Rizk will prescribe medication to help you stay comfortable while you recuperate. It can take up to two weeks for swelling and bruising to improve. You will likely need may need to keep your head elevated and relatively still for the first few days after your nose surgery.
Prevention is key for all athletes who are at risk for broken or re-broken noses. This may include wearing protective gear to guard your face and nose as soon as you get the all clear from your facial plastic surgeon.
All surgeries do have risks including rhinoplasty to correct a sports injury. Choosing an experienced facial plastic surgeon and following his or her pre- and post- operative instructions carefully will help minimize any risks and maximize your chances of a successful outcome. Hazards of broken nose repair surgery may include recurring nosebleeds, difficulty breathing through the nose, numbness in and around the nose, and persistent pain, discoloration or swelling. You may also not like how your new nose looks and/or you may have some breathing difficulties that you didn't have before your sports injury.
Sometimes a revision rhinoplasty will be needed to address these concerns.
Most medical insurance companies will cover the costs associated with a nose job to treat a sports injury. That said, if you would like to have other cosmetic issues addressed during your rhinoplasty, you may have to pay out of pocket. Make sure you discuss rhinoplasty cost during your consultation. Dr. Rizk's staff will gladly guide you through the insurance process.
Written by Dr. Sam Rizk