What Are The Benefits Of Surgical Facelift Versus Non-Surgical Facelift (Liquid Facelift, Lasers, RF Facelift, Etc.)?
Surgical facelift is far more involved and invasive than non-surgical facelift procedures, and therefore has different benefits.
A surgical facelift is an invasive procedure that is performed to address severe drooping. Its results can last a decade or longer. The procedure is typically performed on patients in their 40s, 50s or 60s, when the effects of gravity, sun damage and genetics take over.
Sagging skin that appears at this point cannot be addressed with lasers, fillers or other non-surgical methods. There are several types of surgical facelift procedures, including the full facelift, mid-facelift and lower facelift. The type of facelift Dr. Rizk recommends will depend on your degree of aging, your aesthetic goals and other factors.
Non-surgical facelift procedures are temporary, but may be more beneficial for some patients, particularly those with moderate signs of aging. These procedures can add volume to the face, fill in wrinkles and creases and address moderate sun damage. Procedures such as liquid facelift, laser treatments and radiofrequency (RF) facelift can last a few months up to a couple of years.
Contact Dr. Rizk to learn more about the benefits of surgical facelift, non-surgical facelift and other facial rejuvenation procedures.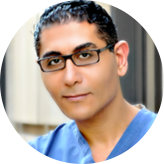 By Dr. Sam S. Rizk, M.D., FACS.
Dr. Rizk is a double board-certified facial plastic surgeon who specializes in rhinoplasty surgery and a recognized expert on the latest advances in facial plastic surgery techniques. He performs a range of facial plastic surgeries at his New York practice.