Revision Rhinoplasty in New Jersey
Revision rhinoplasty is necessary in certain situations, where it has been determined that after the primary procedure anatomical abnormalities remained and/or when the patient is not satisfied with the appearance of their nose following a primary rhinoplasty – after the recovery period is over and the nose completely heals. Often the first procedure over-corrected a problem or was overly aggressive. This can lead to a number of problems such as breathing deficits, areas of collapse and problems with the cartilage.
Patient are encouraged to seek a skilled and dedicated surgeon in the field of secondary rhinoplasty, which is one of the most complicated plastic surgery procedures. The patient should search for not only a well-reputed general plastic surgeon, but one that specializes in nose and facial surgeries.
The need to go back to the surgical room and undergo another rhinoplasty be a frustrating and daunting, but it is sometimes necessary if a significant improvement is expected. Based on Dr. Rizk's excellent reputation, patients come from far and wide, from New Jersey to California and from overseas. While inconsultation, Dr. Rizk fosters honest and open discussions about what the patient truly desires and expects from their secondary surgery. He makes sure they know what outcomes are attainable by doing another nose procedure and whether the patient's expectations can be reached. He often feels that there is an advantage to being the secondary surgeon on a nose, as he can observe the outcome of the primary procedure and can better predict the outcomes of the second. After a thorough interview and examination, Dr. Rizk will be better equipped to know the best path to take in reconstructing or repairing the work that was already done. In many cases, putting the patient's interests first, he will opt not to operate, either for medical/safety reasons or if he feels the problem lies with unattainable expectations.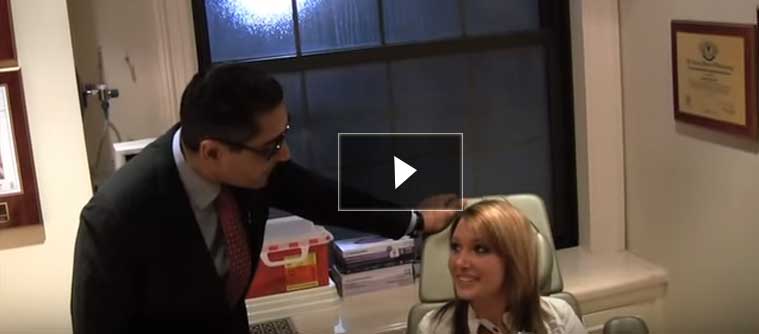 Normally, the secondary procedure should take place at least one year after the first, to give the facial structure and bone enough time to heal and be prepared for a second surgery in the same area. During the consultation, Dr. Rizk will give the patient a complete external and internal exam, using a high definition telescope to peer deep into the nasal and sinus cavity. An assessment of support structure, septum, the turbinites and areas of inspiratory collapse, as well as availability of donor cartilage need to be made before any decisions are taken. Often, the septum is not strong enough to support being a donor for cartilage, and Dr. Rizk will have to look elsewhere, such as the ear or an external donor.
In preparation for the procedure, the patient will be given a medical kit that contains certain medicines that will help with the healing process. Blood work will be done to gain medical clearance and the patient will be given clear instructions on how to prepare and what to do before and after the procedure. For example, patients should abstain from medicines that promote blood flow, certain herbal supplements, and smoking, as they inhibit the healing process.
The surgery is normally completed in two to three hours and two innovative methods are used to insure a smoother and more natural revision. The first is a 3-D telescope that helps to accurately view and modify the nasal bridge. Many problems, such as overresection and underresection, occur in traditional rhinoplasty when the doctor does see all the details of the area being treated. The second is an innovative method that Dr. Rizk developed to better sculpt nasal implants and cartilage grafts. He uses a special micro-sanding power tool that rounds out the edges of the grafts and implants, giving them a more natural look, instead of the traditional knife, that can create more angled edges. With the knife, the visual result inevitably looks more surgical, instead of natural.
The patient should be able to return to work and normal, light activities after a week. They should wait a month to begin more strenuous activities such as exercise. While the initial swelling will have gone down, the patient will have to wait around twelve months to see the final results. The nose and face continue to change through the healing process, and steroid treatments might be recommended for those who maintain swelling beyond a year.
Regardless if you are coming from as far as Europe, or as close as New Jersey, if you consider having a revision rhinoplasty, you should contact our office in advance and set a date for a consultation with Dr. Rizk - call us at (212) 452-3362 or use the forms on the left side of the page to send us a message that should include your phone number and email address.