The ease of your recovery and the results of your procedure both depend on how closely you follow your facial plastic surgeon's postoperative instructions, including those pertaining to skin care.
But skin care is just one aspect of your rhinoplasty recovery. Let's first take a look at the overall picture.
Rhinoplasty Recovery
Each patient heals and recovers differently; however, following rhinoplasty all patients can expect to experience some relatively unpleasant aftereffects. New York City Double Board Certified Dr. Rizk takes special precautions to minimize the bruising, but some minor bruising is possible. Swelling is a certainty. You also may feel nauseated at times. You should expect to feel some nasal stuffiness as well.
Dr. Rizk provides his patients with specific instructions and a special postoperative kit containing medication, a natural remedy called arnica montana, vitamin K and a Medrol dose pack. He also recommends that you eat certain foods such as pineapple and kiwi following surgery.
To help you control the swelling, Dr. Rizk will give you instructions for use of cold compresses, medication and arnica montana.
Do not blow your nose when you feel stuffy. Instead, follow Dr. Rizk's instructions for use of decongestants and other remedies.
You will be advised to keep your head elevated for a few days, and to keep your head fairly still during this time. You should be able to return to work within about 10 days, but it will be several weeks before you can resume rigorous activity. Contact sports are out of the question for a matter of months or even up to a year.
The swelling should reduce dramatically after about two weeks and even more after about one month. However, it can take up to a year before it subsides altogether.
Ask Dr. Rizk about his rapid recovery system. This system combines the use of special surgical technologies, such as a 3D telescope, with small incisions, tissue glues and dissolvable sutures to provide for a truly rapid recovery.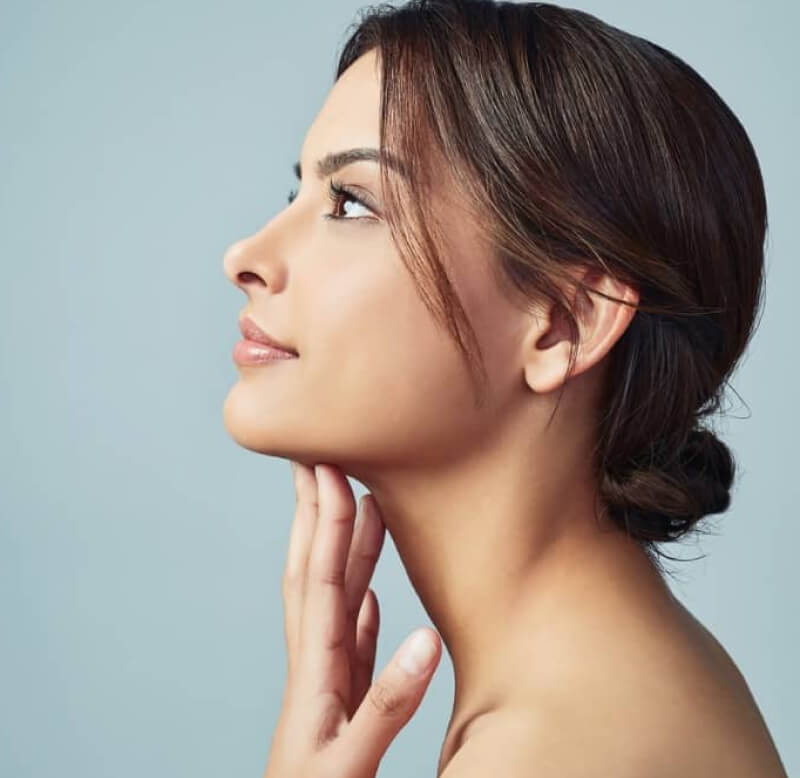 Skin Care Following Rhinoplasty
Part of your recovery from rhinoplasty involves skin care and products. You will recover better and have better results if you take good care of your skin, particularly in the first few days and weeks after your procedure.
Rhinoplasty is far more invasive than procedures that don't leave wounds, such as nonablative laser resurfacing, fillers and Botox® injections. As a result, caring for your skin is more complicated.
In addition to the steps outlined above for swelling, it is important that you gently cleanse your skin to avoid breakouts. You will be instructed to wash your face with mild astringent pads and/or non-soap cleansers, without applying pressure. It is also a good idea to use a hypoallergenic moisturizer with no fragrance.
Be diligent about protecting your skin from the sun, especially in the first few days following surgery, when your skin should not be exposed to direct sun at all. Many doctors recommend that you use a sunscreen with an SPF of 30 or 40 because those with higher SPFs can block the pores.
Allow your wounds to heal on their own. Do not pick at scabs or peeling skin, as this can cause scarring and/or infection.
Also, make sure to hydrate. Consume about eight glasses of water per day. Staying hydrated will rejuvenate your skin and flush out any toxins.
Skin Care Products to Use (and Avoid) Following Rhinoplasty
Every surgeon has his or her preferred skin care products, but all agree that healthy skin heals better and quicker, and therefore will have some skin care regimen for you to follow.
Use of skin care products typically begins a month or more prior to the procedure, ceasing around 10 days before the surgery, and recommencing about three weeks after surgery to leave time for healing. The products Dr. Rizk recommends will likely depend on your skin type and color, as well as how he feels you, specifically, will respond to certain products.
The ZO Skin Health, ZO Medical and Obagi Medical Product Lines are probably the most popular pre- and post-operative skin care among facial plastic surgeons. If Dr. Rizk feels that one of these three is the best regimen for your case, he will likely advise you to use one prior to your procedure, but cease use about 10 days before surgery. This will allow your skin to breathe a little better prior to surgery. Talk to Dr. Rizk about how long you should wait before resuming use of ZO Medical, ZO Skin Health or Obagi Medical Products after your rhinoplasty surgery. None of these ranges will interfere with your healing; however, the Retin A and Hydroquinone creams will dry out your skin. This is important because, in extreme cases, such as during winter, your skin might develop cracks, which can increase the risk of infection. Retin A also makes your skin more sensitive to the sun, so don't forget to use sunscreen (preferably with zinc oxide or titanium dioxide).
There are also certain skin care products you should avoid, namely soap-based cleansers, moisturizers with fragrance and non-hypoallergenic products. Also avoid sunscreens with SPFs higher than 40, as they may clog your pores.
Make Up and Foundations to Alter/Hide the Appearance of the Nose After Rhinoplasty
Dr. Rizk uses special methods that eliminate almost all bruising from rhinoplasty surgery. However, you may have some light bruising, and you will definitely experience some swelling. Makeup and foundations can be used to disguise these effects.
Ask Dr. Rizk what types of products will work best in your case. It will depend on your skin tone and other factors. Dr. Rizk will likely recommend mineral-based products because they are gentler and provide great coverage. Green color-based foundation helps with redness and gives many patients a more natural skin tone. Dr. Rizk will most likely advise you to apply powder over this (around one shade darker than usual). You will need to wash off all of these products at night. Cleansing regularly is very important for the health and recovery of your skin following rhinoplasty surgery.
For more information on skin care after rhinoplasty, contact Dr. Rizk today.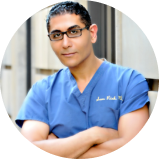 By Dr. Sam S. Rizk, M.D., FACS.
Dr. Rizk is a double board-certified facial plastic surgeon who specializes in rhinoplasty surgery and a recognized expert on the latest advances in facial plastic surgery techniques. He performs a range of facial plastic surgeries at his New York practice.