Voted by peers to New York Magazine's Top Doctors -
Facial Plastic Surgery; Rhinoplasty Revision; and Nasal Surgery.
NYC Rhinoplasty & Facelift Surgeon
Dr. Sam Rizk merges two unique skills to achieve his surgical outcomes- first and foremost is his artistic background as a sculptor which combines with his technical skill as a facial plastic and reconstructive surgeon. When making a decision to undergo plastic surgery, it is important to pick a surgeon with an artistic background and this is one of most important factors which gives differing outcomes amongst equally qualified technical surgeons. When you meet with Dr. Rizk, he will be honest with you and may not recommend surgery if he feels risk does not outweigh benefit. In order to proceed with surgery, Dr. Rizk feels benefit must far outweigh risk, discomfort, and expense for patients.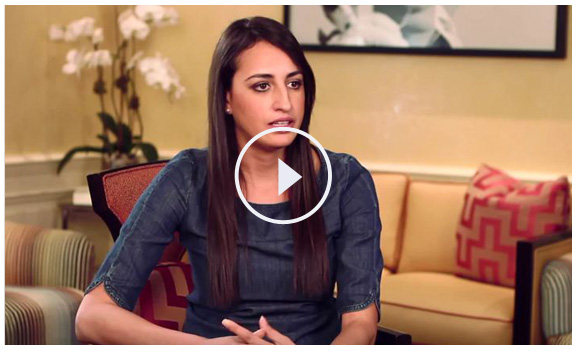 Ethnic Rhinoplasty Patient Discusses Her Experience With NY Facial Plastic Surgeon Dr. Sam Rizk
Dr. Rizk takes his time with each surgery and books extra time for each surgery. Facial plastic surgery to Dr. Rizk is as much an art as it is a science. This is why Dr. Rizk asks his patients to be patient if they cannot get an appointment right away or if there is a wait list scheduling surgery. Dr. Rizk does not like to squeeze patients in - this is NOT a conveyer belt. This is your face so he advises patients NOT to RUSH into surgery.
Widely respected for his advanced minimally invasive application of ground breaking surgical techniques, Dr. Sam Rizk's approach is based on the philosophy that each individual procedure is tailored and customized to the individual needs of each patient. He uses minimally invasive endoscopic techniques to reduce downtime. Dr. Rizk focuses not only on a natural result but also on the speed of a patient's recovery. To optimize this intent Dr. Rizk uses preoperative as well as intraoperative and postoperative minimally invasive techniques and medications to achieve this rapid healing.
Dr. Samieh (Sam) Rizk is a New York facial plastic surgeon who specializes in the nose, face, eyes and neck areas only. Dr. Sam Rizk DOES NOT PERFORM BODY PLASTIC SURGERY. Dr. Rizk also repairs functional nasal conditions to improve breathing problems and other sinus conditions as well as nasal reconstruction after cancer removal. Dr. Rizk was nominated by his peers in Castle Connelly's yearly survey of Best Doctors (NY-Metro Area-2008) for facial Plastic Surgery. He is one of a few double board-certified facial plastic surgeons in New York, with certifications in facial plastic surgery by the American Board of Facial Plastic and Reconstructive Surgery and the American Board of Otolaryngology (head and neck surgery). By concentrating on facial areas, Dr. Rizk obtained vast practical experience and developed innovative techniques to match the needs of his patients, such as the rapid recovery facelift and natural looking rhinoplasty. As the director of Manhattan Facial Plastic Surgery and Park Avenue Facial Surgery, a JACHO-certified surgical facility, Dr. Rizk was recognized for his contribution to the latest advances in facial plastic surgery. He has pioneered 3-D endoscopic high definition facelifts, necklifts and rhinoplasty, dramatically reducing scars and expediting recovery. Dr Rizk's goal is to help his patients look better and feel better about themselves. His techniques have been featured in peer-reviewed plastic surgery journals as well as on national TV and in international magazines.
Dr. Rizk not only teaches residents at the Manhattan Eye, Ear, and Throat Hospital, one of the premier plastic surgery institutions in New York, but also instructs other doctors at many facial plastic surgery conferences worldwide. Invited as a featured guest speaker at the FACE meeting on June 13, 2009 at Royal College Of Physicians In LONDON, UK, Dr. Rizk lectured on Endotine Use in the Modern Rapid Recovery Facelift. Dr. Rizk was selected by the AACS to direct a live surgical course (sponsored by the American Academy of Cosmetic Surgery) on latest advances in facelifts and neck lifts in New York in June 2009. He is also an active member and supporter of the face-to-face program, a national non-profit organization, which treats facial injuries in women who are victims of domestic violence.
Dr. Rizk performs both open (external) and closed (endonasal/intranasal) rhinoplasty and has pioneered various innovative techniques including 3-dimentional high definition endoscopic rhinoplasty, cartilage reshaping with stitches, and the use of shorter internal incisions to achieve a natural result with precision and a rapid, painless recovery. The ability to deliver shorter, well hidden incisions offer significant benefits to patients. Dr. Rizk also pioneered a new rhinoplasty technique to create a natural angle between the nose and forehead through a small intranasal incision. This is important as the angular relationship between nose and other facial regions affects our perception of beauty and of a natural look.
Dr. Rizk has vast experience with many different types of noses such as Caucasian, Hispanic, Middle Eastern, African-American and Asian as well as nasal cancer reconstruction. This is important because cartilage strength, skin thickness, and nasal-facial relationships vary among different ethnicities and these relationships must be respected for a natural outcome. Noses may require enlarging one region and reducing another to create balance and harmony, necessary components for our perception of beauty.
Dr. Rizk may use cartilage grafts from the nasal septum or back of the ear to strengthen and enlarge certain areas of the nose to correct collapses from a previously operated nose. Dr. Rizk may also repair a deviated nasal septum or correct sinus blockage, where indicated, at the same time as rhinoplasty. Dr. Rizk uses tissue sealants (glues) inside noses rather than packing after rhinoplasty, which further diminishes swelling and bruising. Thirty percent of his NYC rhinoplasty surgeries are revisions and twenty five percent of his patients are males.
Dr. Rizk believes the nose has to be in harmony with the face to achieve beauty. For example, removing a bump can make the eyes appear more pronounced or lifting the nose may accentuate the lips. Sometimes, Dr. Rizk will perform a chin implant with a rhinoplasty to achieve this critical facial balance. Computer imaging is sometimes used in consultation to understand the patient's desires better, which is critical to a happy patient. Dr. Rizk believes that he can give you a beautiful nose, not just because of his technical innovations and surgical advances, but also because of his artistic understanding of beauty and an in-depth communication with his patients before the rhinoplasty.
Facelift & Neck Lift Surgery in NY
"A customized approach resulting in a natural result with a rapid recovery and the smallest undetectable (hidden) scars explains my philosophy. Additionally, my facelifts & necklifts do not just lift but redistribute/fill areas of lost volume to make the face look more beautiful, not just younger."
Dr. Rizk's signature deep plane lower facelift & neck lift can redistribute the jowl fat back to its youthful home in the cheekbones, giving a very attractive, natural look. Dr. Rizk performs many different types of facelifts to treat various degrees of aging. Bone structure may be augmented with implants during a facelift and/or neck lift to compensate for loss of bone volume due to the aging process. Dr. Rizk may do an isolated neck lift for a younger patient with only neck laxity. A partial lower facelift or neck lift may be necessary for more advanced neck or jowl aging.
Dr. Rizk has introduced and pioneered In his NYC practice various new technologies to give patients a more precise, safer surgery with smaller incisions. A 3-Dimentional high definition telescope system is used to visualize face and neck structures from smaller hairline/ear incisions. The use of tissue glues instead of drains tends to result in less bruising and swelling as well as an undetectable scar inside the ears.
Customized various facelifts were developed for male patients, who comprise one fourth of Dr. Rizk's patient population. Often men are less interested in a facelift than a jowl or neck lift so his scars and approach have been modified to focus on a smaller incision which is hidden behind the ear and on avoiding hairline incisions. This is particularly important for balding men or those with short hair. In order to achieve an excellent neck contour with a smaller incision around the ear and none in the hairline, it is necessary to address the neck additionally from under the chin with a small high definition telescope to remove fat and tighten the muscle beneath the skin in the midline. This often dramatically improves Dr. Rizk's results and increases longevity of men's neck lifts. Male patients typically heal much faster with the tissue glues & smaller incisions around the ear.