Lip Enhancement/Lift (Cheiloplasty)
People who are endowed with excessively generous lip size can also benefit from lip reduction procedures. The incision is placed inside the mouth and is invisible.
Click Here to Read about the Perioral and Lip Rejuvenation - Lip Advancement/Lift Procedures
Lip Lift FAQs
What are the different types of lip lift?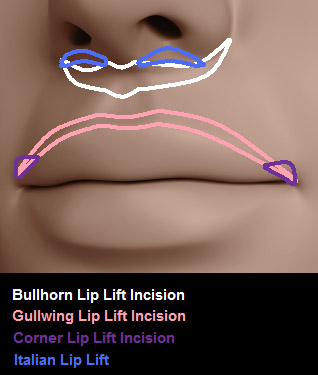 There are several types of lip lift, including gull-wing lip lift, bull-horn lip lift, corner lip lift and Italian lip lift. The type of lip lift you and Dr. Rizk select will depend on what you're trying to accomplish with the procedure. The main thing that distinguishes the different techniques is the type and placement of the incision(s).
With a gull-wing lip lift, the incisions are made along the vermilion (border) of the upper lip (more or less in the shape of an M, or "gull wing"). This type of lip lift is made to extend the border of the lip, and sometimes leaves a visible scar.
A Bull-horn (subnasal) lip lift involves an incision at the base of the nose. Like the gull-wing lip lift, it is named for the shape of the incision. It is performed in order to shorten the distance between the nose and the upper lift.
The corner lip lift procedure is performed to address drooping at the corners of the mouth. The incision is placed at the oral commissures — the corners of the upper lift.
An Italian lip lift is a slight variation of the bullhorn lip lift; instead of one long incision, two shorter incisions are made at the base of each nostril.
Who is a good candidate for a lip lift?
As with any cosmetic procedure, good candidates for lip lift are in good health with realistic expectations. A good candidate for this procedure typically is looking for longer-lasting results than injectable fillers can provide. The procedure is often performed on patients experiencing the effects of age or a poorly performed rhinoplasty procedure, such as:
Thin, flat lips
Increased distance between the nose and lips (which can hide the lips)
Unbalanced lips
Upper lip that appears too long
What is the cost of lip lift?
The cost of lip lift varies, but it starts at about $6,000.
Are there any potential complications of lip lift?
Complications from lip lift are rare but include the following:
Stiffness
Distorted lips
Overly lengthened lips
Asymmetric smile
Scarring
Numbness
Speech problems
Contact Dr. Rizk to learn more about the various types of lip lift he performs.