Dr. Rizk Featured on UK Beauty Magazine 'London Evening Standard'
Posted by Dr. Sam Rizk February, 02/23/2015 - 03:34 PM
Dr. Rizk was recently featured on popular UK beauty magazine 'London Evening Standard' discussing a recent survey conducted by the American Academy of Facial Plastic and Reconstructive Surgery. The survey found that 1 in 3 plastic surgeons reported an increase in patients as a result of Instagram and the selfie phenomenon. Dr. Rizk has seen an approximate 25% increase in this demographic of patients over the last one-and-a-half to two years.
In this article, Dr. Rizk talks about the increasing popularity of social media, selfies, and the impact they have on self-image. The chin has become a popular area for scrutiny as more people notice "double-chins" in selfies and photographs.
Click on the PDF below to read the article.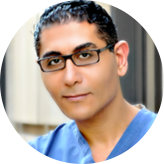 By Dr. Sam S. Rizk, M.D., FACS.
Dr. Rizk is a double board-certified facial plastic surgeon who specializes in rhinoplasty surgery and a recognized expert on the latest advances in facial plastic surgery techniques. He performs a range of facial plastic surgeries at his New York practice.