What Are Uneven Nostrils?
Uneven nostrils, also known as asymmetrical nostrils, are a condition where people are afflicted by one nostril bigger than the other, which makes the nose look uneven or asymmetrical. This can be caused by anything from genetics1 to trauma, to medical conditions like a deviated septum, or even just aging or the way the nose has developed from birth. The appearance of uneven nostrils, or an 'out of balance' nose caused by uneven nostrils, can have detrimental effects on a person's confidence, making them feel self-conscious about their appearance.
In many cases, many people are looking for a permanent solution to fix their uneven nostrils and restore symmetry to the face2. Treatment options may vary, but often the best procedure for this issue is rhinoplasty. Regardless of how severe your uneven nostrils may be, speaking with a qualified professional such as Dr. Sam Rizk can help you explore all possible solutions for restoring balance to your facial features.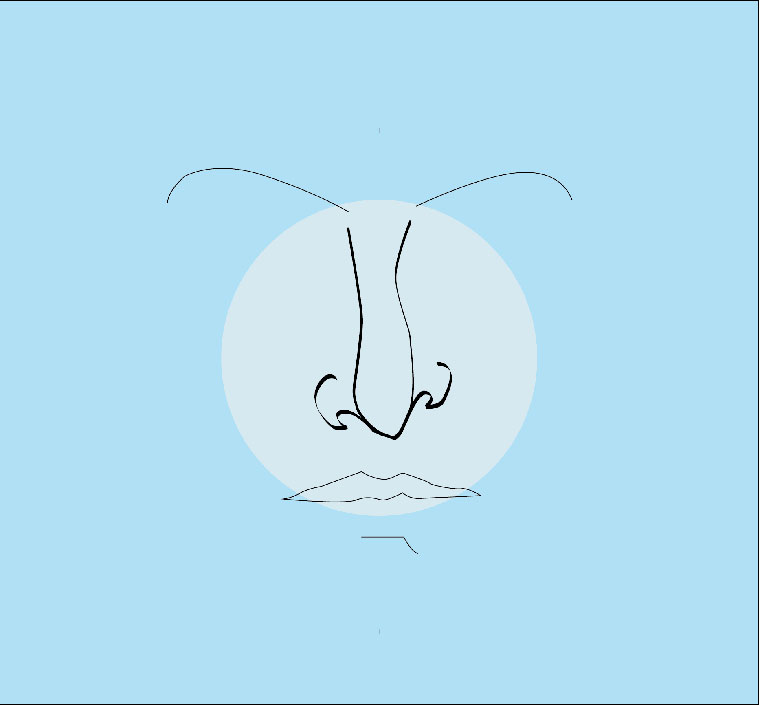 Can Uneven Nostrils be Fixed?
Along with the aesthetic considerations when it comes to wanting to fix uneven nostrils, many patients may also wish to rectify breathing issues caused by an underlying issue of uneven nostrils – a deviated septum3. Luckily, both of these issues can be rectified with specialist surgery performed by double board-certified facial plastic surgeon, Dr. Rizk. With years of experience and specialist knowledge of the intricate facial structures, Dr. Rizk has performed thousands of rhinoplasty surgeries for people from NYC and all over the world who wish to improve the appearance or function of their nose.
While much can be done to improve uneven nostrils, he also ensures that his patient's understand that they cannot be made completely even, or 100 percent even, due to other facial assymetries around nostrils such as cheek bones and maxilla asymmetries.
If you are suffering from uneven nostrils, contact our Manhattan office today for a consultation.
Rhinoplasty for Uneven Nostrils
Rhinoplasty, also known as a nose job, is a cosmetic procedure that reshapes the nose in order to make it more symmetrical and balanced, as well as improve function in some cases. For those who have uneven nostrils, rhinoplasty can be a safe and effective way to permanently correct their aesthetic imbalance.
This surgical procedure involves making small incisions inside the nostrils so that the soft tissue, cartilage, or bone beneath them can be adjusted or reshaped. This allows for subtle changes that can dramatically improve facial symmetry and balance out any asymmetry caused by one side of your nose being larger than the other. It's here where any other underlying cause of the asymmetrical nose, such as a deviated septum or the effects of a previous rhinoplasty, are addressed.
When choosing Dr. Rizk for your uneven nostril rhinoplasty surgery, your results are long-lasting and natural looking, giving you a new sense of confidence about your appearance.
Determining Cause & Treatment for Uneven Nostrils
Many people come to Dr. Rizk, asking "why is one nostril bigger than the other?". There are a number of reasons one nostril may appear larger than the other, and the cause of this asymmetry may determine the treatment undertaken. At your initial consultation, Dr. Rizk will review your medical history, symptoms and aesthetic or functional goals, as well as conduct a thorough examination of your nose and overall facial profile.
By getting to the bottom of the underlying cause of your uneven nostrils, Dr. Rizk can then create a personalized treatment plan, which is not only important for restoring an aesthetically pleasing balance to your face, but can ensure the cause of the issue is taken care of too – helping you to look better, breathe better, and feel more confident.
Causes of Uneven Nostrils
Genetics | Born with or Developed Uneven Nostrils
For some people, the nose they are born with, or the way their nose has developed, is naturally asymmetrical, causing the appearance of one nostril bigger than the other. Genetics can be a major factor here, or people may have been born with a deviated septum, causing the nostrils to grow or appear uneven.
Age-related changes | Skin and Muscle Weakening
As we age, the skin and muscles in our face become weaker, and can droop over time, particularly in the mid-face area and around the nose. As the years progress, people may find themselves with a nose or nostrils that have changed in shape, or an asymmetrical nose. In these cases, many people combine rhinoplasty with a facelift for a total facial rejuvenation.
Deviated Septum | Crooked or Off-Center Nose Cartilage
A deviated septum is when the cartilage in the nose becomes mis-shapen or damaged through genetics or physical trauma to the nose, which can worsen with age and also cause the appearance of asymmetrical nostrils. It's important to address the underlying cause of uneven nostrils, to minimize the chance of recurrence.
Nose Job Fail | Uneven Nostrils After Rhinoplasty
Many patients come to Dr. Rizk in New York to have their nose revised or reshaped after rhinoplasty with a different surgeon has gone wrong, or they simply weren't happy with the results of a previous surgery undertaken elsewhere. These cases can be complex, but with Dr. Rizk's skill and artistry, these patients finally achieve the nose they desire.
Meet Dr. Rizk, Expert Uneven Nostril Rhinoplasty Surgeon in New York
A celebrated and well-respected surgeon, Dr. Rizk is often lauded as one of the best facial plastic surgeons in New York City, and a world-renowned expert in the industry. With decades of experience performing rhinoplasty surgeries, many of them complex and intricate procedures, he has built up a wealth of knowledge and developed cutting-edge techniques in aid of being able to conduct more precise procedures, as well as shorten recovery time for patients.
Working alongside a dedicated and passionate team in Manhattan, Dr. Rizk strives to provide the highest standard of care for all his patients.
If you have any questions, are considering rhinoplasty or would like to schedule a consultation with Dr. Rizk, please contact us at or call (212) 452-3362.
Frequently Asked Questions
Why are my nostrils uneven?
There are a number of causes of uneven nostrils, ranging from genetics and injury, to age and other medical conditions such as a deviated septum. It is important to determine the cause of asymmetric nostrils in order to undergo the appropriate treatment, which may involve correcting both the root cause as well as the nostrils themselves.
How will I know if rhinoplasty is right for me?
The decision to undergo surgery is a deeply personal one, and one only you can make. In consultation with Dr. Rizk, he will suggest the best course of action to take in fixing uneven nostrils, which may involve surgery. He will discuss the procedure, answer any questions, as well as listen to and resolve any concerns you may have.
What are the risks of fixing uneven nostrils?
As with any surgical procedure, surgery to correct asymmetrical nostrils may carry some risks and potential side effects, including risk of infection or reaction to anesthesia, swelling, bleeding and bruising. Choosing an experienced and qualified double board-certified surgeon such as Dr. Rizk will greatly minimize the chance of any major risks or serious side effects.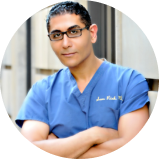 By Dr. Sam S. Rizk, M.D., FACS.
Dr. Rizk is a double board-certified facial plastic surgeon who specializes in rhinoplasty surgery and a recognized expert on the latest advances in facial plastic surgery techniques. He performs a range of facial plastic surgeries at his New York practice.