Facial aging, the way our face changes with age, or as we go through lifestyle changes, is a universal concern that can impact our self-confidence and make us look older than we truly are. At Manhattan Facial Plastic Surgery, Dr. Sam Rizk stands as a recognized specialist and master sculptor in facial and reconstructive surgery1. With his exceptional expertise and unwavering commitment to artistry, he has established himself as a trusted name in the field of facial rejuvenation.
Dr. Rizk's exceptional proficiency in facelift procedures and techniques sets him apart as a sought-after surgeon in NYC and further afield for those seeking to restore their youthful appearance. He combines his surgical expertise with the latest advancements in medical science to offer a comprehensive range of facial rejuvenation procedures2 and tailors each treatment to suit the unique needs and goals of his patients. With a commitment to excellence and a reputation for delivering outstanding results, Dr. Rizk has garnered the trust and admiration of countless individuals seeking facial transformation and improvement.
Dr. Rizk's expertise in facelifts and other rejuvenation procedures can help you regain your confidence and bring out the best version of yourself.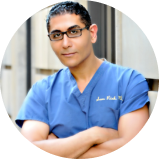 By Dr. Sam S. Rizk, M.D., FACS.
Dr. Rizk is a double board-certified facial plastic surgeon who specializes in rhinoplasty surgery and a recognized expert on the latest advances in facial plastic surgery techniques. He performs a range of facial plastic surgeries at his New York practice.