Leading Facial Plastic Surgery Center In New York
Park Avenue, Manhattan, NYC is where you will find a facial plastic surgery center that exceeds hospital standards. Dr. Sam Rizk is a double board-certified facial plastic surgeon dedicated to providing a safe, private, and high-quality experience to all of his patients.
ABC News 3D High
Definition Rapid Recovery
Rhinoplasty
Rhinoplasty In NYC
How To Choose Your Surgeon
If you are considering having nose surgery in New York, there are several factors to keep in mind when choosing a surgeon and clinic:
It is crucial that your surgeon is board-certified by the American Board of Facial, Plastic and Reconstructive Surgery or the American Board of Plastic Surgery. Surgeons with these certifications undergo rigorous training to ensure that they are well prepared to perform procedures such as rhinoplasty.
Your doctor should perform rhinoplasty on a regular basis, preferably more than one case per week. He or she should also have a proven talent for aesthetics; you can assess this for yourself by viewing his before and after photos.
Price should not be a primary consideration when choosing a rhinoplasty surgeon. Cosmetic surgery is not something you can afford to skimp on. The bottom line: you want the most qualified expert to perform your procedure, regardless of price.
In addition to earning the proper board-certification, your surgeon should have extensive experience not just in cosmetic surgery but specifically in nose surgery. Moreover, your surgeon should have a track record of positive results – not only with standard procedures but also with complex cases and revision procedures
He should perform surgery in a clinic with state-of-the-art equipment such as 3D technology, which provides for increased precision and less downtime.
It is also important that you feel comfortable with your surgeon and the clinic they operate out of. During your initial consultation, observe the staff, the level of service, the surgical equipment, and the surgeon's demeanor. If something makes you feel uneasy, trust your gut and walk away.
To begin your search for a qualified facial plastic surgeon, start by doing some research online. Read the biographies of several surgeons, as well as some peer reviews, credentials and patient testimonials.
The Type of Surgeon Matters
There are many things to consider when choosing a surgeon to perform your cosmetic surgery. Foremost among them is which type of surgeon should complete your procedure. With so many specialists now offering cosmetic surgical procedures, it can get confusing. Despite both receiving a medical degree as part of their initial training, their training varies after this point.
Facial Plastic Surgeon vs. Plastic Surgeon, The Difference
Board-certified facial plastic surgeons typically continue their training with a residency in general surgery or another area, an additional residency in otolaryngology-head and neck surgery (or in some cases, plastic surgery), and a fellowship in facial plastic surgery.
Then they obtain accreditation in facial plastic surgery from the American Board of Facial Plastic and Reconstructive Surgery (ABFPRS). Often, they receive board certification from another medical board as well (e.g., the American Board of Otolaryngology, or ABOto).
In contrast, plastic surgeons usually complete a residency in plastic surgery and possibly a fellowship in facial plastic surgery, but typically do not complete a residency in otolaryngology-head and neck surgery, and they usually do not obtain board-certification from the American Board of Facial Plastic and Reconstructive Surgery. They only achieve board-certification from the American Board of Plastic Surgery, a more general board-certification that is not focused specifically on facial plastic surgery.
As a result, while facial plastic surgeons spend the majority of their training focusing on the ear, nose, throat, and face, plastic surgeons divide their time between these areas and many other areas of the body. Plastic surgeons generally lack the knowledge that facial plastic surgeons have of certain facial structures, such as the nose. This is because the training they receive in this area is not as extensive as that of a facial plastic surgeon.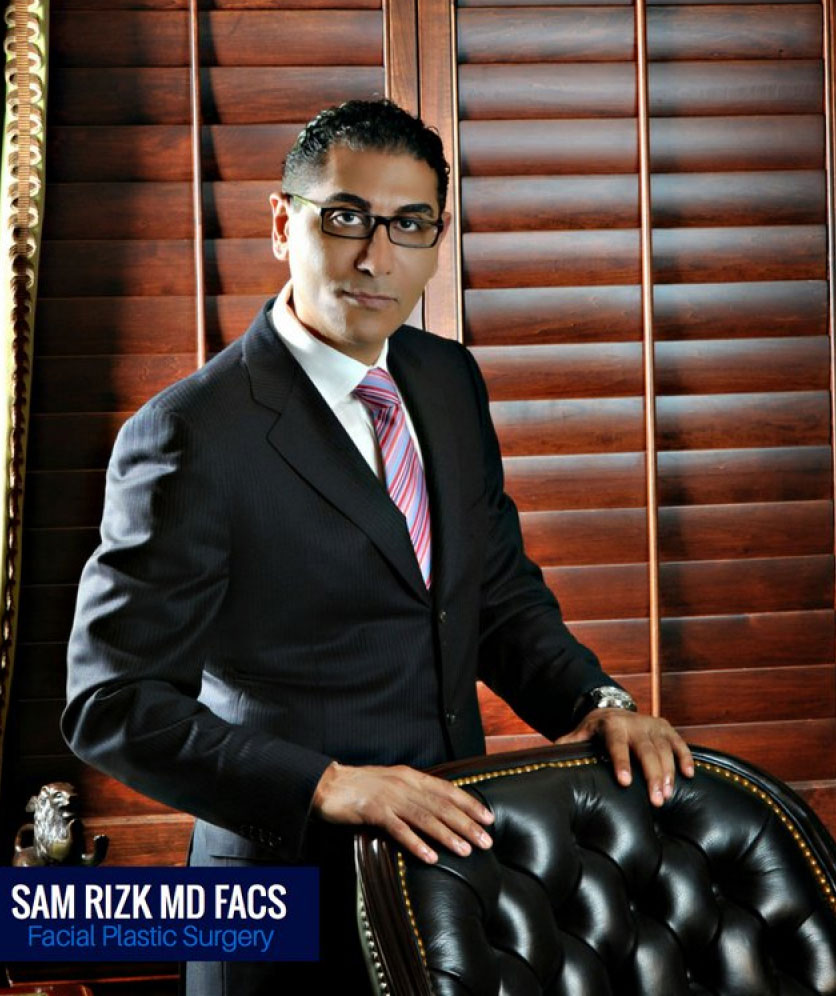 Double Board-Certified – The Dr. Rizk Benefit
A double board-certified facial plastic surgeon has achieved accreditation from medical boards in two different specialties of medicine. Typically, double board-certified facial plastic surgeons are certified by the American Board of Otolaryngology and the American Board of Facial Plastic and Reconstructive Surgery.
Achieving double-board certification is a long, challenging process that few surgeons achieve. It involves several steps taken after obtaining a medical license.
To achieve just one board-certification, a physician has to show sufficient expertise to one of the boards of the American Board of Medical Specialties or the Royal College of Physicians and Surgeons of Canada, such as the American Board of Surgery. To be eligible, a physician first must complete a residency program following medical school. This usually takes about three to five years and involves a written exam and oral exam.
Achieving a second board certification (i.e., double board-certification) means demonstrating sufficient expertise to a second medical board in a separate medical specialty. Part of this typically involves completing a second residency (e.g., in otolaryngology-head and neck surgery).
Professional Affilications

American Academy of Facial Plastic and Reconstructive Surgery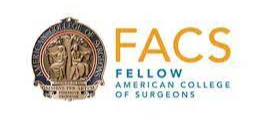 Faculty of American College of Surgeons (FACS)
American Academy of Cosmetic Surgery

New York Facial Plastic and Reconstructive Surgery Society

Medical Society of the State of New York
Obtaining Board-Certifications
To obtain board-certification from the American Board of Facial Plastic and Reconstructive Surgery, a surgeon must complete a two-day exam. He or she also has to submit a sufficient record of clinical experience, including operative reports for a minimum of 100 facial plastic surgeries. Moreover, the surgeon must possess the appropriate licensure and subscribe to the board's Code of Ethics.
To maintain board-certification, the surgeon must be willing to continually pursue ongoing education and assessment; stay abreast of the latest innovations in the field; and demonstrate best practices in patient safety, as well as ethics and communication.
Double board-certified, Dr. Sam Rizk received training in both cosmetic and reconstructive procedures from some of the nation's top hospitals, including Lenox Hill Hospital, Memorial Sloan-Kettering Cancer Center, and Manhattan Eye, Ear and Throat Hospital.
Dr. Rizk has lectured and written extensively on facial plastic surgery topics. He is well-respected among peers for his knowledge, skill, and extensive experience and is an active member of numerous prominent medical organizations. His facial plastic surgery expertise is highly beneficial to patients throughout New York, and internationally.
Mission Statement
One of the nation's leading experts, Dr. Rizk focuses exclusively on facial plastic surgery, with a particular interest in rhinoplasty procedures, including ethnic and revision rhinoplasties. He is also a facelift specialist.
Dr. Rizk is known for his minimally invasive techniques for rapid recovery, and for his outstanding record of positive outcomes. He has extensive experience with complex rhinoplasty and facelift cases, having performed thousands of such cases, and continues to perform these procedures on an ongoing basis. His mission?
Natural results with rapid recovery using the most advanced up-to-date techniques (refer to book chapters/articles on latest techniques published by Dr. Rizk).
5-Star Experience in a supportive environment with the best pre-surgical and post-surgical care.
Surgery is performed at top-notch hospitals (Manhattan Eye, Ear and Throat Hospital and Dr. Rizk's own office facility with state-of-the-art technology).
Board-certified and experienced nursing staff specializing only in plastic surgery.
Experienced and board-certified anesthesiologist.
Your Consultation in NYC
Dr. Rizk typically includes computer imaging as part of his consultation, especially from the profile or side view. However, sometimes he chooses not to use computer imaging for revision rhinoplasty or from the front view as it is too inaccurate. Dr. Rizk usually discusses his surgical plan on sheets with diagrams of nasal anatomy if he feels you are a good candidate for surgery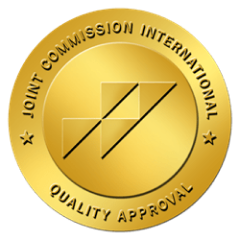 Joint Commission-Certified Facility
Dr. Rizk's surgical facility has attained the Joint Commission (the highest state organization to certify office facilities and hospitals) GOLD SEAL OF CERTIFICATION. Previously known as JCAHO, the Joint Commission is a non-profit organization that sets quality standards in health care.
Assigned only after a rigorous set of standards is met, Joint Commission-certified facilities like Dr. Rizk's are recognized for offering the best in patient care.
When choosing a Joint-Commission-certified provider like Dr. Rizk, patients can be assured that they are in adept, professional, and highly skilled hands that are held to meet the strictest standards set by hospitals around the country.
Staffing
Only board-certified anesthesiologists who are MD's with many years of experience are employed. All medical staff members are certified in ACLS (Advanced Cardiac Life Support).
In addition, Dr. Rizk only employs certified health care professionals with the highest rank. Operating room and recovery room nurses are either registered nurses (RN) or nurse practitioners (advanced nurses) with many years of experience in hospitals and ambulatory facilities. Each patient has their own nurse in their recovery room (a 1:1 ratio between nurses and patients).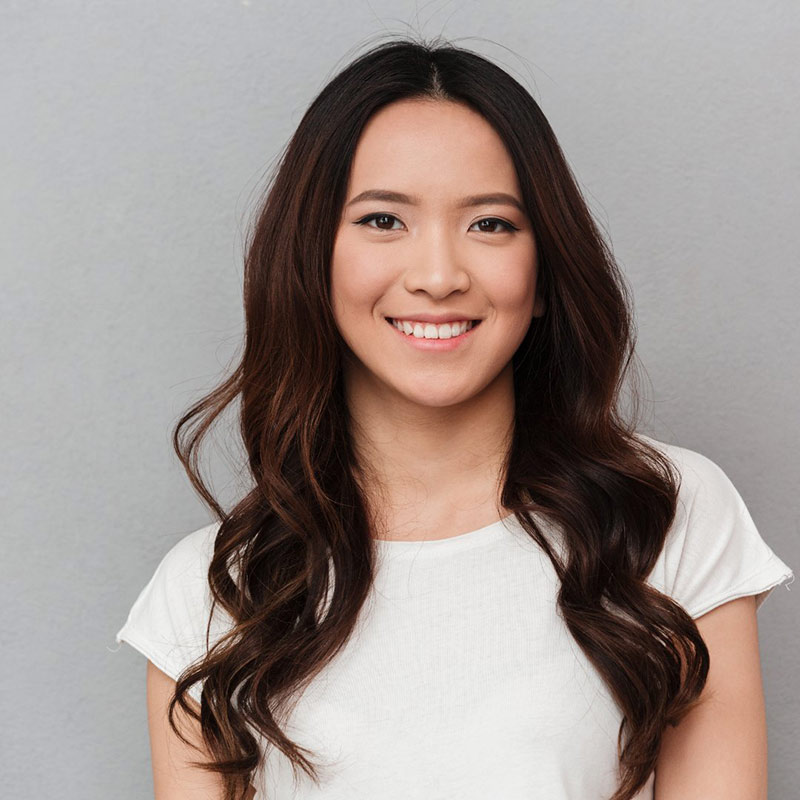 Approved Procedures
Facial surgery of all types can be performed at our facility, including:
Rhinoplasty
Neck liposuction
Otoplasty (ear pinning)
Functional endoscopic nasal surgery
Facility Design and
Equipment
A top architectural contracting firm and top medical operating room design company worked together to create a facility that is safe, aesthetically pleasing, and state-of-the-art. Unique features include:
A high-definition endoscopic 3-D advanced imaging system that is built into the facility and represents the future of minimally invasive, rapid recovery procedures.
A dual industrial-strength air conditioning and heating unit that has special filtration and humidification controls. The flow rates are exceptionally high to provide for the most sterile environments.
An emergency power generator allows for surgery to be continued for an additional 5 hours in the event of a power failure and is able to support all the operating room electrical and anesthesia equipment.
Anesthesia gas is piped into the operating room from a special built-in tank system, allowing room for many extra tanks for safety.
Oxygen is built into the walls and is seamlessly delivered to operating and recovery rooms.
A central large capacity suction system also supplies suction to operating and recovery rooms.
Both operating rooms and recovery rooms have a central built-in light system in addition to a fiberoptic xenon headlight system for extra safety.
Additionally, a special flooring system in the operating room is designed for maximal cleanliness.
A large industrial strength hospital sterilizer is used, which has a special built-in printer to print temperature readings which is then logged into a book daily to show that the temperature necessary for sterility was reached.
Specialized soundproofing is used around noisy equipment to achieve the most serene, relaxing atmosphere possible.
Cost
A facility that exceeds hospital standards is expensive to build, maintain, and staff. Every surgery has a facility fee which is in addition, and separate, from the procedure fee, regardless of whether it is done in Dr. Rizk's Park Avenue facility, a surgical center, or a hospital.
The fee is based on the duration of the procedure and is very competitive compared with hospital charges. It includes:
1:1 nursing in the recovery room
equipment used during surgery (some of these are disposable and only a one-time use)
sutures
operating room labor such as an operating room technician, circulating operating room nurse, recovery room nurse
The philosophy of our practice is to use our facility to provide a safe, exclusive, and high-quality experience for our patients. To learn more about why you should choose Dr. Rizk for your facial plastic surgery, contact his New York City practice today.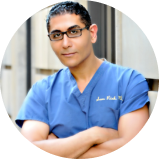 By Dr. Sam S. Rizk, M.D., FACS.
Dr. Rizk is a double board-certified facial plastic surgeon who specializes in rhinoplasty surgery and a recognized expert on the latest advances in facial plastic surgery techniques. He performs a range of facial plastic surgeries at his New York practice.