What Are Sagging Eyebrows?
Droopy brows refer to the sagging of the eyebrow area. Over time, the skin and underlying tissues above the brows begin to lose elasticity and gradually droop downwards, causing the eyebrows to sit lower on the face and creating a heavy, hooded look. It is a common sign of aging that can make you appear tired, sad, or angry even when you're feeling content. This can also lead to the formation of forehead wrinkles and lines between the eyebrows, which only add to the aged appearance. Fortunately, surgical and non-surgical treatments can help lift and rejuvenate the eyebrows, restoring a more youthful, refreshed look to the face.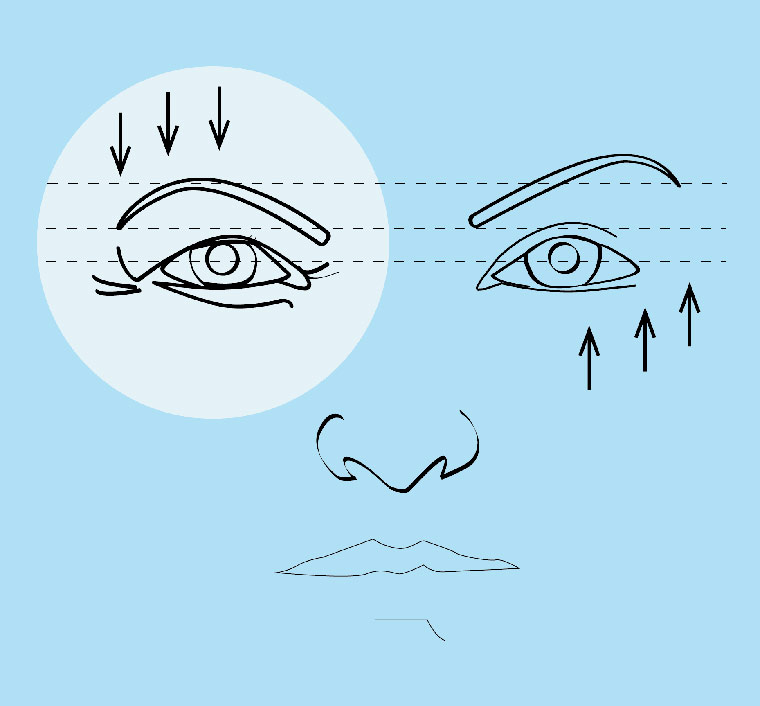 What Causes Droopy Brows?
The primary cause of sagging brows is the natural aging process. As we age, muscles and connective tissue in our forehead weaken, causing the skin to sag. Additionally, repeated facial expressions and movements such as frowning or squinting can contribute to the development of brow ptosis. Environmental factors such as sun damage and smoking can expedite the aging process and further exacerbate the appearance of sagging brows.
Can Sagging Brows Be Fixed?
Yes, with various surgical and non-surgical options. One of the most effective treatments for sagging eyebrows is a brow lift. This procedure involves lifting the skin and muscles of the forehead to raise the position of the eyebrows, creating a more youthful and refreshed appearance without an overly 'stretched' look. Dr. Sam Rizk uses endoscopic and traditional brow lift techniques to reshape and lift the brows for a more youthful and refreshed appearance.
These procedures involve small incisions and a tiny camera to provide a precise view of the underlying tissue and muscles. Additionally, the procedure can be customized to target specific areas of concern, such as droopy eyebrows or forehead lines, resulting in a natural-looking outcome.
Brow Lift for Sagging Eyebrows
Brow lift surgery is a highly effective cosmetic procedure that can significantly improve the appearance of a sagging brow. During a brow lift excess skin is removed, and the underlying muscles and tissues are tightened. This correction can restore a more youthful and refreshed appearance to the face, with a more defined and lifted brow line. The results of a brow lift can be long-lasting. Many of Dr. Rizk's patients report significant improvements in their self-confidence and overall satisfaction with their appearance.
Other Brow Rejuvenation Options
While surgery is a popular option for sagging eyebrows, there are also non-surgical options available. One such option is Botox droopy brow injections, which can help create a more youthful appearance. Another option is to use fillers like Juvederm or Restylane to provide more volume to the area around the eyebrows, which can help elevate the brows and restore a more defined and youthful look. These non-surgical options are less invasive than surgery and can provide excellent results, however these require lifelong maintenance, and should be performed by highly experienced injectors to avoid any problems that can affect your vision.
Generally brow lift results can be enhanced with other treatments such as a mini facelift, full facelift or a blepharoplasty or eyelid lift.
Meet Dr. Rizk | Best Brow Lift Surgeon for Sagging Eyebrows
Dr. Rizk is a leading facial plastic surgeon in NYC specializing in brow lift surgery for sagging eyebrows. With years of experience and a keen eye for detail, he has helped countless patients achieve natural-looking and long-lasting results. Contact us today to schedule a consultation and learn more about our brow lift and other facial rejuvenation options.
Frequently Asked Questions
How to fix one sagging brow?
If you have one droopy brow, there are a few options to correct it. One option is to undergo droopy brow lift surgery. Another option is to use injectable treatments such as Botox or dermal fillers to correct asymmetry and balance out the appearance of the eyebrows. It's best to consult a qualified facial plastic surgeon like Dr. Rizk, to determine the best option for your specific needs.
Does waxing the brow create sagging?
Waxing the brow does not create sagging, but it can cause skin damage if done improperly. If the waxing process is too aggressive or the wax is too hot, it can cause damage to the skin and underlying tissue, which can contribute to sagging over time. It's important to have your brows waxed by a licensed and experienced professional to minimize the risk of damage to the skin and underlying tissue.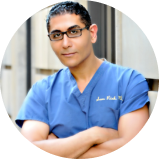 By Dr. Sam S. Rizk, M.D., FACS.
Dr. Rizk is a double board-certified facial plastic surgeon who specializes in rhinoplasty surgery and a recognized expert on the latest advances in facial plastic surgery techniques. He performs a range of facial plastic surgeries at his New York practice.