What Is Sagging Face Skin?
A sagging face is a common concern1 that many individuals face as they age. As the years go by, the skin loses its elasticity and begins to droop, leading to a tired, aged appearance. This condition occurs due to a variety of factors, including a decrease in collagen and elastin production, loss of fat in the face, and the effects of gravity.
When facial skin sags, it can result in prominent jowls, deep nasolabial folds, and a drooping jawline. This can significantly impact one's self-confidence and overall facial harmony. Fortunately, Dr. Rizk, a renowned expert in facial plastic surgery, offers innovative solutions to address sagging facial skin.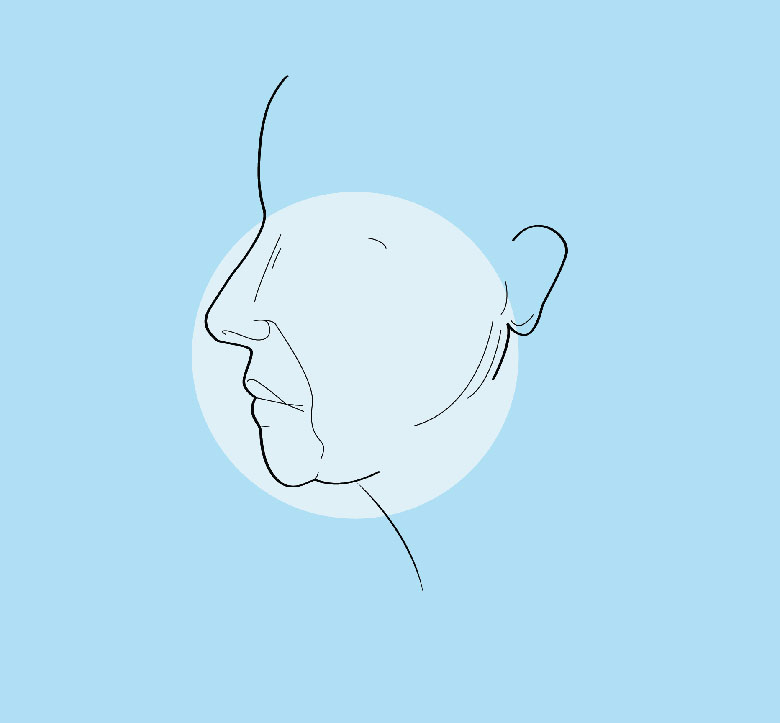 What Causes Face Sagging?
Many people ask Dr. Rizk "Why is my face sagging?" – and there are a number of factors that impact the elasticity of skin on the face, including:
Decreased collagen and elastin production
Loss of facial fat
Effects of gravity on facial tissues
Repeated facial expressions and muscle movement
Sun damage and prolonged exposure to UV rays
Poor skincare routine and lack of moisture
Genetic predisposition to sagging skin
During your consultation with Dr. Rizk, he will thoroughly evaluate your facial skin, habits, and overall health, in order to determine the best treatment – whether that's a mini facelift, deep plane facelift2, or non-surgical treatment.
Can Sagging Face Skin Be Fixed?
Certainly! A sagging face can be effectively addressed to achieve a more youthful and rejuvenated look. A facelift is a popular and highly effective solution for treating sagging facial skin. This surgical procedure targets the underlying structures of the face, such as muscles and tissues, to lift and tighten the skin. By removing excess skin and repositioning the remaining skin, a facelift can significantly reduce sagging, wrinkles, and jowls. It can also improve the appearance of the jawline and neck. Dr. Rizk's meticulous approach, combined with his commitment to natural-looking results, ensures that patients achieve a refreshed and youthful appearance without an artificial or overdone look.
Restoring a Youthful Look With Advanced Techniques
Dr. Rizk specializes in several highly effective facelift techniques, including the mini facelift and the deep plane facelift. The mini facelift targets the lower to mid part of the face, addressing sagging skin3 and restoring a more youthful appearance by tightening the underlying muscles and removing excess skin.
Dr. Rizk's expertise truly shines in his mastery of the deep plane facelift technique. This advanced method involves lifting and repositioning the deeper layers of the face, resulting in comprehensive rejuvenation and long-lasting results. With meticulous precision, Dr. Rizk enhances facial contours and minimizes sagging while preserving a natural aesthetic.
Meet Dr. Rizk | Expert Plastic Surgeon for the Aging Face
Dr. Sam Rizk, a highly respected double board-certified facial plastic surgeon based in New York, stands out as a trusted expert in the field. Through specialized techniques, Dr. Rizk delivers exceptional outcomes, helping patients achieve their desired results and regain their confidence. His dedication to his craft and focus on natural-looking results have established him as a renowned expert in facial plastic surgery.
Whether you're seeking treatment for sagging facial skin or other facial rejuvenation needs, Dr. Rizk is the surgeon to trust. Schedule a consultation today to discover how he can help you attain your aesthetic goals with his expertise and personalized approach.
Frequently Asked Questions
Does running make your face sag?
If you're a regular runner or part-time jogger, you may have heard about 'runner's face', an urban myth that states running makes the face sag due to the up-and-down bouncing of the body and face. Rather, repeated sun exposure and a lean body can often make the face appear gaunt or older, no matter the form of exercise.
How to prevent sagging face skin?
While age and gravity affect us all eventually, there are a number of actions you can take to ensure your skin remains as healthy and youthful as possible. These include:
Regularly using sunscreen and moisturizer, and avoiding prolonged sun exposure
Eating a healthy, balanced diet rich in healthy fats and vitamins
Exercising regularly
Following a skincare regime suited to you and your skin type
Can I combine a facelift with other procedures?
Whether you're looking for complete facial rejuvenation, or have specific goals in mind, many patients opt to combine procedures to minimize downtime. Dr. Rizk will be able to recommend suitable procedures based on your goals, but he often combines facelifts with procedures such as eyelid surgery (blepharoplasty), brow lift, neck lift, or chin augmentation.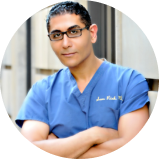 By Dr. Sam S. Rizk, M.D., FACS.
Dr. Rizk is a double board-certified facial plastic surgeon who specializes in rhinoplasty surgery and a recognized expert on the latest advances in facial plastic surgery techniques. He performs a range of facial plastic surgeries at his New York practice.