What Is an Upturned Nose?
An upturned nose, also sometimes referred to as a pixie nose, is a facial feature characterized by a curved or raised tip. This type of nose shape is historically attractive, dating back to ancient Greek sculptures of Aphrodite. Anatomically, an upturned nose is caused by a more dorsal prominence of the cartilaginous septum and lower lateral cartilages than usual. It is also associated with a slight columellar retraction and elevation of the nasolabial angle.
Dr. Rizk often sees an upturned nose as a result of a previous rhinoplasty and can de-rotate it down with a revision rhinoplasty using cartilage grafts from many sources.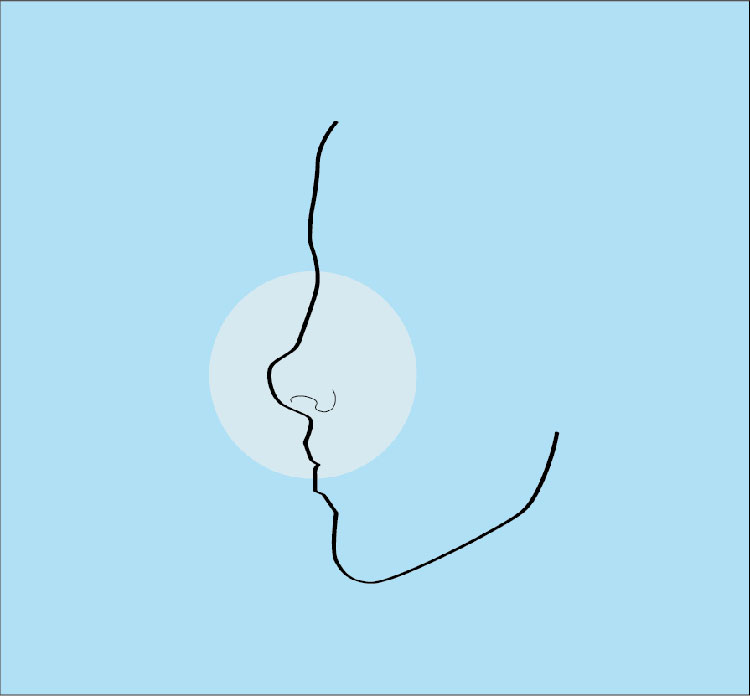 Can an Upturned Nose be Fixed?
An upturned nose can be fixed through a rhinoplasty procedure, a surgical technique used to reshape and refine the nose, giving it a more aesthetically pleasing appearance and bringing it into balance with the rest of the face.
When to Consider Rhinoplasty for an Upturned Nose?
Nasal tip refinement surgery, or rhinoplasty, is used to address a myriad of aesthetic issues with the nose. It is typically recommended when the nasal tip1 does not align with the remainder of the bridge, or when an individual desires a more aesthetically pleasing profile. Nasal tip refinement can correct asymmetry, reduce the size or shape of the nasal tip, and reshape the cartilage to create balance between the nose and upper face.
The goal is to create natural facial harmony2 by improving the overall proportions of the nose and face. A qualified surgeon will assess factors such as your anatomy and desired outcome before determining if rhinoplasty is right for you. Through careful preparation and precise technique, Dr. Sam Rizk can deliver beautiful results while preserving natural facial dynamics and aesthetics.
Upturned Nose Rhinoplasty Procedure
Rhinoplasty, commonly known as a nose job, is a surgical procedure that reshapes the structure of the nose to address medical and/or aesthetic concerns. During the operation, Dr. Sam Rizk will use specialized techniques to remove or rearrange cartilage and bone from within the nasal framework. In cases of a pixie nose, tissue removal or reshaping may be employed to bring down the angle of the tip. The outcome depends on the patient's anatomy, but careful suture placement can help improve the appearance and create more balance between the face and nose.
Additionally, when done correctly with an experienced facial plastic surgeon, upturned nose rhinoplasty can help straighten out any asymmetry to achieve a more proportionate shape for aesthetic purposes. As such, it is important to consult with an experienced professional like Dr. Sam Rizk in New York who is double board-certified in facial plastic surgery and can provide natural-looking results while achieving optimal patient safety.
Determining the Cause and Treatment Plan for Upturned Nose
When determining the cause and treatment plan for a pixie nose, NYC's Dr. Sam Rizk will take into account your medical history, as well as overall health and aesthetic goals. Also, the nasal anatomy, including cartilage and soft tissue structure are examined, to understand how the nose is shaped and if any structural changes need to be made. Depending on what needs to be done, he may opt for a traditional rhinoplasty procedure or an endonasal approach3. He will consider various factors such as age, skin texture and thickness when creating a customized treatment plan for you. By combining his expertise in facial plastic surgery with careful attention to detail, Dr. Sam Rizk can help you achieve your desired look with beautiful results.
Meet Dr. Rizk | Upturned Nose Rhinoplasty Surgeon NYC
Dr. Sam Rizk is a double board-certified facial plastic surgeon, specializing in rhinoplasty. He has extensive experience performing complex nasal surgeries and is highly skilled in correcting an upturned nose due to structural imbalances of the nasal bones and cartilage. His meticulous approach ensures that patients receive natural-looking results, tailored to their unique needs for an aesthetically appealing outcome. Dr. Rizk is trusted by many patients as the best nose job surgeon. Schedule an appointment with his Manhattan office team today!
Frequently Asked Questions
Are upturned noses feminine?
Upturned noses are considered feminine in many cultures and societies, however, they can be quite rare. For some people, an upturned nose may not be aesthetically pleasing, and correcting it can help balance the face and enhance their overall facial features.
Are there non-surgical ways to fix an upturned nose?
Yes, there are some non-surgical ways to fix a pixie nose, such as dermal fillers and injectables that can help reshape and augment the nose.
Can I have any other procedures done to complement my upturned nose surgery?
Depending on the results you're looking for, Dr. Rizk can also perform procedures like chin surgery to create a more balanced facial profile or alarplasty to reduce excess nostril flare that often comes with a strongly-upturned nose. Patients must consult a board-certified facial plastic surgeon like Dr. Sam Rizk to ensure optimal results.
Do I need to correct an upturned nose?
The decision to correct the nose should be made on a case-by-case basis and depend on the individual's desired outcome. Rhinoplasty surgery is a precise and intricate procedure requiring a lot of skill and experience to achieve natural-looking results with minimal downtime. Thus, it is important to consult a qualified specialist with extensive experience performing rhinoplasty procedures before undergoing this type of surgery.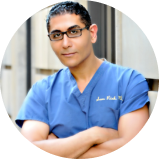 By Dr. Sam S. Rizk, M.D., FACS.
Dr. Rizk is a double board-certified facial plastic surgeon who specializes in rhinoplasty surgery and a recognized expert on the latest advances in facial plastic surgery techniques. He performs a range of facial plastic surgeries at his New York practice.