This branch of rhinoplasty was developed to specifically address the complexities associated with performing rhinoplasties on distinct ethnic groups. To successfully perform ethnic rhinoplasty, the plastic surgeon must be able to identify and preserve the characteristics associated with each unique ethnic or cultural group. The best rhinoplasty surgeon will be able to enhance the shape and function of the nose without erasing the patient's identity or heritage.
Dr. Rizk doesn't believe in a one-size-fits-all approach for a nose job. His technique is more refined when it comes to dealing with patients from different cultural backgrounds.
In his Manhattan practice, he sees patients from all over the world who come from multiple cultures. Regardless of how your nose appears prior to surgery, Dr. Rizk spends a great deal of time with patients to gain knowledge of their own personal goals in relation to beauty and rhinoplasty. His end goal is to develop and refine a nose that beautifully fits the face while maintaining balance with cultural aspects.
According to Dr. Sam Rizk, although there is a large spectrum of differences in these noses, there are some common characteristics that allow them to be grouped as ethnic, which are thick skin and weak tip cartilages.
A Quick Guide to Ethnic Rhinoplasty
Goals of Ethnic Rhinoplasty
The main objective of the surgical procedures in non-Indo-Europeans, according to Dr. Sam Rizk, one of the best rhinoplasty surgeons in the world based in New York, is to modify the nose and other facial features so that the final results preserve their ethnic preservation while sharpening and defining their characteristics maintaining facial harmony, and not to create something based on the caucasian ideal. To achieve this result, the following elements must be altered: dorsum, nasal pyramid, tip, nasolabial angle, alar base, pyriform area, tip definition and projection, and alveolar ridges.
His patients often report feeling a renewed sense of self-esteem and confidence after an ethnic nose job, a feat that he takes great pride in.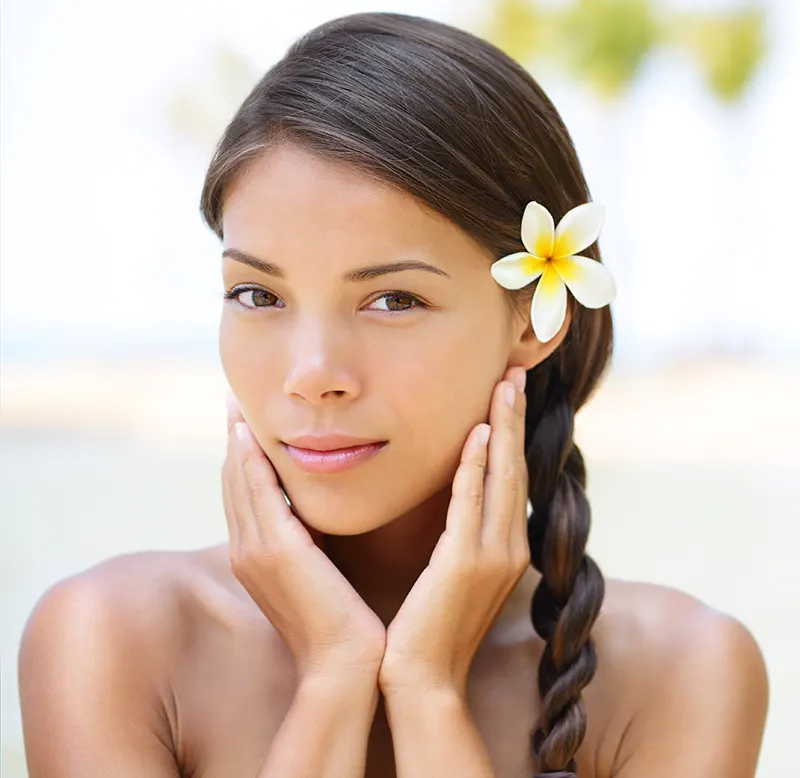 Real Patient Results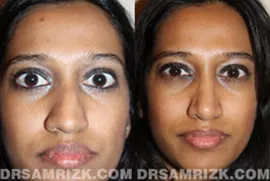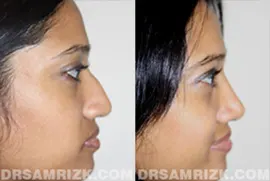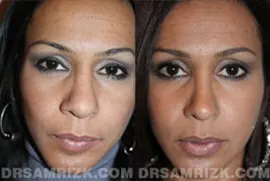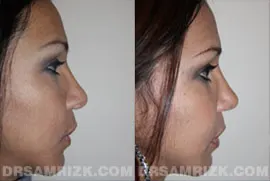 25 year old Indian/middle eastern patient with typical ethnic rhinoplasty characteristics of thick tip skin, wide nostrils, drooping nasal tip and weak tip support. Patient also has frontal asymmetry of the nose. Patient underwent septorhinoplasty and nostril reduction. Cartilage grafts were placed in the patient's tip from her own nasal septum to support and define her tip. The nostril reduction was performed from an incision on the inside rather than the outside of the nostril. The right nostril was much larger than left nostril before rhinoplasty. The bump was removed conservatively. Ethnic rhinoplasty patients do not like major nasal rotation up or a very low nasal bridge. Results are shown postoperatively at 1 year.
29 yo female ethnic rhinoplasty patient with thick skin who had previous rhinoplasty who requests improvement in symmetry, breathing and definition. Patient underwent revision rhinoplasty with multiple cartilage grafts into tip and middle nasal vault to correct her breathing and cosmetic appearance. Patient is shown one year after revision procedure.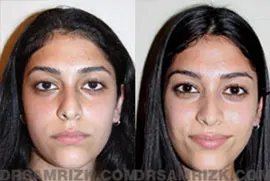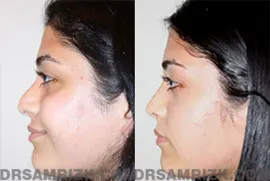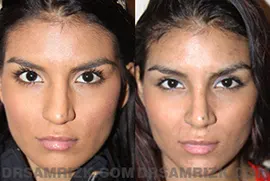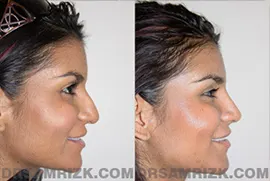 22 year old Middle Eastern female underwent 3D endonasal minimally invasive rhinoplasty to remove the nasal bump and refine the nasal tip. This Middle Eastern rhinoplasty patient has a typical tip drop found in Middle Eastern rhinoplasty patients and the tip was also elevated. Dr. Rizk's aesthetics is a feminine but natural profile as shown. Every nose Dr. Rizk performs is different as is every profile which must be in harmony with the rest of the face. Patient is shown post-surgery at 6 months.
22 year old female who underwent endonasal 3D nose surgery to lift her tip, remove her bump and narrow the tip. Patient is shown postoperatively. Note that patient has a history of using a nose ring on the left side and has a slight indentation asymmetry from the nose ring.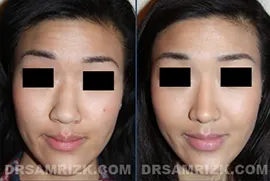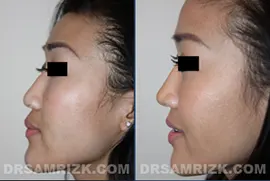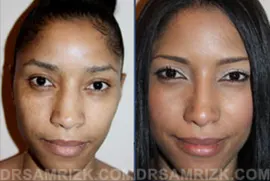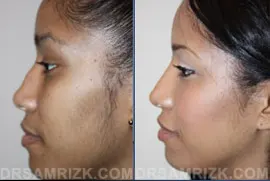 23 year old Asian patient wanted to add definition to her face by undergoing a rhinoplasty. Dr. Rizk performed the rhinoplasty with auricular graft to give her more definition. The auricular graft was necessary as the patient's own septum was too thin for creating sufficient definition in her nose. The set of pictures is shown one year after her procedure.
This 30 year old female Dominican patient concerned with the appearance of her nasal bump, wide nostrils and nasal tip visited Dr. Rizk for a rhinoplasty. In order to achieve a natural outcome, Dr. Rizk had to use structural nasal grafts which is different from the traditional techniques of excision of cartilage. Overall the patient was satisfied with her results, shown in the picture 4 months after surgery.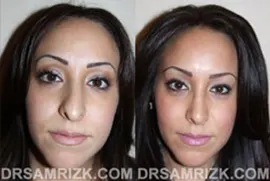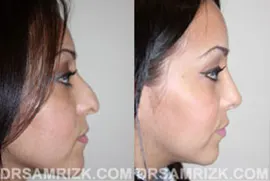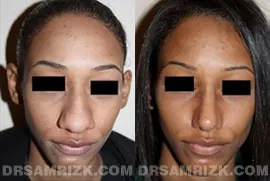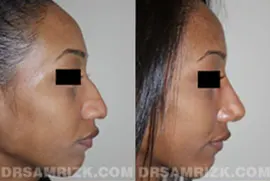 25 yo female wishes to improve drooping nasal tip, bump and bulbous nasal tip. Patient underwent open rhinoplasty with tip support with her own septum cartilage to achieve a better long term result of tip support. Tip was also refined with cartilage reduction and suture techniques, and bump was removed naturally. Patient is shown 1 year after nose surgery.
18 yo African American patient who underwent rhinoplasty with medpor implant and nostril reduction. Patient is shown 6 months post-surgery and although there is still some tip swelling, the general structure of tip and dorsum is much more refined. Additionally the incisions of the nostrils are on inside of nostril rather than on outside where it joins the face.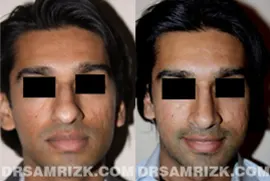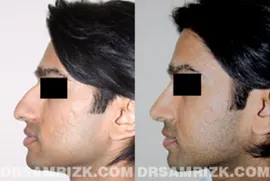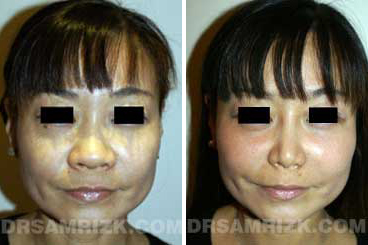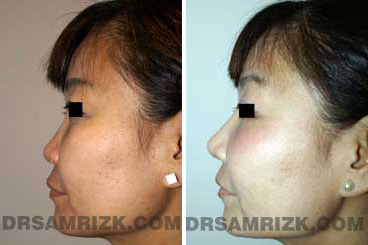 28 year old Indian male who complains of his bump and drooping nasal tip. In indian and ethnic rhinoplasty it is important to support the nasal tip with cartilage grafts. In this case, the patient's tip was lifted and supported with a columellar strut as well as 2 tip grafts under his thick skin. The bump was reduced very conservatively and he even has a slight convexity of the bridge on postoperative profile. Indian patients are very sensitive to the scooped or very low dorsum so it is very important to create a very natural profile that is masculine. Patient is shown one year after nose surgery.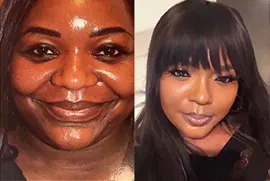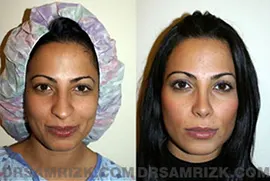 Patient came from London for rhinoplasty and sent us a follow up picture 1 year after open rhinoplasty with banked rib cartilage and alar base reduction
A female patient in her mid twenties is shown here before surgery. The two other postoperative images show the successful outcome six months and two years after the surgery. The drooped end of her nose was lifted and the overall shape was modified to look more natural.
Are You a Candidate For Ethnic Rhinoplasty?
Individuals unhappy with the appearance of their noses are good candidates for ethnic rhinoplasty. If you're considering the procedure, it's important to be in good health and have realistic expectations when it comes to the outcome of surgery. Working with hundreds of ethnic patients throughout the years, Dr. Rizk has the eye and artistry to design changes to best suit your overall facial characteristics in ethnic rhinoplasty.
Video Testimonials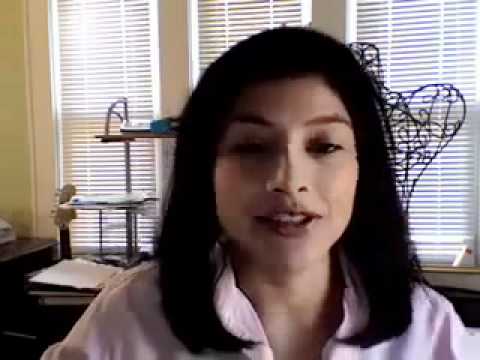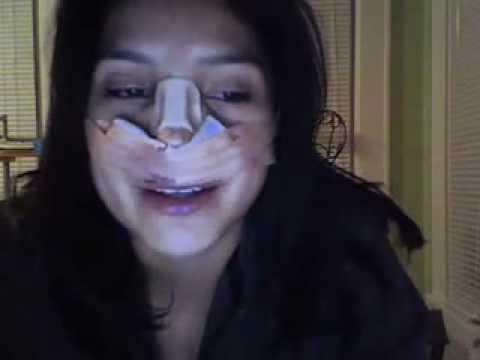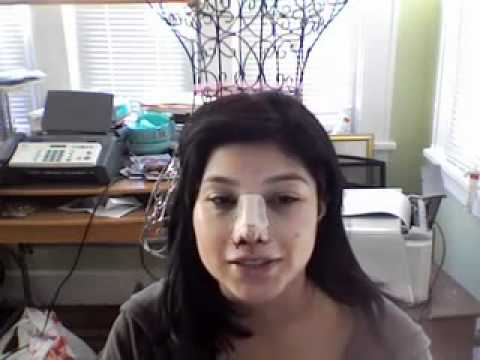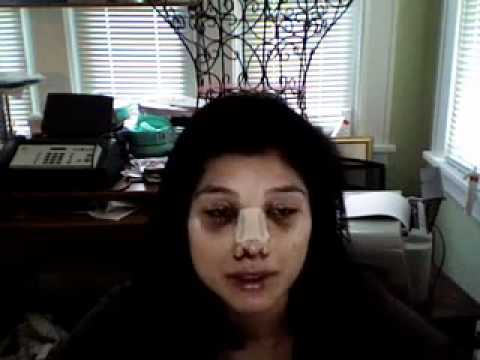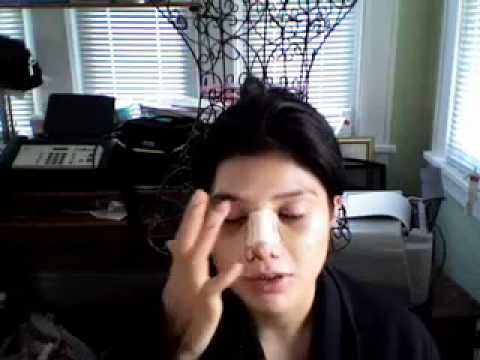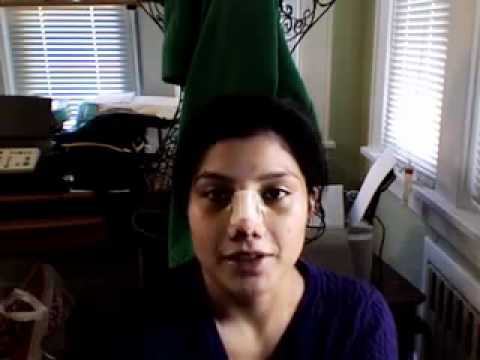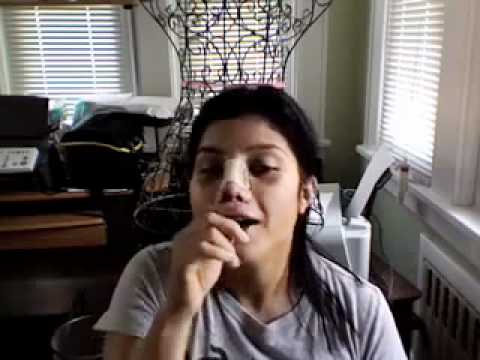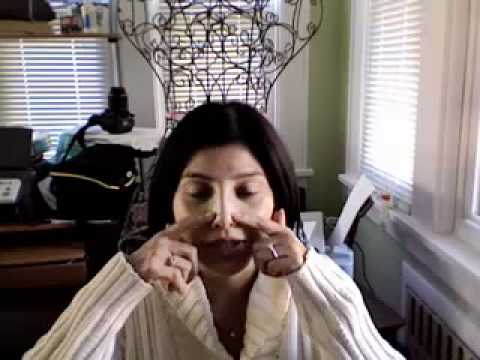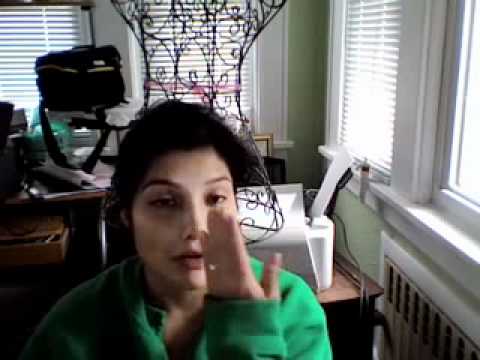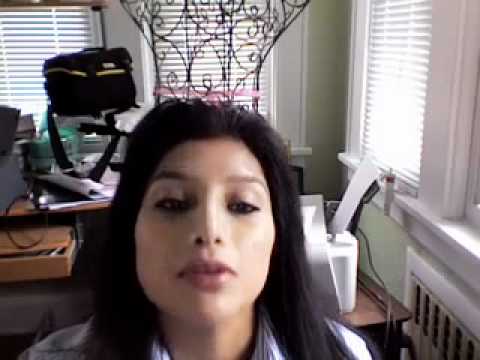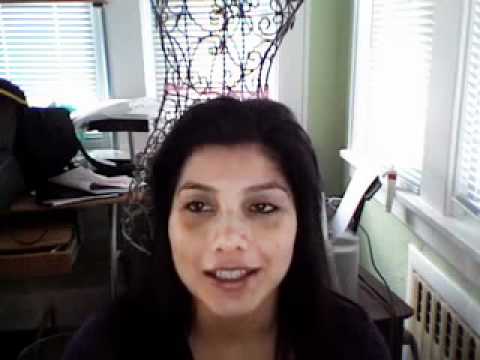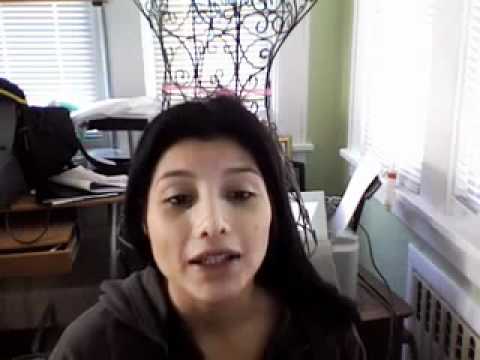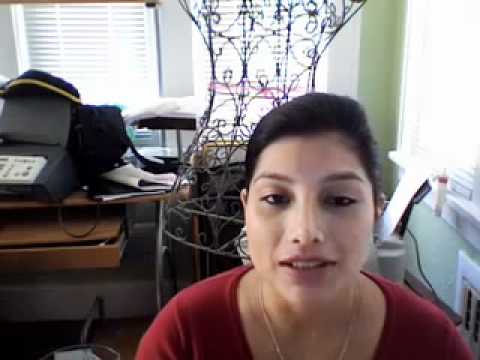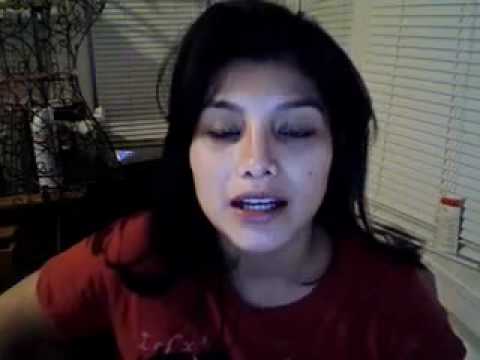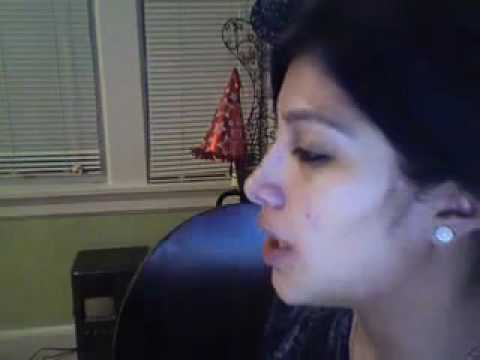 Why Choose Dr. Rizk For Ethnic Rhinoplasty Surgery?
Sam Rizk, MD leverages decades of experience, a background in artistry, and his meticulous surgical design to provide ethnic rhinoplasty surgery customized to each patient. His unique eye and understanding of anatomical structure allow him to address the "aesthetic units" with extreme precision, rapid results, and beautiful social presentation.
Dr. Rizk has been featured in national and international media. Please contact him today if you are interested in having rhinoplasty done.
Ethnic Rhinoplasty FAQ
What's involved in a rhinoplasty surgery?
In ethnic rhinoplasty, just like other nose job surgeries, Dr. Rizk makes small incisions to alter the cartilage and tissue of the nose. Then, he modifies the nasal tip, bridge, and nostrils to design a more desirable shape and size. He can reshape the nose either by removing cartilage and tissue or carefully placing cartilage grafts to add volume. When the rhinoplasty is complete, he precisely closes the incisions to minimize visible scarring.
What risks are associated with ethnic rhinoplasty?
As with general rhinoplasty, there are risks associated with ethnic rhinoplasty. Such risks include bleeding, swelling, damage during surgery, and anesthesia-related risks.
Will I have scarring from my NYC ethnic rhinoplasty procedure?
Typically, Dr. Rizk makes incisions inside the nose to eliminate visible scarring. Should your situation require incisions made from the outside of the nose, he will discretely place incisions using advanced techniques to ensure scars aren't visible.
How long does it take to recover after rhinoplasty?
The amount of changes made on your nose helps establish healing time. Typically, patients are back to work a week after rhinoplasty surgery and receive antibiotics and pain medication to ease any pain experienced during recovery. As the swelling and bruising go down, you'll notice a more flattering shape appear.
What results should I expect from ethnic rhinoplasty?
Ethnic rhinoplasty normally develops dramatic results. There are many changes made by modifying the shape of your nose. During ethnic rhinoplasty, Dr. Rizk ensures that your characteristics stay unique to you and your ethnic background.
How can Manhattan Plastic Surgery in NYC help me with ethnic rhinoplasty?
Dr. Rizk is a double-board certified plastic surgeon, who focuses solely upon specific cosmetic and reconstructive procedures of the face. He is a highly-experienced, trusted plastic surgeon who has pioneered advanced surgical techniques and frequently performs ethnic rhinoplasty procedures. His vast knowledge and impressive results have led to him becoming one of the most sought-after rhinoplasty surgeons in the New York area.
Can I travel to NYC to undergo a rhinoplasty with Dr. Rizk?
Dr. Rizk is fluent in Arabic, so Arabic patients are often interested in traveling to the USA to work with him in NYC. He frequently treats patients from other countries and has created a program to address the unique needs of out-of-town patients.
Ethnic Differences In a Nose Job
Every ethnicity is accompanied by different challenges when it comes to ethnic rhinoplasty.
Asian nose job
The Asian facial anatomy traditionally differs in size, shape, skin texture or thickness, structure, and appearance from other ethnic groups. These appearances might be slight to the untrained eye, however, these variances are extremely important when it comes to rhinoplasty or nose surgery for Asian patients.
Traditionally, procedures focus on augmentation as opposed to reduction since Asian noses have flat bridges, sometimes with less definition and wider nostrils. They may also have a minimal tip. Most Asian patients who want to redefine their noses with rhinoplasty wish to enhance their nose symmetry while creating a more defined, stronger bridge and tip. They often want to narrow their nostrils – which can be done during surgery, too.
Dr. Rizk typically performs two types of rhinoplasty on his Asian patients: an open procedure or a closed procedure.
Often, when an Asian patient asks for a more pronounced nose, Dr. Rizk will use nose implants along the nasal bridge. Since many Asian noses require lengthening, implants are very prevalent. Dr. Rizk prefers to use cartilage from the patient's nasal septum or ear. Alternatively, he suggests medpor, a synthetic material that becomes quickly integrated with the body tissue. He then custom sculpts the medpor implant to fit your nose during your procedure.
The recovery time for Asian rhinoplasty is very similar to that of standard rhinoplasty – most patients will be ready to return to work with minimal scarring and swelling a week after the procedure.
Latino and Hispanic nose surgery
There is a significant amount of variance in the Latino or Hispanic nose; however, some general traits can be seen across many Latino and Hispanic noses. The Latino nose is typically wider than the Caucasian nose and narrower than the African American nose. Latinos and Hispanics tend to have thicker nasal skin, which can lead to a lack of nasal definition. In many cases, they present with weak nasal tip cartilage. Combined with thicker skin, this can create the appearance of a bulbous nasal tip.
Many Latinos and Hispanics also have a prominent nasal bridge with an obvious dorsal hump. Latinos also tend to have a wider nose base that may be accompanied by wide or flared nostrils.
Latinos often request a narrow nose with a more refined nasal tip when consulting Dr. Rizk. Patients will also commonly wish to reduce the appearance of flared nostrils. Refinement and reduction of a prominent dorsal hump is another very common request.
Challenges Of Latino Rhinoplasty
Rhinoplasty performed on a person of Latino or Hispanic descent can be challenging for a number of reasons. The Latino and Hispanic people make up a broad cultural group that encompasses people of Iberian, Central American, and South American heritage who live in the United States. Understandably, there is a wide range of "typical" nasal characteristics within this group due to its wide geographical and cultural heritage. As with any rhinoplasty, there is no one "Latino" nose standard that can be used to plan the rhinoplasty.
It takes an artistic eye and a keen sense of ethnic traits to be able to shape a natural nose that complements the Latino or Hispanic patient's face. An added challenge when working with this ethnic group is their relatively thick nasal skin. When performing a nose job procedure on Latinos and Hispanics, additional skill and attention is required to reshape the cartilage framework of the nose so that the skin drapes elegantly and the nose appears more defined.
Indian Rhinoplasty
Indian noses vary significantly between individuals and exhibit a variety of ethnic characteristics. Common traits may be seen from certain geographical areas of India or may be associated with family lineage. As such, surgeons who perform ethnic rhinoplasty on Indian patients must be aware of the variety of traits present among this group and not attempt to apply one standard when shaping and refining an Indian nose.
Dr. Rizk has had great exposure to patients of Indian descent who come from NJ and surrounding areas to benefit from his expertise. These patients usually want to improve their appearance without erasing their cultural identity. Typical requests heard by him include reducing a nasal hump, elevating the nasal bridge, removal of a bump, lifting the nasal tip or correcting nasal droop, correcting an asymmetry, and refining or narrowing the nostrils.
Beyond the wide variety of revisions common in Indian rhinoplasty, there are additional challenges associated with rhinoplasty for this ethnic group. Indian people tend to have wider noses than Europeans and thicker nasal skin. The wider nose must be respected when making revisions so that the reshaped nose appears natural on the face. Refining the nasal tip of Indian patients can also be more challenging, due to the thicker nasal skin. Anytime a prominent hump is addressed, extra attention is required. The hump may appear more prominent due to a number of factors, including a drooping tip and weaker tip cartilage. The surgeon must be able to identify these factors in order to successfully remove the hump.
In order to produce a favorable outcome, the plastic surgeon must be familiar with the anatomical differences so they can create a nose that looks natural on the patient's face.
African American noses differ based on ancestral heritage. Some noses have wide flaring nostrils and low bridges covered with thick skin, while others have a high bridge with thin skin. Dr. Rizk examines the nose and refines features accordingly.
Written Patient Testimonials

Dr. Rizk and his staff were absolutely incredible! They made me feel so comfortable throughout this entire process and I am so grateful for everyone (especially Dr. Rizk) for helping me look the best version of myself. My nose looks natural and perfect and I am in love with the results!!! If you are on the fence, I definitely encourage you to come to this office because Dr. Rizk gave me the confidence and grace to present myself to the world!
-Leah Abramson

Words cannot express how tremendously grateful and impressed I am for his services. The process was painless and he produced beautiful results that I'm so happy with. Dr. Rizk is extremely precise, patient and detail orientated. He narrowed my nose 1mm at a time! I'm already looking forward to my next small tweek with him.
-Allison S

Fixed my nose that was extremely crooked from a car accident. Also did my brother's nose which case out beautifully
-Katie M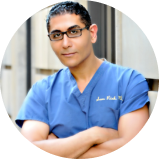 By Dr. Sam S. Rizk, M.D., FACS.
Dr. Rizk is a double board-certified facial plastic surgeon who specializes in rhinoplasty surgery and a recognized expert on the latest advances in facial plastic surgery techniques. He performs a range of facial plastic surgeries at his New York practice.