 NYC Rhinoplasty (Nose Job), Septoplasty and Sinus Surgery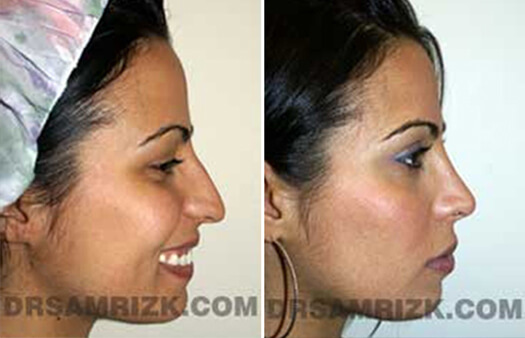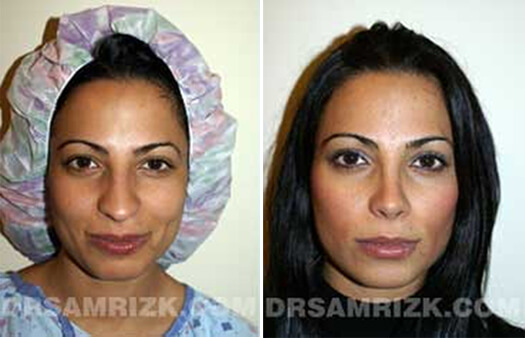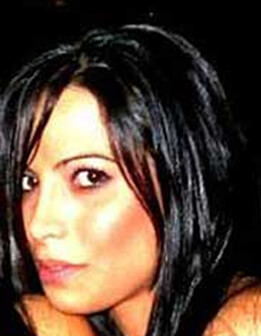 26 year old female with a long nose and drooping tip shown preoperative and 6 months after surgery. Patient sent her own picture 2 years after the surgery as a followup.
*Results may vary.
Rhinoplasty is the third most popular form of plastic surgery in the United States today. In fact, in 2018, more than 213,000 nose jobs were performed in the country. However, the key to a successful procedure is to choose the right facial plastic surgeon.
Dr. Rizk is a double board-certified subspecialist in the nose and face. He performs rhinoplasty in NYC on hundreds of patients each year and has designed new and innovative techniques that allow patients to achieve remarkable results without the excessive downtime. Over the years, Dr. Rizk has worked with patients from all backgrounds and ethnicities, giving him the first-hand experience he needs to offer individuals the natural-looking results they have been dreaming of.
He is trained to handle both the medical and cosmetic components of nose job in New York. Dr. Rizk can remove a bump, narrow nostril width, change the angle between the nose and mouth, as well as correct injuries, birth defects, or other problems that affect a person's breathing, such as a deviated nasal septum or a sinus condition.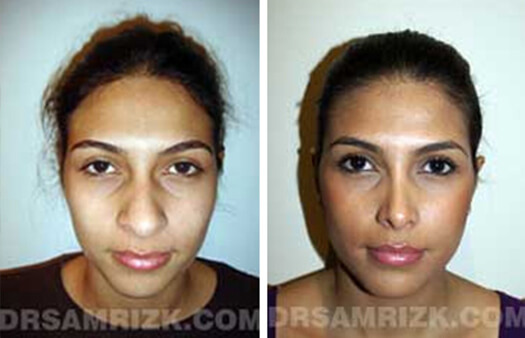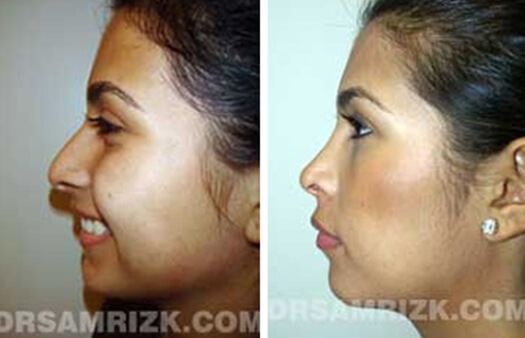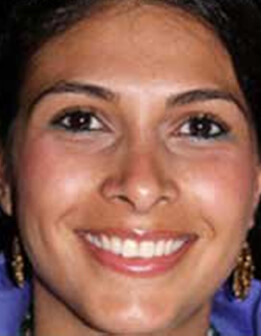 Latino female in early 20's who underwent endonasal 3d rhinoplasty and nostril reduction. Patient had thick skin and poor tip support which was addressed during the nose surgery. Patient sent her own picture 3 years after the procedure as a followup.
*Results may vary.
Teen Rhinoplasty
Like many plastic surgeons, Dr. Rizk can perform rhinoplasty to address any number of issues in teens. He can straighten the nose, increase or decrease the size of the nostrils, remove a hump or bump, open the nasal passages or reduce or increase the size of the nose.
However, unlike some surgeons, Dr. Rizk takes extra care to ensure that the nose is fully developed before performing nose job. One indication he uses to determine this is the growth of the feet. He will not perform nose surgery on a teen until the teen's foot is fully matured. This occurs around age 14 in girls and 15 in boys.
For this reason, and because rhinoplasty is an invasive procedure that involves certain risks, teens must have permission from a parent or guardian before having the procedure.
Dr. Rizk also takes special care to ensure that prospective teen nose surgery patients are pursuing the procedure for the right reasons. If he senses that a parent or other party is the driving force behind a teen's decision to pursue nose surgery, he will not be willing to move forward with the procedure. It also is imperative that a nose job patient have realistic expectations of the procedure. Rhinoplasty is not a panacea. It cannot solve all of a patient's problems.
Another thing that sets Dr. Rizk apart from other surgeons is the extra time he takes to ensure that a teen is mature enough to handle the risks of nose job. This is a very important factor, so Dr. Rizk often requests that teens speak with a psychologist or psychiatrist before deciding to move forward with the procedure.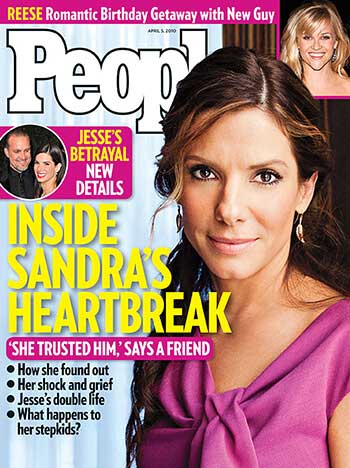 Teenage Rhinoplasty featuring Dr. Rizk's Patient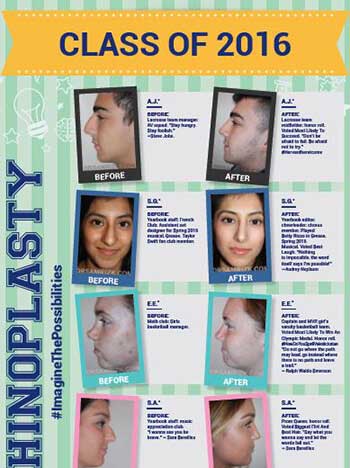 Dr. Sam Rizk Pioneers Game-Changing, Rapid Recovery Rhinoplasty Techniques For Teens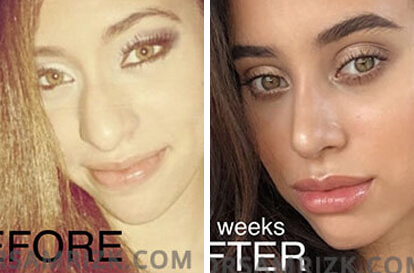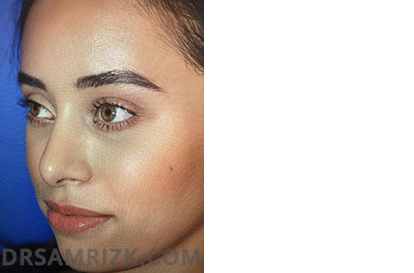 She underwent rhinoplasty to refine tip lift, dropping tip, and narrow nose.
*Results may vary.
The Benefits of Rhinoplasty
Nose surgery is performed to improve both the overall functionality and aesthetic appeal of a person's nose. This procedure can change the following characteristics of a person's nose:
Size of the nose
Width of the nasal bridge
Profile of the nose (may address humps or depressions)
The shape of the nasal tip, which may be too large, bulbous, droopy or upturned
Asymmetry
Nasal deviation
Additionally, good breathing is vital to a person's quality of life. If a patient has a significantly deviated septum compromising their breathing, this can be repaired during nose surgery. Many revision surgeries Dr. Rizk performs are done to restore collapsed areas that were too resected in previous surgeries, not just to improve the cosmetic appearance, but also to restore a person's ability to breathe comfortably.
Dr. Rizk employs both the advanced open (external) and closed (endonasal) surgical techniques to naturally sculpt the nose. He innovated suture reshaping techniques for cartilage sculpting rather than removal. Dr. Rizk is well known for his revision rhinoplasty method which restores the patient's ability to breathe. This also improves a patient's nasal appearance by rebuilding previously removed cartilage or bone.
Choosing a Rhinoplasty Surgeon in NYC
Selecting a nose job surgeon may seem like a lot of work, especially in New York. However, it is a decision that will stick with you for a lifetime. As a result, patients should look for a surgeon who:
Is double board-certified in facial plastic surgery (by ABFPRS) and Otolaryngology-head and neck surgery (by ABO).
Is highly trained and has extensive understanding of the inside structure as well as the outside cosmetic appearance of your nose and knows how to alter both.
Is trained to deal with both functional issues such as breathing or internal abnormalities as well as the external cosmetic structure of the nose.
Has a selection of before and after images to show you so that you can see their work, just as you would like to see an artist's portfolio before buying one of their pieces.
Specializes in the nose and face to ensure they have a better understanding of the internal support of the nose.
Voted by his peers, Dr. Rizk is on Castle Connolly's list of best New York rhinoplasty surgeons. He is an international educator with an upscale practice on Park Avenue and is regarded for his nose surgeries which are unique, natural, and individually designed to complement a person's face. He is also a member of the Rhinoplasty Society.
His attention to detail and focus on achieving natural-looking results while using the latest surgical techniques were recognized by Tatler magazine, which featured him as one of the world's top nose surgery surgeons.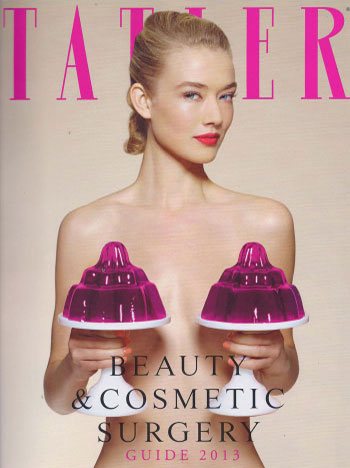 Tatler Magazine - Top Rhinoplasty Surgeon in NYC/New York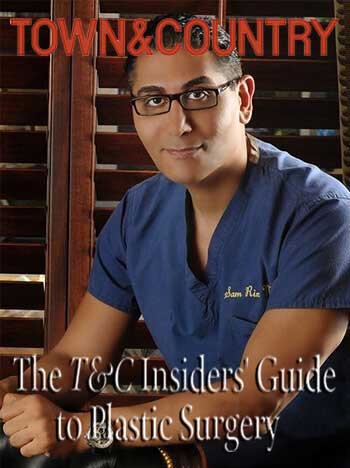 Dr. Rizk featured in Town & Country Magazine as one of the masters of the subtle lift and tweak that will turn back time
Improvements in Rhinoplasty
Today, rhinoplasty surgery is more advanced than ever. New techniques and innovations have allowed surgeons to achieve impeccable results with minimal downtime and little to no scarring. Dr. Rizk has performed thousands of nose job procedures, half of which are revision rhinoplasties.
He is highly sought-after throughout the United States and internationally, having treated royalties, celebrities, entertainers, and patients from around the globe. With each brushstroke, Dr. Rizk refines and sculpts to create a unique nose in harmony with a person's face. The tools and techniques he uses allow for a PRECISION OPERATION with a PAINLESS and RAPID RECOVERY.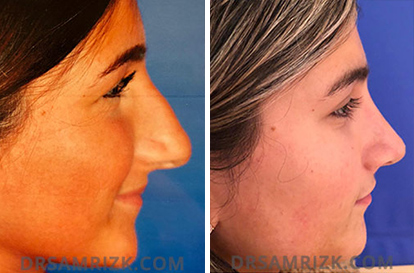 Rhinoplasty to address bump removal, droopy tip, and deprojecting nose. Patient is shown 1 year after open rhinoplasty.
*Results may vary.
Dr. Rizk's Awards and Certifications
Who Is a Candidate for Rhinoplasty?
A subtle alteration in one's nose can greatly improve their appearance. Individuals with the following concerns may benefit from rhinoplasty in NYC:
Teens aged up to 15 years old unhappy with their nose
Individuals with a bump, wide tip, or large flaring nostrils
Patients with a previous injury causing a crooked, misshapen nose
Those with breathing or sinus problems that interfere with their day-to-day life
Individuals who had a past rhinoplasty surgery resulting in a scooped outlook, unnatural upturn, excessively pointy tip or collapsing asymmetrical areas
Patients seeking profile or tip changes
Patients with breathing or sinus problems can combine functional repair with aesthetic alterations. Dr. Rizk's innovative techniques employing this combined approach were published in Annals of Plastic Surgery. Dr. Rizk may choose not to operate on prospective patients who he does not believe to be good candidates for nose surgery.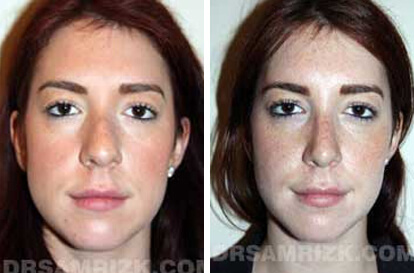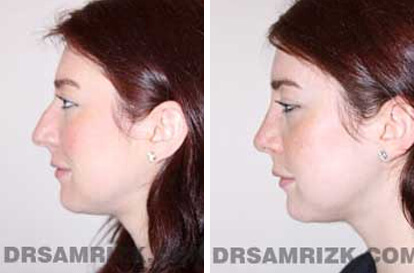 26 year old female shown 1 WEEK after nose surgery and septoplasty. Patient had an endoscopic rhinoplasty to shave a bump as well as tip refinement with sutures and tip graft to support the nasal tip and prevent postoperative tip drop. Patient also had a septoplasty to correct nasal obstruction. Note patient is obviously still swollen but still with swelling, can be presentable in a week after procedure.
*Results may vary.
How Long Does Rhinoplasty Take?
Typically, rhinoplasty in New York takes approximately two hours. Dr. Rizk does a very meticulous operation to ensure the best results possible. To assess nuances in the shape of the nose and reduce swelling, Dr. Rizk spends time creating his surgical plan before the surgery with detailed diagrams to decrease operative time. Patients needing revision nose job can expect the procedure to take between three and four hours depending on scar tissue, graft usage, and harvesting tissue from other areas.
Recovering After a Nose Job in NYC
Dr. Rizk is one of the first NYC rhinoplasty surgeons to pioneer innovations that speed up recovery after a nose job. His surgical techniques allow for:
Diminished bruising and swelling: With Dr. Rizk's high-definition 3D approach, blood vessels are directly visualized and precisely avoided to diminish bruising and swelling.
Natural design: Dr. Rizk performs his sculpting deeper under the muscle layers of the nose which is a clean plane of operating with fewer blood vessels. Because the muscle layer on top of the cartilage and bone acts to soften the shape of the nose and eliminate harsh edges, this results in a more natural look.
Rapid healing: By not closing all incisions inside the nose completely, blood and fluid come out through gaps without collecting under the skin of the nose. These incisions close on their own within five days of the surgery.
Limited social downtime: Dr. Rizk uses various tissue glues and herbal supplements that allow patients to look socially presentable within five days of the procedure with little pain. This, combined with the reduced swelling allow for better overall results. Typical recovery time is five to seven days with minimal or no bruising and virtually no discomfort.
Cost of Rhinoplasty in NYC
The cost of rhinoplasty in NYC depends on the surgeon and the location of the clinic. Dr. Rizk works closely with patients to ensure that expectations are met. During each patient's initial consultation, he provides them with the exact cost of their surgery. A purely cosmetic procedure is never covered by insurance. However, instances where part of the procedure may be covered by insurance include:
If a patient has difficulty breathing
A deviated nasal septum
Nasal allergies resulting in enlarged turbinates
In some cases, Dr. Rizk can also treat sinus conditions during nose surgery.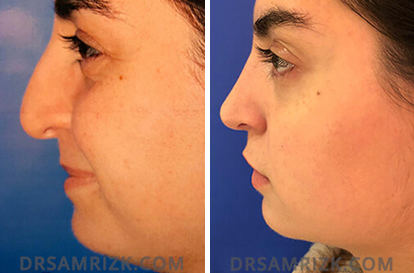 Our patient 6 months after her rhinoplasty procedure. I did an open rhino to lift her drooping tip. I also removed bump to contour and create a more pleasant tip in addition with neck liposuction.
*Results may vary.
Dr. Rizk's Unique Approach to Nose Surgery
Dr. Rizk has pioneered a three-dimensional high-definition rhinoplasty surgery in his New York office. This has the main advantages of precision in changing structures, while also reducing trauma and recovery time for patients. Dr. Rizk performs both endoscopic (endonasal) nose surgery through small intranasal incisions and open (external) rhinoplasty through a small inconspicuous incision at the base of the nose. The 3D high-definition nose job allows Dr. Rizk to see the structures very clearly before modifying them.
For instance, instead of simply filing down a bump and deciding how much to remove by looking at the nose from the outside alone, Dr. Rizk inserts a high-definition telescope connected to a 3d high-definition camera system and looks at what the bump consists of. For example, bone, cartilage, or scar tissue. He then addresses and sculpts it accordingly with great precision.
Additionally, Dr. Rizk pioneered cartilage reshaping techniques with sutures that result in less excision of cartilage to preserve a natural framework. Dr. Rizk often adds cartilage in revision surgery to collapsed areas. This cartilage is usually obtained from the nasal septum or the ear (auricular cartilage.) Dr. Rizk may use this cartilage to:
Camouflage defects
Support a drooping tip
Elongate an upturned nose
Correct tip irregularities or asymmetries
Dr. Rizk strives to design a natural angle between the nose and forehead as well as the nose and upper lip. His nose surgery procedure develops and compliments features of the natural nose to bring harmony to your facial profile. Although there are certain standards for the size of the nose in relation to the face and eyes, this is a very artistic operation.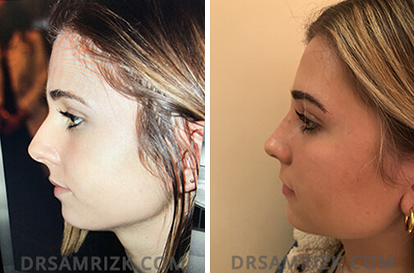 17-year-old female underwent rhinoplasty to remove bump, deproject and slightly lift tip, all done through endonasal approach. Patient is shown 1 year after surgery.
*Results may vary.
Dr. Rizk believes: "It's better to focus on a few plastic surgery procedures and do them exceptionally well than to do all types of plastic procedures, all over the body, badly - My practice is highly specialized in the nose and face only - sort of a specialist within a specialty of plastic surgery. A beautiful nose is a natural one that compliments and fits harmoniously with a patient's face. I do not believe in a universally ideal nose, only an ideal nose for a particular face. I believe the nose is one of the most artistic parts of one's face and cultural differences should be respected in changing a nose. I also do not like upturned, scooped out, or excessively pointy noses. I believe and have pioneered techniques to give you a natural nose with tiny hidden incisions and a rapid recovery. Every nose that I do is different as every face is different and a customized, individualized approach describes my techniques."
The Difference Between Rhinoplasty and Revision Rhinoplasty
Noses which have had work done previously might suffer from structural support defects resulting in a short, scooped out or overly pointy appearance and sometimes breathing difficulties. To restore structure and nasal function, Dr. Rizk harvests cartilage from the septum or ear. He also utilizes graft materials. The various grafts used in revision surgery by Dr. Rizk may include a spreader graft, alar batten graft, caudal septal extension graft, shield graft, tip graft or camouflage graft. Occasionally he will also use a plumping graft to soften a very acute nasolabial angle.
As one of a handful of surgeons who are double board-certified in both otolaryngology and facial plastic surgery, Dr. Rizk routinely performs multiple revision rhinoplasty surgeries every week. When Dr. Rizk adds cartilage grafts, he usually places another graft material on top of them so the edges of the cartilage are not palpable or visible. This helps to achieve a natural outcome. After rhinoplasty in New York, patients enjoy beautiful aesthetic results and significant improvement in their breathing as well.
Dr. Rizk's Approach to Revision Rhinoplasty in New York
Fifty percent of Dr. Rizk's nose job are revision surgeries. Of the revision surgeries, seventy percent are performed with an open approach and thirty percent with an endonasal (closed) approach. However, Dr. Rizk finds that he can achieve a higher degree of precision and much more accurate results by using the three-dimensional high-definition telescope system for both open and closed approaches. This system, which Dr. Rizk introduced to nose surgery, allows for the visualization of structures and areas that are difficult to see. Based on density, it can also differentiate between scar tissue, fat, bone, and cartilage. This becomes important for changing structures or sculpting areas more accurately.
Dr. Rizk can achieve excellent success with revision rhinoplasty. However, he will only operate if he feels he can achieve a significant improvement. If he decides that revision rhinoplasty is not the best option for the patient, he will not perform the surgery.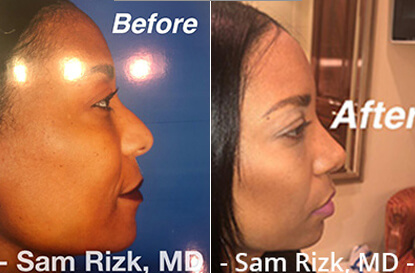 She is 10 days after open rhinoplasty and alar base reduction.
*Results may vary.
Popular Nose Treatments
Asian Rhinoplasty in NYC
Most Asian noses require not only a dorsal graft but also tip grafting to achieve tip definition and projection (distance from the base of the nose to the front portion of the tip). Dr. Rizk prefers to use the patient's own cartilage from either the ears or the nose septum, or MEDPOR. He will never use silicone. He likes to augment noses subtly and reshape a nose to better match a patient's face in the most natural way possible.
Very often, Dr. Rizk receives patients who were operated on in Asian countries and have silicone in their noses that moved or is too large for their faces. He usually removes the silicone implants and replaces them with the patient's own cartilage or a smaller MEDPOR implant on the dorsum. For the tip, however, he prefers to use only the patient's own cartilage. Sometimes he will also do a nostril (alar) reduction on these patients to achieve balance and nasal-facial harmony.
African American Rhinoplasty in NYC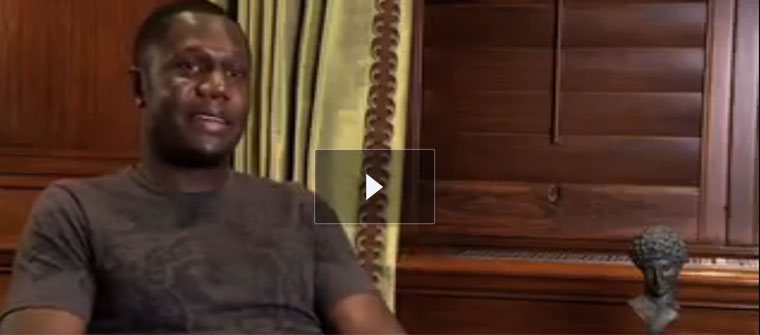 African American noses often have weaker cartilage and are shorter, with thicker skin. Dr. Rizk likes to achieve tip definition and natural support by using the patient's own cartilage grafts either from their septum or ears. Using high definition technology after creating small incisions inside the nose, he also removes fat from the thick skin to make it thinner. Dr. Rizk finds that defatting these noses is crucial to achieving a great outcome.
Think of the skin as a covering blanket to the nose. If the blanket is thick, you will not be able to see the newly shaped underlying structure and definition. As needed, Dr. Rizk performs a nostril reduction using small incisions inside the nose. He does not like to use an external incision due to the possibility of visible scars. He will sometimes add a dorsal graft to elongate a very short nose to make it look thinner. This graft is either the patient's own cartilage or a synthetic material called MEDPOR. Dr. Rizk custom sculpts the MEDPOR implant to fit your nose during ethnic rhinoplasty in NYC. Since it's not a one size fits all option, Dr. Rizk prefers not to use silicone grafts as they can move and do not integrate well into the nose.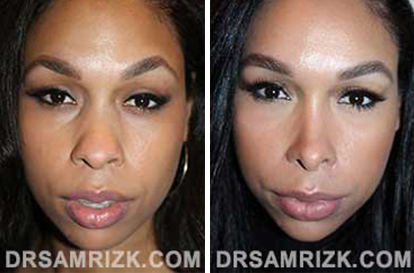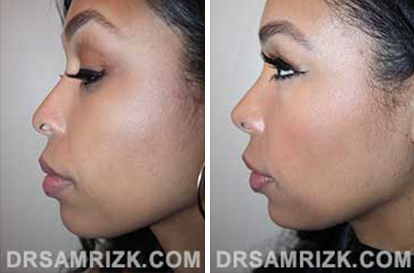 23 year old female who underwent open rhinoplasty with grafts and alar base reduction. The patient has thick skin making this procedure an ethnic rhinoplasty. The nasal bridge and alar base was slimmed down to better compliment her facial features.
*Results may vary.
Septoplasty Sinus Surgery in NYC
Septoplasty is a form of functional rhinoplasty done to correct a deviated septum, putting an end to frustrating symptoms once and for all. As an award-winning septoplasty surgeon in NYC, Dr. Sam Rizk has performed countless deviated septum procedures to help restore patients' nasal function. After septoplasty, patients generally experience a great deal of relief and improvement in the conditions below:
Sleep apnea
Sinus issues
Allergies
Snoring
Vertigo
Some patients also experience improvements in their sense of smell and taste after septoplasty surgery in NYC.
What Is a Septoplasty?
Septoplasty is one of the most common procedures Dr. Rizk performs to improve patients' breathing. He achieves this with a simple septoplasty procedure or by combining septoplasty and nose job. During your initial consultation, Dr. Rizk will determine if your turbinates are significantly enlarged and would benefit from a reduction.
Nasal Conditions That Lead to Breathing Difficulties
A deviated nasal septum (parting wall between the right and left nasal chambers) can result in difficulty breathing and is treated with a septoplasty surgery. Allergies can also result in the enlargement of the nasal tissue called turbinates. Today, there are various procedures that can be performed to reduce the size of the turbinates. Treatment can include an isolated procedure or can be combined with sinus or rhinoplasty surgery.
Dr. Rizk performs a thorough intranasal exam for each patient to check for other conditions such as polyps. A CT scan may be recommended if Dr. Rizk suspects polyps or if you have a sinus condition which is not getting better with medical therapy. The first line of treatment is antihistamines and nasal steroid sprays to shrink the nasal tissue. Allergy testing may also be recommended. If your condition is persistent and not improving, endoscopic sinus surgery is performed to drain the sinuses. In some instances, patients require turbinate reduction and Dr. Rizk may also recommend a septoplasty.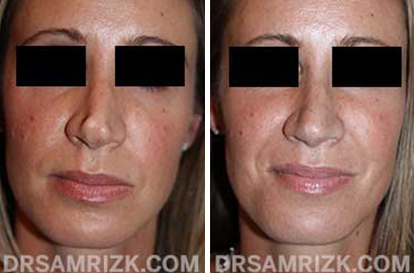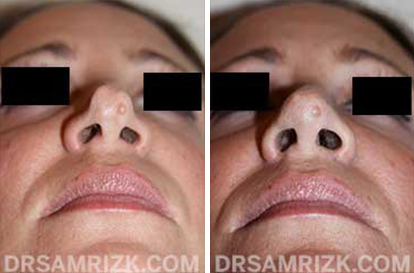 32 year old female with previous history of rhinoplasty who complains of a pinched asymmetrical nasal tip and difficulty breathing. Patient has also thin skin. Patient underwent revision septorhinoplasty with cartilage grafts and fascia to nasal tip so soften its appearance. Patient is shown 1 year after revision rhinoplasty.
*Results may vary.
What Is a Non-Surgical Nose Job?
A non-surgical nose job is a media-hyped term for injecting filler (Radiesse, Restylane or Juvederm) into the nose to try and camouflage a bump. This is more dangerous and painful than actually having rhinoplasty in New York. The results are not permanent, lasting up to a year. This procedure makes the nose larger and does not address the tip, length or width. Fillers also create inflammation and scar tissue which can make a future rhinoplasty more difficult. These fillers can have adverse effects and can move in the nose (a central structure which is often bumped). For instance, a filler injected in a valley next to a bump to camouflage it can eventually move into the bump and make it larger.
Dr. Rizk's rhinoplasties are not painful and many times, the bones do not need to be broken because the nose is mostly cartilage - not bone. Moreover, people look socially presentable after about five days of healing.
The best role for fillers in the nose is to correct minor irregularities in a previously successful nose job, not as a replacement for the surgery. Fillers work very well for other areas of the face because there is more soft tissue under the skin to use them deeper and augment or erase facial creases. However, there is very little soft tissue under the skin of the nose to accommodate filler use, with few exceptions.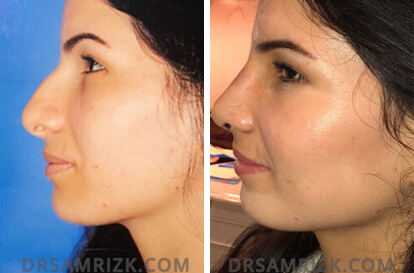 Female patient who had a Primary Rhinoplasty. Photos shown here are 6 days after surgery. Bump Removal, Tip Refinement, Lifting hanging tip, narrowing bridge and tip. Patient still swollen.
*Results may vary.
Combining Rhinoplasty With Other Procedures
Dr. Rizk may recommend a chin implant, neck liposuction, neck lift, facelift or eyelift at the same time as rhinoplasty surgery to improve the outcome and combine recovery time. Although nose job in New York is the most common operation in patients of less than 25 years old, older patients may benefit from a subtle improvement to correct an overly long nose and this may complement a facelift or eyelift.
Are There Any Risks to Getting Rhinoplasty in New York?
As with any surgical procedure, getting rhinoplasty in New York comes with its own set of risks. Some of these risks include but are not limited to:
Infections
Numbness
Difficulty breathing
Lack of satisfaction with your nose's appearance
Swelling
Skin discoloration
The possibility of a revision nose surgery
While these are legitimate risks, Dr. Rizk is a highly trained and experienced facial plastic surgeon who takes every precaution when undertaking any surgical procedure. Moreover, he works closely with each individual patient to ensure that he understands their goals in order to provide them with the results they have been dreaming of.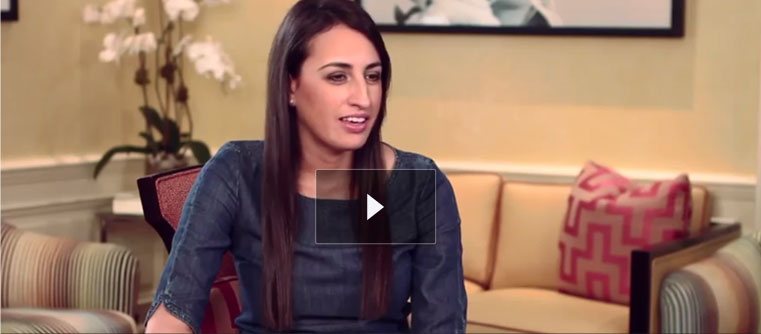 Your NYC Rhinoplasty Consultation With Dr. Rizk
Your consultation with Dr. Rizk will entail a thorough examination of the internal and external structure of the nose and how it relates to the face. Photographs will be taken and reviewed with the patient with possible computer imaging performed. A review of what to expect before, during, and after nose surgery will be discussed. Moreover, you will have the option to call other patients who have had rhinoplasty in NYC with Dr. Rizk in order to ask any questions you may have regarding the procedure. To schedule your nose surgery or revision rhinoplasty consultation today, call Dr. Rizk today.
Accommodating International Patients for Rhinoplasty in NYC
International patients usually need to stay in New York for one week after a Rhinoplasty. An office concierge will arrange all accommodations. We can also provide you with care from a nurse directly to your hotel. Many times, patients can return to their countries just one week after their procedure. Learn more about booking your appointment from abroad by visiting our international patients page.
FAQ
Do I need my nose broken during rhinoplasty?
Not necessarily. In about sixty percent of procedures, Dr. Rizk does not break the nose. As most of the nose is cartilage, breaking the nose is not always necessary to narrow the bridge. This, in turn, dramatically expedites recovery time. Cartilage sculpting and suturing are the most common techniques used to narrow the tip or bridge. It is the percentage of cartilage versus bone that determines whether the nose needs to be broken. During your consultation, Dr. Rizk will be able to give you a full assessment of your nose and the steps he will take during your procedure.
How does the nose age?
Dr. Rizk often does a minor rhinoplasty with a facelift or an eyelift to refine or rejuvenate a person's appearance. As we age, the skin in and around our nose becomes thicker and the nose "drops". What happens is the tip attachments to the dorsum (or top of the nose) weakens and starts falling, giving the appearance that one is developing a bump. However, this is usually a "relative" bump, meaning that it is a bump relative to the lower tip. Once the tip is lifted to a more youthful position, the bump disappears. This can be done with a minor soft nose job without touching the nasal bones and heals very quickly either as an isolated surgery or with other facial rejuvenation procedures. Sometimes, Dr. Rizk also refines the tip when performing a light lift.
How does male rhinoplasty differ?
Male noses have thicker skin and stronger bones, therefore, the aesthetics of the male nose is different. Male rhinoplasty has to address the thick skin in the nose to achieve excellent results. Moreover, removing the bump or lifting the tip has to be done very conservatively in order not to feminize the appearance of the nose. The nose also has to fit with other facial features to achieve a natural outcome. The angle between the nose and upper lip in a male nose should not exceed 90 degrees, otherwise, the nose appears too rotated or feminine. In the female nose, it should be 95 degrees or higher depending on the distance between the nose and lips as well as other facial features. Male rhinoplasty in NYC accounts for thirty percent of Dr. Rizk's nasal procedures.
What is a deviated septum?
A deviated septum is when the nasal septum (or wall between your nostrils that separates your right and left nasal cavities) is severely shifted to one side or "crooked," making one nasal cavity larger than the other.
How does a deviated septum disturb your life?
A deviated septum can cause many side effects, including breathing problems as a result of a blockage of one or both nostrils, nasal congestion, frequent nosebleeds, recurrent sinus infections, excessive drainage from the front or back of the nose into the throat (post-nasal drip), and headaches.
How can a deviated septum be improved with septoplasty?
Septoplasty is a surgical procedure that treats various breathing problems and is performed in people as soon as the septum stops growing. It is a procedure done from inside the nose to correct the nasal septum and does not involve breaking the nose. Septoplasty can also be combined with sinus surgery, if necessary.
Can septoplasty be combined with rhinoplasty?
Yes, if patients are interested in improving their nose's appearance. This procedure is called a Septorhinoplasty.
When do you know if you are ready for rhinoplasty?
If you are unhappy with the shape of your nose, whether that's from birth, injury or a result of aging, you may be a candidate for nose surgery. Females should be over 14 years old and males should be aged 15 or older. Aside from being in good health in order for the surgery to go smoothly, patients should also be mentally prepared. Patients who are seeking "perfection" are not candidates for surgery.

This is true particularly for those who are having revision rhinoplasty in New York, as this is a clue that a patient's goals are not reasonable and they will likely be unhappy with the surgery, no matter the outcome. What's more, a patient with body dysmorphic disorder should address psychological issues regarding their appearance first with a qualified expert before seeking surgery. Dr. Rizk may choose not to operate on a patient who he feels is not a good candidate.
Can nose surgery look natural if you have a wide nose and want to make it narrower?
Absolutely. In some noses, particularly in ethnic rhinoplasty patients, the base of the nose is wider than it should be. A nostril reduction can help. During surgery, Dr. Rizk removes a wedge of tissue at the nostril base, making the incision from the inside part of the nostril (verses on the outside where it attaches to the cheek), which hides scarring and produces natural results. This technique can narrow the base of the nostrils while also making the nostrils smaller. Dr. Rizk's special technique of rotating the nostrils to avoid a pointy look helps maintain a natural curved shape.
Can someone with a small or an upturned nose undergo nose surgery to enlarge it?
A small or upturned nose can be corrected with rhinoplasty and may be the result of a previous nose job that the patient now wants to correct. Dr. Rizk pioneered cartilage-reshaping techniques with sutures that help lessen the removal of cartilage and preserve natural nose structures. He also uses this cartilage technique to elongate an upturned nose or correct tip irregularities or asymmetries. In this case, he would obtain this cartilage from the nasal septum or the ear. This subtle change in correcting the tip can greatly improve a patient's appearance.
In the event one nostril looks much different than the other, can you use rhinoplasty to make the size and shape of both nostrils the same?
Yes, asymmetries in nostril size, shape, thickness or horizontal placement on the face can be corrected. Dr. Rizk will use cartilage grafts, fat removal, or fat addition. For example, in a nostril that has a collapsed shape, Dr. Rizk will correct this and produce a natural curve in the nostril with a fat injection or a cartilage graft. A nostril reduction or correction in shape or size can also be done in combination with rhinoplasty. In this instance, surgery to the nostrils does not prolong the recovery process from rhinoplasty.
Medical Articles
Rizk, Samieh S., and David Rosenberg. Algorithm for Analysis and Correction on Nasal Tip Deformities in Revision Rhinoplasty.
Romo T 3rd1, Rizk SS, Suh GD. Mucous cyst formation after rhinoplasty. Arch Facial Plast Surg. 1999 Jul-Sep;1(3):208-11.
Rizk SS1, Edelstein DR, Matarasso A. Concurrent functional endoscopic sinus surgery and rhinoplasty. Ann Plast Surg. 1997 Apr;38(4):323-9.
Rizk SS1, Kraus DH, Gerresheim G, Mudan S. Aggressive combination treatment for invasive fungal sinusitis in immunocompromised patients. Ear Nose Throat J. 2000 Apr;79(4):278-80, 282, 284-5.
Rizk, Samieh S., and David Rosenberg. A 21st Century Approach to Rhinoplasty: Marriage of Form and Function. Kraus O, Orlikoff R, Rizk S, Rosenberg D. Arytenoid adduction as an adjunct to type I thyroplasty for unilateral vocal cord. Paralysis Head & Neck, 1999; 21(1):52-59.
Zimm A.J., Rizk S.S. (2013) Restoring the Drooping Tip and Hanging Columella in Revision Rhinoplasty. In: Shiffman M., Di Giuseppe A. (eds) Advanced Aesthetic Rhinoplasty. Springer, Berlin, Heidelberg
Other Links
Written by Dr. Sam Rizk
Last Modified On: 4/22/2020