What Is a Sagging Neck?
A drooping neck, commonly referred to as a turkey neck1 or loose neck skin, occurs when the skin on the neck loses its elasticity and starts to sag. This frequent concern is typically linked with the aging process and can result in individuals feeling self-conscious about appearing older than their age. The condition of sagging neck skin is characterized by the development of vertical bands, wrinkles, excess fat deposits, and a lack of definition in the jawline and neck area. Dr. Rizk's expertise in facial plastic surgery offers natural-looking results that can help rejuvenate your appearance and boost your confidence.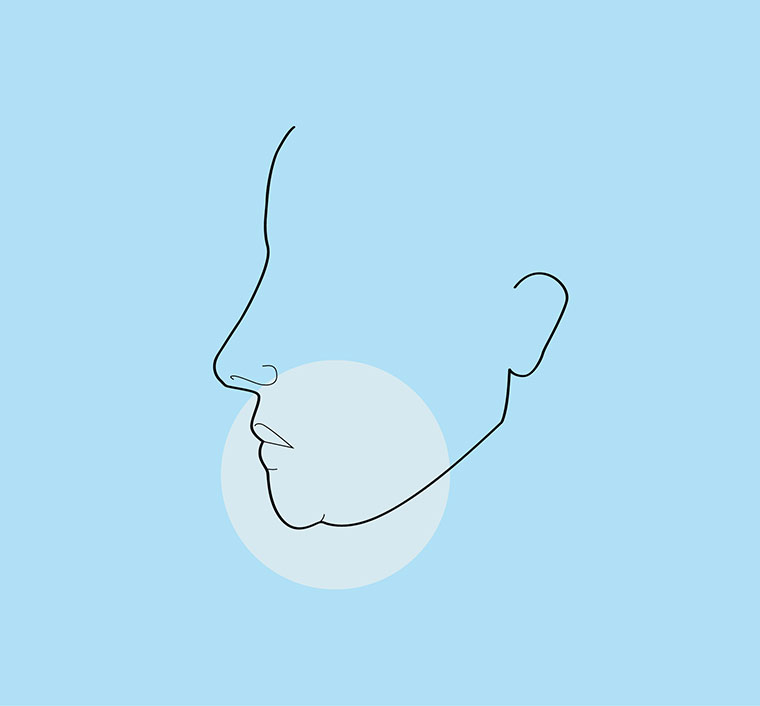 What Causes Loose Neck Skin?
Multiple factors2 can lead to the development of loose neck skin, including:
Aging: As we age, our skin loses its elasticity and firmness due to the breakdown of collagen and elastin fibers, making it prone to sagging and wrinkling.
Genetic Predisposition: Some individuals may be genetically predisposed to developing loose neck skin at an earlier age.
Weight Loss: When an individual experiences significant weight loss, it can result in excess skin in various parts of the body, including the neck.
Sun Exposure: Overexposure to harmful UV rays from the sun can speed up the aging process and contribute to the loss of skin elasticity.
Lifestyle Choices: Poor nutrition, smoking, and inadequate skincare can all accelerate the aging process, leading to premature sagging of the neck skin.
Dr. Rizk's expertise can help address loose neck skin concerns, resulting in natural-looking outcomes that enhance your appearance. His credibility and proficiency in the field make him a trusted choice for achieving your aesthetic goals.
Can Sagging Neck Skin Be Tightened?
Absolutely! Sagging neck skin can be effectively tightened to achieve a more youthful and revitalized appearance. One of the most efficient and long-lasting sagging neck treatments for loose neck skin is a neck lift3. This surgical procedure targets the underlying muscles and excess skin to create a more defined and smoother neck contour. Additionally, a neck lift can address other concerns such as neck bands and excess fat deposits, resulting in a more rejuvenated look.
Refining Necklines and Jawlines: Dr. Rizk's Expertise in Neck Rejuvenation
During a neck lift procedure, Dr. Rizk expertly tightens the underlying muscles, removes excess skin, and repositions fat if deemed necessary to create a more defined and rejuvenated neck and jawline. His proficiency and credibility in facial plastic surgery make him a trusted choice for individuals looking to enhance their appearance through surgical intervention. Dr. Rizk's satisfied clients attest to his skillful hands and excellent results, positioning him as one of the most sought-after surgeons in the field.
Meet Dr. Rizk | Expert Plastic Surgeon for the Aging Neck
Dr. Sam Rizk, a renowned double board-certified facial plastic surgeon located in New York, is among the most trusted and experienced surgeons in the field. His artistic approach and expertise has helped numerous patients achieve natural-looking results and restore their youthful appearance. His proficiency in using advanced techniques to deliver the best results while minimizing scarring is unrivaled.
If you're looking for a trusted and experienced surgeon to address your sagging neck skin concerns or other facial rejuvenation needs, look no further than Dr. Sam Rizk. Contact him today to schedule a consultation and learn more about how he can help you achieve your aesthetic goals.
Frequently Asked Questions
Are there any neck exercises for loose skin tightening?
Some exercises like neck stretches, chin lifts, and neck rotations can strengthen the underlying muscles and improve the overall neck appearance, and give the illusion of tighter skin. Dr. Rizk can assess your specific condition and offer the most suitable treatment option to help you achieve your desired results. Contact Dr. Rizk today to schedule a consultation and learn more about how he can help address your sagging neck skin concerns.
Can you tighten loose neck skin without surgery?
Although procedures such as a neck lift or facelift are often the most effective options for tightening loose neck skin, non-surgical treatments can also provide some improvement. Non-invasive treatments like radiofrequency skin tightening, laser treatments, ultrasound therapy, and injectable treatments such as Botox or dermal fillers may stimulate collagen production and improve the appearance of loose skin to some extent. However, it's important to note that these treatments may not deliver results as dramatic or long-lasting as those achieved through surgery.
Can I have a neck lift and other procedures done simultaneously?
Yes, combining a neck lift with other cosmetic procedures can provide comprehensive rejuvenation and address multiple concerns. Many individuals choose to undergo a number of procedures simultaneously to achieve more harmonious results. Common procedures that are often combined with a neck lift include facelifts, eyelid surgery (blepharoplasty), brow lifts, and chin augmentation.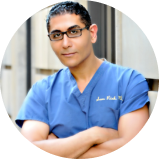 By Dr. Sam S. Rizk, M.D., FACS.
Dr. Rizk is a double board-certified facial plastic surgeon who specializes in rhinoplasty surgery and a recognized expert on the latest advances in facial plastic surgery techniques. He performs a range of facial plastic surgeries at his New York practice.