Dr. Rizk Featured in the October Issue of "Aesthetics" Monthly Journal for Medical Aesthetic Professionals
Posted by Dr. Sam Rizk October, 10/17/2014 - 11:21 AM
Cosmetic surgery and skin care expert Wendy Lewis sat down for an exclusive interview with Dr. Sam Rizk. In the feature for Aesthetics Dr. Rizk discusses the most challenging and rewarding parts of rhinoplasty, how he plans his surgeries and the newest advances in aesthetic medicine. Click the PDF below to read the full article.
Related Blog Posts
Top 10 Questions to Ask Before Your Facelift
Facing the Facts About Facelift Longevity
Meet The New Fillers On The Block
YOUR FACELIFT PRIMER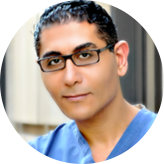 By Dr. Sam S. Rizk, M.D., FACS.
Dr. Rizk is a double board-certified facial plastic surgeon who specializes in rhinoplasty surgery and a recognized expert on the latest advances in facial plastic surgery techniques. He performs a range of facial plastic surgeries at his New York practice.