Covid-19 Safety Protocols
Posted by Dr. Sam Rizk June, 06/19/2020 - 05:09 PM
At our office in New York, we always put health and safety before everything. We recently issued the following guidelines to protect our patients and staff from the effects of Covid-19.
Requirements from our patients
We minimize the number of patients present in our office at any given time

If you arrive early, please wait outside or in your car to enter at the appointed time

We ask you to come alone, minors may be accompanied by an adult

We ask all patients to wear masks

We offer hand sanitizers at the entrance to disinfect your hands

If you have any flu-like symptoms, we ask you to not come to our office

A Covid questionnaire must be completed for every visit a patient makes

A Covid test will be required prior to surgery
Regulations for our staff
Our staff is screened daily for any symptoms of Covid-19

Staff with flu-like symptoms will be instructed to remain home and consult their primary care physician

Our staff members will wear appropriate protection at all times and during all treatments, including a mask, protective goggles and a gown 

Contact within 6 feet distance will be minimized during treatment
Hygiene at our office
Our entire office, including the common rooms, is cleaned and disinfected daily

Each room will be thoroughly disinfected in between patients

As an accredited surgical facility, our office is equipped with ventilation and sterilization systems that are annually tested by the Joint Commission
Online consultation
In some cases, it is possible to have an video / phone consultation or a follow-up appointment

Please call us at (212) 452-3362 and ask for available options
Our high standard Safety Measures Covid-19 are implemented to follow Covid-19 government guidelines and ensure our patients and staff are safe during a consultation in our New York office. We hope to welcome you soon in our office to provide you with our best care. You can book your consultation here.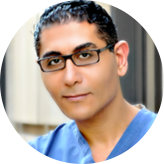 By Dr. Sam S. Rizk, M.D., FACS.
Dr. Rizk is a double board-certified facial plastic surgeon who specializes in rhinoplasty surgery and a recognized expert on the latest advances in facial plastic surgery techniques. He performs a range of facial plastic surgeries at his New York practice.