Dr. Sam Rizk is the premier facial plastic surgeon for those seeking the most natural-looking, aesthetically pleasing results from their cosmetic surgery procedures. Dr. Rizk's practice is located in Park Avenue and he often operates on fellow physicians and healthcare professionals. The transformation undergone by Dr. Larry Rosenthal, one of Dr. Rizk's patients', proves that facial plastic surgery can be incredibly powerful and beneficial for those looking to make a lasting change to their appearance.
Real Facelift Client Results – Before & After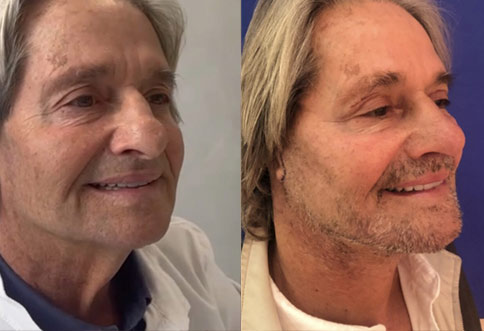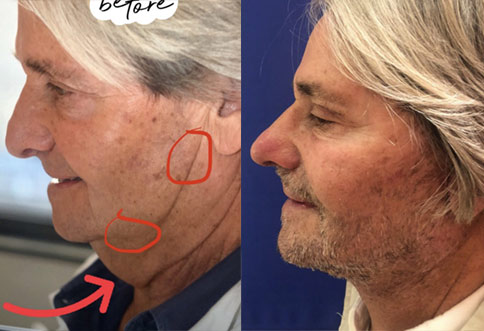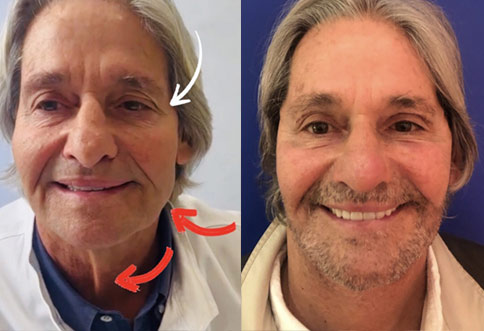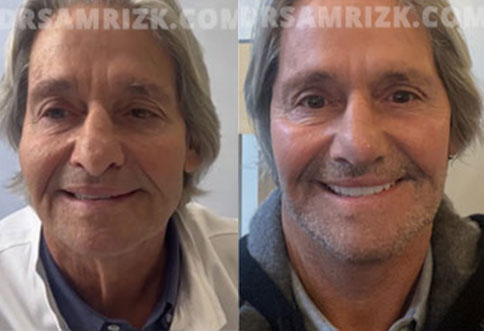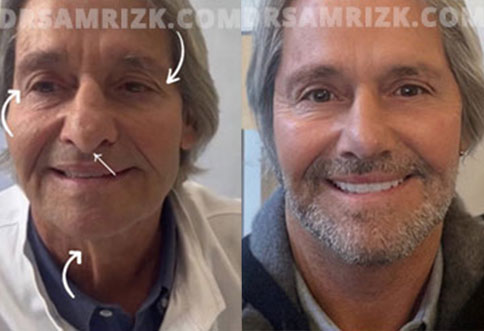 Dr. Sam Rizk is double board certified by the American Board of Facial Plastic and Reconstructive Surgery1 and Otolaryngology-Head and Neck Surgery2 – two of the highest credentials a practitioner can achieve in his field. His commitment to excellence and unwavering dedication to patient satisfaction is second to none.
Dr. Rizk is the Best Plastic Surgeon for Rhinoplasty | Deep Plane Facelift | Neck Lift | Blepharoplasty
Dr. Rosenthal's Facial Rejuvenation Plan
Dr. Larry Rosenthal is a world-renowned, well-respected cosmetic dentist and is credited with pioneering the field of cosmetic dentistry. Even though he's best known for his work in teeth whitening and veneers, he recently sought out Dr. Rizk to help him take years off of his face and neck.
Dr. Rizk performed a deep plane facelift and neck lift to lift jowls and remove deep neck fat, which had begun to sag due to his age. He also completed a rhinoplasty to lift the tip of the nose (common with aging noses3) and a blepharoplasty to lift heavy, sagging eyelid skin. Finally, Dr. Rizk completed the procedure with laser treatment to make sure that the skin matched the new youthful appearance of the face and neck.
Dr. Rosenthal's Facial Rejuvenation Procedures
Dr. Larry Rosenthal underwent a deep plane facelift, neck lift, rhinoplasty, blepharoplasty and laser treatment for facial rejuvenation with Dr. Sam Rizk. The facial rejuvenation procedure included:
Administering general anesthesia to ensure comfort during the procedure.
The area of the face around the eyes, forehead, and neck is carefully marked and mapped out by Dr. Rizk to ensure precise measurements during surgery.
Incisions along the scalp's hairline, extending in front of the ears and down behind them for the deep plane facelift. This allows access to deeper layers of tissue (without separating the skin from the tissue) as well as muscles which can then be repositioned into a more youthful position. Excess fat and skin is removed from the face and neck area to further reduce signs of aging. The remaining skin is tightened and incisions are closed up using tissue glue.
The nose tip is lifted during rhinoplasty for optimal aesthetic results and a more balanced facial profile.
Small incisions4 are made at each eyelid's natural crease lines to remove excess fat and skin from upper and lower eyelids while preserving natural structures such as muscles and glands that help control eye movement or tear production respectively.
Finally, laser and botox treatments bring it all together!
Facial Rejuvenation Surgery Recovery
Dr. Rosenthal's recovery from his deep plane facelift, rhinoplasty, blepharoplasty and laser treatment with Dr. Rizk was incredibly quick and successful. He only needed ten days to fully recover before returning to work, despite having some minor swelling around the area of surgery. The results were extremely natural-looking since the deep tissue was lifted in the proper direction, with no distortion of facial features such as nose, eyes or mouth, because skin and tissue remain intact during this procedure.
This speedy recovery was made possible due to a lack of drainage tubes being used – instead relying on tissue glue to seal the wounds shut quickly and efficiently. Additionally, this technique allowed for a quicker return to the patient's everyday activities, making it an increasingly popular option among those seeking out plastic surgery procedures. Thanks to Dr. Rizk's expertise and experience, Dr. Rosenthal is now able to enjoy his new look without any worries about long-term risks or complications down the road.
Dr. Rosenthal's Facial Plastic Surgery Results
Upon completion of Dr. Rizk's innovative facial plastic surgery procedures, Dr. Rosenthal said he felt like a new man and looked 20 years younger as he witnessed the results of the deep plane facelift recovery day by day. He was delighted with the results! Dr. Rosenthal credits Dr. Rizk for giving him a much-needed boost of self-confidence, allowing him to continue looking young and vibrant despite his advancing age.
Plastic Surgery Results: Dr. Rosenthal 12 Hours After Surgery
Plastic Surgery Results: Dr. Rosenthal 48 Hours After Surgery
Plastic Surgery Results: Dr. Rosenthal 4 Days After Surgery
Consult Dr. Rizk for Facial Rejuvenation
Dr. Rizk is an excellent choice for facial rejuvenation surgery due to his extensive experience and knowledge in the field of plastic surgery and facial reconstruction. He has been featured in leading medical journals and is renowned for his meticulous attention to detail, providing patients with natural-looking aesthetic results.
His commitment to quality care and state-of-the-art technology ensures that each patient receives the most comprehensive and safest treatment. Book your consultation with NYC's top facial plastic surgery, Dr. Sam Rizk today!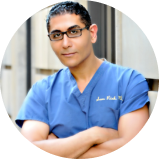 By Dr. Sam S. Rizk, M.D., FACS.
Dr. Rizk is a double board-certified facial plastic surgeon who specializes in rhinoplasty surgery and a recognized expert on the latest advances in facial plastic surgery techniques. He performs a range of facial plastic surgeries at his New York practice.