African American Rhinoplasty – New York City
African American rhinoplasty is gaining in popularity for individuals who want to maintain distinct ethnic characteristics while undergoing cosmetic surgery or correction for health-related conditions such as deviated septums. NYC double-board certified facial plastic surgeon Dr. Rizk can make significant aesthetic changes while maintaining the heritage and ethnic features most important to the patient. Recognized for his innate ability to craft extremely natural, harmonious noses, Dr. Rizk's african american rhinoplasty technique is praised across the Northeast, from Pennsylvania to Boston.
What results can an african american nose job achieve?
African american rhinoplasty may be used to:
Make a flat nose more pronounced and lifted
Make a small nose more defined
Balance the nose with the chin and forehead
Slim the width of nostrils that are "flaring"
Reduce the length or width of a nose
Depending on a patient's needs and expectations, Dr. Rizk might suggest another cosmetic surgery in combination with your rhinoplasty procedure, such as cheek or chin implants to balance the facial proportion.
Candidates For African American Rhinoplasty
The nose is a prominent feature of the face that has a great impact on the facial profile, especially if it's perceived by others as too flat, too small or non-symmetrical to the rest of your face. Ethnic rhinoplasty might be an option for patients age 15 or older, at this time your nose has fully matured. At Manhattan Plastic Surgery, african american rhinoplasty is customized on a patient to patient basis.
Reasons for having rhinoplasty might include:
Desire to balance facial features better
Achieve a more symmetrical face
Develop a better facial profile
A boost of confidence in your facial appearance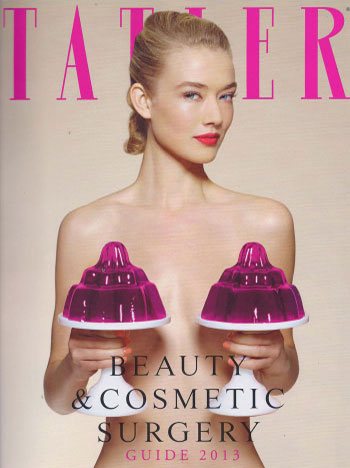 Tatler Magazine - Top Rhinoplasty Surgeon in NYC/New York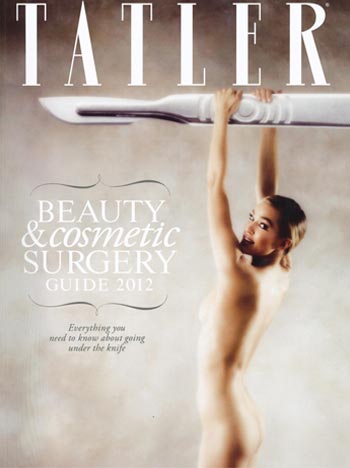 Vogue - Endoscopic Muscle Facelift/Necklift and Fraxel-Co2 Laser
The Ethnic Rhinoplasty Procedure
Since the skin of the nose is shapeless, its primarily composed of bony architecture and underlying cartilage. This is why most african american noses require grafts and implant materials to achieve a defined, elevated nose. Dr. Rizk may use other techniques to reduce the nostril size, or width of the nose. Prior to african american rhinoplasty surgery in his NYC office, Dr. Rizk uses advanced computer imaging to depict how your nose will be improved through ethnic rhinoplasty.
Here's what you can expect during a rhinoplasty procedure:
You'll be under twilight sedation for the 2-3 hour procedure
If additional procedures are performed, surgery time varies
Swelling and bruising is expected afterwards
Recovery and downtime may range from 10-14 days
Scars are concealed either within the nose, or beneath the tip of the nose
Frequently Asked Questions (FAQ) Regarding African American Rhinoplasty
Is it technically different from general rhinoplasty?
General rhinoplasty and ethnic rhinoplasty are similar in quite a few ways, from the equipment used to the surgical process relied upon. However, the techniques Dr. Rizk uses in african rhinoplasty cases are very different and various strategies are used to correct issues based on the outcome you desire.
As an African American, How should I choose a surgeon for rhinoplasty?
When researching a rhinoplasty surgeon, it's important to do extensive research and not limit your choices to surgeons that have worked only on African Americans, as they may lack other types of experience that will help them reach well-rounded solutions. Dr. Sam Rizk has not only worked with patients from a large pool of cultural backgrounds, but continues to get many requests for his work internationally.
What risks are associated with african american rhinoplasty?
Since the skin of an african american rhinoplasty patient tends to be thicker, there are certain limitations presented if a patient seeks extensive refinement. There are also risks associated with the use of artificial implants. And, the same risks are present as with general rhinoplasty.
What is a typical Rhinoplasty in African American patients?
For African Americans patients, Dr. Rizk developed specific subset of ethnic rhinoplasty techniques. His experience as well as his surgical skills allow him to provide patients, including some who are refused by other doctors due to the complexity of their nose, to improve their nose's appearance and functionality. In this type of rhinoplasty, the goal is to maintain ethnic identity while subtly suppressing certain qualities that the patient identifies as undesirable. Dr. Sam Rizk of NYC is very experienced with working on noses of patients with an African American and/or African heritage and understands the nuances necessary to be successful with enhancing their noses.
How long does it take to heal after rhinoplasty?
Dr. Rizk is committed to providing the most accurate results and shortest healing times possible
Why Choose Dr. Rizk For African American Rhinoplasty?
Dr. Rizk, an accomplished New York City African American rhinoplasty surgeon will carefully examine you during your consultation and discuss the best course of action. His advanced rhinoplasty techniques ensure optimal harmony between the nose and face. Dr. Rizk leverages decades of experience, a background in artistry and his meticulous attention to detail to provide african american rhinoplasty results customized to each patient. His unique eye and understanding of anatomical structure allow him to address the "aesthetic units" with extreme precision and beautiful social presentation.
Dr. Rizk has been featured in national and international media. Please Contact Dr. Rizk today if you're interested in having ethnic rhinoplasty.
Disclaimer: The images viewed on this page are actual patients of Dr. Rizk who have given consent to show their images on this website. Dr. Rizk respects the privacy of his patients and has blocked the eyes to conceal some of his patient's identities.
Written by Dr. Sam Rizk
Date Last Modified: 12/11/2018