Get Ready for (Real) Facetime
Posted by Dr. Sam Rizk August, 08/23/2021 - 04:59 PM
Society slowed down a lot during COVID-19. Now that things are picking back up again, plastic surgery is on the top of everyone's mind. Looking your best has never been easier. A visit to Dr. Rizk can have you camera-ready just in time for your friend's wedding!
With the Coronavirus becoming a thing of the past, Dr. Sam Rizk has been receiving many calls from men and women seeking rhinoplasty, breast augmentation, body contouring and other plastic surgery treatments.
Getting Your Confidence Back After COVID-19
Since NYC is now allowing weddings, receptions, and concerts to larger crowds, the "Zoom-boom" is in full swing. This rise in demand for cosmetic surgeries is attributed to patients not being too happy about how they look on screen.
Dr. Rizk says he sees an increase in patients opting for elective procedures such as Fraxel and lip enhancements. While guests are still social distancing, faces are uncovered and people are feeling more vulnerable than before.
Importance of Looking Your Best
Since restrictions are starting to wane, and life's getting back to normal, it's a great time to refresh your appearance! You will feel much more confident about yourself seeing people face-to-face you haven't been around in over a year.
Feeling good about yourself will improve your attitude towards life in general, and you will have a more positive outlook on the world. Taking care of something that has been bothering you is a form of self-respect, which you should never neglect. It will reduce your insecurities, and you can focus on celebrating and having a great time with friends and family members at events.
Popular Procedures to Help with Self-Care
Nose job: Many people have spent the duration of the pandemic looking at their faces over Zoom and realizing that they are unhappy with certain aspects of their nose. Rhinoplasty, or nose job surgery, is one of the most popular procedures in the United States. Getting a nose job will be a major boost to your self-confidence, and you can show it off during your next in-person event.
Anti-Aging Treatments: People have experienced higher stress levels since the start of COVID-19, and worry lines can show in your forehead. Forehead and brow lifts can result in smooth skin, getting rid of deep lines and wrinkles. A forehead lift can provide a youthful look and help you put thoughts of the pandemic behind you.
Contact Dr. Rizk Today
To inquire about our procedure options, call or send a message to our office. We can help you select the procedure that is right for you and schedule it so you have plenty of healing time before your big event.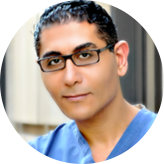 By Dr. Sam S. Rizk, M.D., FACS.
Dr. Rizk is a double board-certified facial plastic surgeon who specializes in rhinoplasty surgery and a recognized expert on the latest advances in facial plastic surgery techniques. He performs a range of facial plastic surgeries at his New York practice.