3 Reasons Eyelid Surgery Has Gained Popularity with Men
Posted by Dr. Sam Rizk September, 09/12/2019 - 03:48 PM
As men age, they start showing noticeable signs like wrinkles and sagging skin in different areas of the face. The eyelids, one of the most noticeable parts of the face, is particularly prone to developing unattractive signs of aging. This can lead to confidence and self-esteem issues, which in turn may affect your personal and professional life. Dr. Rizk, a double board-certified facial plastic surgeon who specializes in rejuvenating treatments like eyelid surgery for men in NYC, is pleased to help male patients achieve their aesthetic goals and improve their appearance with eyelid surgery and other cosmetic procedures.
How is Eyelid Surgery Different for Men and Women?
First and foremost, it is important to understand the different approaches used for men and women for eyelid surgery. Most men want to attain an attractive, yet manly appearance. On the other hand, female patients typically want to have finer features with a subtler touch. Male brows tend to be taller and have sharper corners than female patients. Moreover, the surgeon needs to consider the shape of the jawbone and other features to make sure the eyelids match the patient's objectives.
Although most cosmetic treatments and procedures are targeted towards female patients, men can also benefit from certain treatments like eyelid surgery, also known as blepharoplasty. Following, Dr. Rizk shares the three main reasons why this procedure is gaining popularity with male patients.
Why Eyelid Surgery is Popular with Men
Although cosmetic products and treatments are usually marketed to women, a lot of male patients are starting to take advantage of cosmetic procedures to improve their quality of life. Here are three reasons that explain the growing popularity of eyelid surgery for men in New York City:
1. Significantly Reduces Signs of Aging
The majority of people make eye contact during a conversation, making your eyes an important facial feature. Having eyelid surgery can significantly reduce signs of aging in this part of your face. If the appearance of sagging or drooping skin is due to an accident or another reason, this procedure can also help restore your appearance.
2. Relatively Fast Recovery Time
Unlike other procedures, eyelid surgery can produce great results while having a relatively short recovery period. After 7 to 10 days, you should be able to return to your normal activities and most swelling should recede after two weeks, although this varies from patient to patient.
3. May Be Combined with Other Procedures
Male patients that are looking for more dramatic results will be happy to know that eyelid surgery can be combined with other procedures such as facelifts, and lip enhancements. Make sure you discuss combination treatments with your surgeon during your consult.
The Best Facial Plastic Surgeon in NYC for Your Eyelid Procedure
There are many features that impact your appearance. However, your eyelids are among the most visible because they also play an important role in our facial expressions and non-verbal communication. As a double board-certified surgeon with more than 20 years of experience, Dr. Rizk has the knowledge and experience to perform male eyelid surgery in New York City that helps you achieve your goals. If you want to learn more about his work, contact his NYC practice and book a consultation today.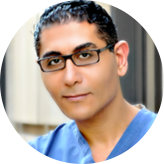 By Dr. Sam S. Rizk, M.D., FACS.
Dr. Rizk is a double board-certified facial plastic surgeon who specializes in rhinoplasty surgery and a recognized expert on the latest advances in facial plastic surgery techniques. He performs a range of facial plastic surgeries at his New York practice.