The Rising Popularity of Eyelid Surgery
Posted by Dr. Sam Rizk January, 01/18/2017 - 02:21 PM
In recent years, more and more people have been choosing to have eyelid surgery (blepharoplasty), or "eye lift," as the procedure is commonly called. Recent findings from the Global Survey of the International Society of Aesthetic Plastic Surgery (ISAPS) highlight this trend, with eyelid surgery ranking No. 3 among all surgical procedures worldwide, at 13.1%. Women and men alike are now aware that a good skin care regimen alone cannot correct droopy or puffy eyelids caused by the hands of time, and as a result, more of them are opting for eyelid surgery.
The majority of patients choose to have blepharoplasty for cosmetic reasons, but many other eyelid surgery cases are performed for functional reasons — namely when the eyelids are interfering with a person's vision. Aging, environmental factors and gravity cause the skin to droop, and only eyelid surgery effectively counteract these factors.

"The Window to the Soul"
The eyes are often called "the window to the soul," and for good reason. The eyes can show us a lot about a person's mood or emotional state of being. If a person is sad or concerned, he or she might furrow their brow. If a person is happy, their eyes may appear to be brighter. This is because we tend to raise our eyebrows when we're happy, which makes them appear larger and brighter.
But that's not all. The eyes are also a crucial component in beauty. Saggy upper eyelids or bags beneath the eyes can make a person look tired, angry, or older. Luckily, eyelid surgery can address these issues and provide a younger appearance.
Men Have "Opened Their Eyes" to Surgery
According to one of the major plastic surgery organizations, almost 10 percent of cosmetic procedures are now performed on men. The number of men having plastic surgery risen by more than 300 percent in the last 20 years. And results from a recent survey showed that more than 20 percent of eyelid surgeries are now performed on men.
Loose, hanging eyelids affect the appearance of men just as much as women. So too do bulges in the lower eyelids. Friends and colleagues of those affected by these unfortunate signs of aging often ask they are tired or if they have been having trouble sleeping. The good news is, eyelid surgery can restore the appearance of both upper and lower eyelids.
The Procedure
Eyelid surgery can be performed on the upper eyelids, the lower eyelids, or both. Not only can the procedure improve the way you look, but it can also improve functional issues you may be having with your eyelids.
Here are some of the problems eyelid surgery can address:
Loose or hanging skin that has resulted in folds, is disturbing the natural contours of the upper lid, and/or is affecting your vision
Fatty deposits that cause the eyelids to appear puffy
Under-eye bags
Droopy lower eyelids
Excess skin and subtle wrinkles on the lower eyelid
Issues with the lower eyelids are typically addressed by removing extra fat and readjusting tissue. This procedure also usually involves tightening the skin and muscles in the area and results in a fresh, rejuvenated vibrant look. The amazing transformation this procedure produces often has a profound impact in social and workplace situations.
Dr. Rizk's Observations
The majority of Dr. Sam Rizk's patients are still women, but the more time goes on, the more this is changing. Over the last few years, Dr. Rizk has noted more demand for facial cosmetic procedures such as upper and lower eyelid surgery among men.
Many of these men are baby boomers that have taken great pains to keep themselves in shape and now want to look the way they feel. Others are men that are tired of their wife looking so much better than them — oftentimes the result of cosmetic surgery.
Another thing Dr. Rizk has noticed is that these men are also much less concerned with wrinkles than are women. Men are typically unconcerned about lines and creases but dislike the fatty deposits they have noticed forming under their eyes or the droopy eyelids affecting the appearance of the "window to their soul."
No matter what your motivation for seeking eyelid surgery, Dr. Rizk will carefully assess your case and make the appropriate recommendations. To learn more, contact his office today.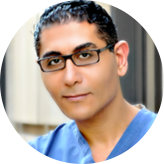 By Dr. Sam S. Rizk, M.D., FACS.
Dr. Rizk is a double board-certified facial plastic surgeon who specializes in rhinoplasty surgery and a recognized expert on the latest advances in facial plastic surgery techniques. He performs a range of facial plastic surgeries at his New York practice.