Dynamic vs. Static: Understand Your Wrinkles and How to Best Address Them
Posted by Dr. Sam Rizk May, 05/20/2020 - 05:14 PM
Wrinkles can appear on almost every part of the body, but our patients are typically focused on addressing facial wrinkles. Fine lines and age-related blemishes can make you look much older, so it's important to understand the different types of wrinkles and what you can do to reduce them.
Wrinkles can be categorized into two types: static and dynamic. Double board-certified facial plastic surgeon and cosmetic expert Dr. Sam Rizk specializes in treating facial wrinkles so he understands the difference between dynamic and static lines. Below, Dr. Rizk will share the difference between the two and discuss the various treatments available depending on where the wrinkles are located.
What are Wrinkles?
As we age, the body stops producing collagen and elastin. These two compounds are the skin's building blocks, so losing most of the collagen and elastin means that the skin loses its firmness and elasticity. Once the collagen and elastin levels fall below a certain point, the skin starts hanging, thus creating wrinkles.
In addition to age, other factors such as sun exposure, eating habits, and genetic factors also influence the appearance of wrinkles. People that are exposed to huge amounts of sunlight tend to have more visible wrinkles, which can be categorized as either dynamic or static.
Defining Dynamic Wrinkles
Dynamic wrinkles are produced by constant facial motions like squinting, smiling, furrowing of the brows, and other expressions. Examples of dynamic wrinkles include crow's feet, forehead wrinkles, and smile lines.
If you want to see the dynamic wrinkles on your face, look in the mirror and make exaggerated facial expressions like crying, laughing, or frowning. Dynamic wrinkles should show up on areas with the most movement.
Defining Static Wrinkles
As the name suggests, static wrinkles occur even when you're not making facial expressions. For instance, wrinkles on the cheeks, midface, and the neck. In some cases, these may start off as dynamic wrinkles and eventually become static due to loss of elasticity in the skin.
Treating Static and Dynamic Wrinkles
Static and dynamic facial wrinkles can occur in a wide variety of places including the neck, forehead, eyebrow, jowls, and other areas. Dr. Rizk specializes in treating patients that have mild to severe signs of aging. Some of the treatments he performs in his practice include:
Learn More About Treating Dynamic and Static Wrinkles
There are many different treatments available that can help you eliminate static and dynamic wrinkles for a long time. While injectables are an alternative, facelifts, neck lifts, forehead lifts, and brow lifts offer more permanent results. Patients that don't want an invasive treatment can also opt for laser resurfacing, which removes older skin layers and promotes the natural production of collagen.
If you want to learn more about working with Dr. Rizk, contact his clinic in New York, and book a consultation today.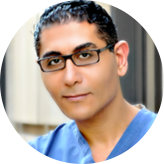 By Dr. Sam S. Rizk, M.D., FACS.
Dr. Rizk is a double board-certified facial plastic surgeon who specializes in rhinoplasty surgery and a recognized expert on the latest advances in facial plastic surgery techniques. He performs a range of facial plastic surgeries at his New York practice.