New Nod for Botox for Forehead Lines
Posted by Dr. Sam Rizk November, 11/30/2017 - 03:48 PM
And then there were three.
Approved uses for Botox Cosmetic, that is.
The US Food and Drug Administration (FDA) greenlighted Botox Cosmetic for the temporary improvement of moderate to severe forehead lines in early October 2017. It is already approved for moderate to severe crow's feet and moderate to severe frown lines in adults, among other non-cosmetic indications.
Botox (along with Dysport and Xeomin) are the most popular minimally invasive procedures for both women and men, according to statistics from the American Academy of Facial Plastic and Reconstructive Surgery (AAFPRS), and this new nod is likely to help propel these injections even higher on the procedure popularity ladder. Allergan can now market Botox Cosmetic for forehead lines which will drive more consumer awareness so more people, women and men, will have smoother foreheads to show off very soon.
Dr. Rizk's observations:
Neuromodulators like Botox, Dysport and Xeomin work to soften the activity of the muscles that cause skin wrinkles. When we use it in the forehead, it relaxes the muscle movement so you can't raise your frontalis (forehead) muscle. We refer to this procedure as a 'chemical brow lift' because it can be used to elevate the brows slightly without surgical intervention.
Think of it this way. You will not develop deep lines or wrinkles if you cannot move your forehead as much. This newly FDA approved use for Botox fits into a trend that the beauty media calls 'prejuvenation,' which is essentially intervening early before wrinkles get deep and preventing this from occurring or forestalling their appearance.
Many facial plastic surgeons, including myself, have already been using Botox to smooth forehead lines off label for several years. Injecting this area effectively requires caution, skill and an artistic eye. If the injector does not place the Botox correctly, or overdoes it, or uses it too close to the brows, there is the risk of making the brow appear heavier and/or causing eyelids to droop. We have also seen the 'Dr. Spock effect', which is where you may have the tail of one or both brows elevated like Dr. Spock of Star Trek fame. This is very rare among experienced injectors. In fact, I have never had a brow droop or other complication in the 20+ years I have been using Botox in my New York City facial plastic surgery practice.
It is very important to choose a facial plastic surgeon who has years of experience with facial anatomy and injecting Botox in this area. He or she should perform a good analysis of your musculature, underlying structures and skin, and discuss any possible risks and considerations about the procedure with you in advance.
It takes about 2-7 days to start seeing the effects of Botox in the forehead, and the results last about three to four months. To maximize your satisfaction and minimize your risks for complications, always follow your surgeon's advice on what you can and can't do before and after your Botox injections including stopping the use of anti-inflammatory medications, which can increase risk for bruising. I often recommend natural remedies such as bromelain or Arnica Montana for patients who are sensitive to bruising, although most patients do not have any side effects and can wear makeup immediately after the injections and return to work or normal activities.
Related Blog Posts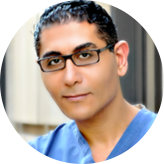 By Dr. Sam S. Rizk, M.D., FACS.
Dr. Rizk is a double board-certified facial plastic surgeon who specializes in rhinoplasty surgery and a recognized expert on the latest advances in facial plastic surgery techniques. He performs a range of facial plastic surgeries at his New York practice.