Preventative Botox: The Lowdown on Getting Injectables in Your 20s
Posted by Dr. Sam Rizk November, 11/18/2019 - 02:53 PM
Maintaining a healthy appearance is important to everyone, regardless of their age. This is why injectable treatments have been gaining popularity over the last few decades. While many people believe that Botox and other non-surgical treatments are only ideal for older patients, that couldn't be farther from the truth.
Dr. Rizk, a New York double-board certified facial plastic surgeon, believes in helping patients maintain a youthful appearance. As a facial plastic surgeon, he helps patients across New York find the best treatment option for their individual needs. Here's a little more information about getting injectables in your 20s.
What is Preventative Botox?
As the name suggests, a preventative injectable treatment focuses on targeting areas that are likely to show visible signs of aging before they actually begin. This type of non-surgical therapy employs Botox, a neurotoxin that temporarily immobilizes certain muscles in your face, neck and other parts of your body, as well as other injectables to eliminate wrinkles and other imperfections.
What You Need to Know About Getting Injectables in Your 20s
Getting preventative Botox in New York is a great idea. However, like all cosmetic procedures, you need to do your research and ensure that you're receiving aesthetic care from an accredited physician. If you are considering preventative Botox in NYC, always keep in mind that:
Each Treatment Should Be Customized
Regardless of age, physicians that employ "cookie-cutter" injectable treatments don't tend to produce the best results. Instead, you should work with a facial plastic surgeon that can customize the treatment in order to achieve your goals.
Preventative Injectables Use Fewer Units Per Session
Botox is measured in units. The amount of units required depends on many factors, which include the condition of the skin and the patient's objectives. Therefore, the number of units required for preventative Botox tends to be much lower than for patients who want to address visible signs of aging.
Injectables Can Help Eliminate Acne Scars
Besides preventing the onset of wrinkles, preventative Botox in NYC can help reduce and eliminate the appearance of acne scars.
Dark Circles Can Be Removed
Dark circles can be removed with injectables, which tend to show better results on healthy skin.
Lips Are Not Easy – So You Need to Work with a Specialist
Whether you're looking for lip enhancements or preventative Botox for frown lines, treating the lips and labionasal area is complicated. As with all cosmetic procedures, you should find an experienced facial plastic surgeon that has an excellent portfolio.
The Goal Should Be Natural-Looking Results
As with any cosmetic procedure, the main goal of preventative Botox is to highlight your own beauty and produce results that look natural.
When Botox Isn't Enough…
Preventative Botox in NYC is a great alternative for younger patients looking for a little extra protection from the ravages of time. That said, it's not a permanent solution. A facelift, on the other hand, will stand the test of time, leaving you with a fresher, more youthful appearance.
Dr. Rizk is a double board-certified facial plastic surgeon that aims to help patients of varying ages in New York City to combat the signs of aging. To learn more about his work, get in touch with his practice and book an appointment today.
Related Blog Posts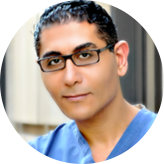 By Dr. Sam S. Rizk, M.D., FACS.
Dr. Rizk is a double board-certified facial plastic surgeon who specializes in rhinoplasty surgery and a recognized expert on the latest advances in facial plastic surgery techniques. He performs a range of facial plastic surgeries at his New York practice.