Heidi Montag Speaks Out About Her Plastic Surgery
Posted by Dr. Sam Rizk January, 01/04/2017 - 08:24 PM
Heidi Blair Pratt, more commonly known by her maiden name, Heidi Montag, first became famous for her role on the MTV reality series The Hills. But let's face it: What we all really remember her for was her astonishing and ill-advised decision, back in 2009, to have 10 cosmetic procedures in one day, including breast augmentation, brow lift, revision rhinoplasty, liposuction, and butt augmentation, among others.
Montag was all too proud to talk about her experience, even going so far as to detail every procedure in a tell-all for People Magazine. But ultimately she came to regret the decision to have so many cosmetic procedures. In 2013 she had breast reduction surgery to remove her size F breast implants. According to Montag, "They were so heavy they were falling through the skin… It was just too heavy for my body and I was in pain and uncomfortable all the time. I thought, 'What do I need this big of breasts for?'"
What should we learn from Montag's experience? Read on to learn more.
How to Avoid Montag's Outcome 
The discomfort and regret Montag's experienced were entirely avoidable. Plastic surgery should be approached with modesty. Complete transformation should not be the goal.

If you are thinking of having cosmetic surgery to achieve any of the following, your expectations are unrealistic, which likely means you are not a good candidate for cosmetic surgery:
Instant contentment – Cosmetic surgery can certainly have a positive impact on your life. However, it won't make you happy overnight.
The solution to your problems – All of us have our problems…and we will continue to have problems after having cosmetic surgery. The aesthetic enhancement will not improve your relationships, get you a stress-free job or make you enjoy retirement any more than you currently do.
Someone famous had it – If Heidi Montag's example isn't enough for you, think of all the other stars that have wrecked their appearance by going overboard with cosmetic surgery.
Choosing a Surgeon
The best way to avoid going overboard? Choose the right surgeon. An experienced, reputable surgeon will be upfront and honest about your expectations and what you can achieve. He or she will also be able to assess your specific situation and come up with a realistic surgical plan.
Do your research and identify a few surgeons that seem to fit the bill. Then schedule a consultation with each. Choose a surgeon that places an emphasis on your health and safety. Avoid surgeons that push you toward treatments you're not interested in.
It's very important that you read reviews and testimonials from former patients for any surgeon you are considering. If possible, converse with former patients over the phone or via email to assess how happy they are with their results.
Your surgeon should be board-certified by the American Board of Facial Plastic and Reconstructive Surgery (ABFPRS), which will ensure that he or she has advanced training in facial plastic surgery.
Your surgeon should also be someone that performs many facial plastic surgeries and minimally invasive procedures per month.
Also make sure that your surgeon has hospital privileges, which shows that the surgeon has been evaluated by experienced medical professionals.
When you have located the right surgeon to perform your procedure, pay close attention to what the surgeon tells you, including what sort of expectations you should have of the procedure.
A positive outcome from cosmetic surgery can have a very positive effect on your life, but again, it is very important that your expectations are realistic. Cosmetic surgery is not a magic bullet and will not completely transform your life.
In fact, the best facial plastic surgeons refuse to treat patients that don't have realistic expectations. This is why they meet in person with each potential patient to ensure that they understand what the procedure(s) they are interested in can accomplish. Physical perfection cannot be achieved by having multiple cosmetic procedures like Heidi Montag did. And attempting to do so can be very dangerous.
Good candidates for facial plastic surgery are generally healthy (i.e., do not have any serious or life-threatening medical conditions) and do not smoke. Are you a good candidate for facial plastic surgery? To find out, schedule a consultation with Dr. Sam Rizk today.
Related Blog Posts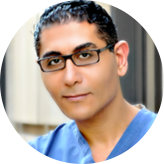 By Dr. Sam S. Rizk, M.D., FACS.
Dr. Rizk is a double board-certified facial plastic surgeon who specializes in rhinoplasty surgery and a recognized expert on the latest advances in facial plastic surgery techniques. He performs a range of facial plastic surgeries at his New York practice.