Reflecting On Iggy Azalea's Emotional Journey With Plastic Surgery
Posted by Dr. Sam Rizk February, 02/16/2022 - 05:26 PM
Most people look at celebrities with envy. The glitz and glamor, the body transformations, and more. Few however consider the emotional rollercoaster that celebrities like Iggy Azalea face when even the slightest change is "investigated" by the media.
Dr. Rizk, a renowned NYC plastic surgeon, is all too familiar with this emotional journey, having helped many patients, including celebrities, achieve their body transformation goals.
Your Body, Your Choice
Iggy Azalea, the fierce rapper, is in the minority when considering the candor with which she speaks about her self-image. When she realized that there were things about herself that she did not like, and she decided to change them, she consulted a plastic surgeon and had a nose job done.
An advocate for informed choice when it comes to plastic surgery, Iggy believes that it is important for people to understand that there is no perfect body. Many young people browse the internet trying to find their favorite celebrities' body shape and features, not realizing that celebrities also have imperfections, but create their perfect bodies with the help of cosmetic surgery.
Dr. Rizk understands this and believes that it is important for patients to have realistic expectations and a clear idea of what they want to achieve with plastic surgery. He reflects that it is crucial for the surgeon's skill, expertise, and creative vision to be in line with their patients' to ensure a beautiful surgical outcome.
Shaping A Nose To Love
Deciding to consult a plastic surgeon is a life-altering decision. Having consulted with many patients struggling to deal with the reality of a nose, or other physical feature, that they do not like, for many years, before taking the bold step into rhinoplasty consultation at his New York office.
Patients present not only with crooked, drooping, too big or too small noses but also with low self-esteem, lack of confidence, and social anxiety as a result.
These are the emotional aspects that the media tend to ignore when hounding celebrities about their nose jobs and other cosmetic surgeries. Shaping the ideal nose for his patients is a process of care and understanding to ensure both the physical and emotional wellbeing of his patients.
Refinement Under The Knife
Iggy Azalea's rhinoplasty addressed both aesthetic and functional concerns that she had with her nose.
Her nose tip was shaped to be less boxy and wide
A tiny hump on her nose was reduced
Her deviated septum was corrected and improved her breathing
Therefore, it is important to understand that your body need not only to look good to you but also needs to function well.
Plastic Surgery Need Not Be Frowned Upon
People often forget that plastic surgery also helps with functional challenges, as in the case of Iggy's nose job. A person's holistic well-being is very important, and if plastic surgery can help you feel more confident and loved in your own body then why not?
In the right care, your body and life can be transformed through the expertise and artistic precision of a board-certified plastic surgeon like Dr. Rizk.
Contact his NYC office to schedule your cosmetic surgery consultation today and end the rollercoaster of self-loathing that you may feel when looking in the mirror.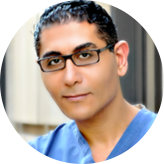 By Dr. Sam S. Rizk, M.D., FACS.
Dr. Rizk is a double board-certified facial plastic surgeon who specializes in rhinoplasty surgery and a recognized expert on the latest advances in facial plastic surgery techniques. He performs a range of facial plastic surgeries at his New York practice.