Best Questions To Ask Your Plastic Surgeon About Ear Surgery (Otoplasty)
Posted by Dr. Sam Rizk November, 11/23/2020 - 03:28 PM
If you're considering surgery to fix any cosmetic concern related to your ears, it is crucial you understand the nuances before making an informed decision about your surgery. Another important choice is identifying the right surgeon for you, ensuring you feel comfortable and confident in their ability to achieve the results you desire.
Let's look at the best questions Dr. Sam Rizk recommends you ask your plastic surgeon upon consultation
Questions to Ask About Otoplasty (Ear Surgery)
How long will my ear surgery take?
Depending on what needs to be changed or fixed, ear surgery, or ear pinning, is ambulatory and can take up to 2 hours.
How do you perform the surgery?
This is a good question to ask to find out what actions your surgeon will take during the procedure, and the techniques they use.
When do I need to arrive?
Surgery prep can take almost as long as the surgery itself, so it's important to know when to arrive in order to have enough time for everyone and everything to be ready.
When will I be discharged?
This can change depending on how the surgery goes, but it's a good idea to know approximately when you should be ready to leave, as you will need someone to drive you home.
Should I avoid any medication or food before the surgery?
This is a crucial piece of information that will be covered by your surgeon – you may need to stop eating a number of hours before surgery and to avoid certain medications, as both of these can interfere with your surgery.
Questions About Your Doctor
Choosing your surgeon is one of the most important decisions to make when it comes to undergoing surgery. Ear surgery is complicated, and it's crucial to choose a surgeon with experience in this kind of procedure.
What experience do you have with ear surgery?
It's good to know how experienced your surgeon is, and the extent of their expertise in your procedure.
Are you a facial plastic surgeon?
When choosing a surgeon for a procedure such as cosmetic ear surgery, it's important to choose a specialist – as general plastic surgeons may not have the same level of knowledge and experience. Facial plastic surgeons are also trained as ENTs, allowing them to better understand the functionality of each ear part.
How do you take a patient's proportions into account during surgery?
Ears are a dominant feature of the face, and a good surgeon will undertake your procedure with your unique facial characteristics in mind.
As a double board-certified facial plastic surgeon with techniques that produce the ideal aesthetic result, Dr. Rizk is one of the most sought after otoplasty surgeons in New York City.
Questions About Recovery
Don't forget to ask:
How long will I take to recover?
You may need up to six weeks to fully recover, depending on your circumstances. Your surgeon will provide detail on how long you can expect to rest and recover.
What can I do to help my body heal?
A great surgery can only work if the patient does all they can to rest and recover properly. Ask your surgeon for things you can do to help your body heal as best as it can.
Are you considering ear surgery in NYC, or do you have any questions about whether the procedure is right for you? Contact Dr. Rizk and the team at Manhattan Facial Plastic Surgery for a consultation.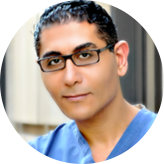 By Dr. Sam S. Rizk, M.D., FACS.
Dr. Rizk is a double board-certified facial plastic surgeon who specializes in rhinoplasty surgery and a recognized expert on the latest advances in facial plastic surgery techniques. He performs a range of facial plastic surgeries at his New York practice.