Caitlyn Jenner Turned Down By Own Plastic Surgeons?
Posted by Dr. Sam Rizk October, 10/17/2016 - 02:46 PM
Caitlyn Jenner has had quite a transformative year but, according to sources, her obsession with plastic surgery is worrying those around her, possibly including her plastic surgeons. At least one source has reported that she is a perfectionist who has recently spent gobs of money on her addiction to cosmetic surgeries and fillers.
Celebrities like Jenner aren't exactly the best role models for others considering plastic surgery. Here board certified plastic surgeon Dr. Sam Rizk discusses what you can realistically expect from your surgery, and sheds light on how much cosmetic surgery is too much.
Realistic Goals and Expectations
Having plastic surgery will change your appearance forever, and you are not guaranteed to end up with the outcome you envisioned. If you already like the way you look but would like to achieve perfection, guess what — you're probably a bad candidate for plastic surgery. It may sound harsh, but this goal is unachievable, and taking steps to look perfect when you already look good may be a sign that you have a psychological disorder known as body dysmorphia. Seeking multiple procedures for the same feature is another sign that you may have this disorder.
Reputable facial plastic surgeons will not agree to perform surgery on patients with unrealistic expectations. This is why they meet with potential patients prior to surgery to conduct a thorough evaluation of their goals and expectations.
Good surgeons also make sure that each prospective patient does not smoke, is in good overall health and does not have any serious medical conditions that would interfere with the procedure.
How Much Surgery Is Too Much?
So how much plastic surgery is too much? If you are seeking additional surgery for any of the following reasons, you've probably gone overboard:
A quick ticket to happiness. Plastic surgery does have the potential to positively affect your life but it does not lead to eternal bliss. In fact, in many cases the results don't even last a lifetime. For example, a facelift won't keep you looking forever 30 — as you get older, the aging process will continue to affect your appearance.
The answer to your woes. We all have stress in our lives, and guess what…plastic surgery won't relieve it. It won't solve your marital problems, land you a new job or make retirement any more fulfilling either. Cosmetic surgery procedures are intended to improve your appearance, not solve all your problems.
Your favorite celebrity had it. Think of all the celebrities that have ruined their looks by having too much plastic surgery. One day they're your favorite star, the next the look like a train wreck. So don't assume that just because a celebrity had a procedure you should have it too. Plastic surgery is personal decision that should be made for personal reasons. Also, you might not even need an invasive procedure; for some people, fillers or other injectables suffice.
What Does Dr. Rizk Recommend?
The best way to avoid having too much plastic surgery is to get it right the first time. Find a quality surgeon and listen to their advice regarding what you should and should not have done.
How do you find a good surgeon? First, limit your search to board certified facial plastic surgeons. These surgeons have the most training in cosmetic surgeries of the face. A good place to start your search is the website of the American Academy of Facial Plastic and Reconstructive Surgery (AAFPRS), which has a physician locator to help you find board certified facial plastic surgeons in your area.
At your initial consultation, pay attention to the surgeon's demeanor. If the surgeon urges you to undergo additional procedures that have nothing to do with your original goals, walk away.
Also be sure to read testimonials from other patients and browse the surgeon's before and after photos. Do you like what you're reading and seeing?
Your surgeon also should have hospital privileges. This means that a special committee has reviewed and approved the surgeon's education, training and other important factors.
Choose a surgeon that uses advanced technology and performs the procedure you're interested in on an ongoing basis.
And to learn more about how much is too much plastic surgery, contact the office of Sam Rizk today.
Related Blog Posts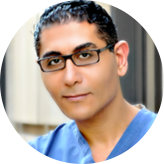 By Dr. Sam S. Rizk, M.D., FACS.
Dr. Rizk is a double board-certified facial plastic surgeon who specializes in rhinoplasty surgery and a recognized expert on the latest advances in facial plastic surgery techniques. He performs a range of facial plastic surgeries at his New York practice.