Do men feel more pressure to look younger on video calls and at work?
Posted by Dr. Sam Rizk April, 04/30/2021 - 03:50 PM
What's behind the increase in demand for facial plastic surgery among 40 – 60 year old men? Perhaps it is connected to the surge in Zoom meetings, where there is nowhere to look but the face. Or perhaps it was inevitable as more ways to counteract the hands of time become widely available.
Whatever the cause, double-board certified facial plastic surgeon Dr. Sam Rizk can confirm that the trend is real as he's recently seen more men in his New York office for consultations and surgical treatments than ever before.
In this article he explores the question: Are men starting to feel pressure to look "the part" at work?
Facial plastic surgery for men
We live in a society that emphasizes looking youthful. Whether in advertising, television, or on social media, youth is celebrated and admired as a virtue. In the last few decades, it has been mostly women who have felt the need to live up to these expectations and many turned to plastic surgery to look their best.
Today, it is quite common to see men undergoing cosmetic procedures to improve their appearance. Men are more aware of their image and are eager to enhance their appearance. Surgeons need to perform facial plastic surgery for men with great care for their anatomy and for maintaining a masculine look after surgery.
Popular procedures for men
The most popular surgical procedures for men are:
Cosmetic procedures to boost your career
A youthful professional image seems to be the norm as a younger workforce with new skills and talent is highly valued in certain industries such as technology, finance and innovative start-ups. In these industries, looking younger can lead to quicker promotions and higher salaries.
In Silicon Valley for example, a recent Washington Post article quoted men who said cosmetic procedures are essential to their career.
In general, most men consider visits to a facial plastic surgeon as an addition to their anti-aging routine, which makes them feel more comfortable in their skin and may lead to better opportunities at work.
Facial plastic surgery for men in Dr. Rizk's office
Are you considering a surgical procedure to rejuvenate your appearance? Are you looking for a highly professional plastic surgeon with extensive experience in facial plastic surgery for men?
Dr. Sam Rizk is a double board-certified facial plastic surgeon with more than 20 years of experience in male plastic surgery in New York. He uses the latest techniques to accelerate the recovery process and sculpt masculine, youthful faces for his patients.
Book a consultation with Dr. Rizk at his NYC office to learn more about facial plastic surgery for men.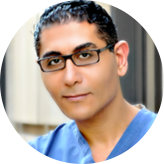 By Dr. Sam S. Rizk, M.D., FACS.
Dr. Rizk is a double board-certified facial plastic surgeon who specializes in rhinoplasty surgery and a recognized expert on the latest advances in facial plastic surgery techniques. He performs a range of facial plastic surgeries at his New York practice.