Facing the Facts About Facelift Longevity
Posted by Dr. Sam Rizk April, 04/13/2017 - 05:38 PM
Many things happen to our face as we age: skin changes such as wrinkles and brown spots; dynamic lines from overactive muscles; loss of volume (hollow cheeks and temples); the loss of elasticity and, of course, the downward pull of gravity. While noninvasive procedures can address one or two of these concerns, and a combination of them can correct a few more, only a facelift hits the majority of these factors in one procedure.
A facelift – also known as a rhytidectomy – is a major surgery that does confer its own share of risks and downtime. The results, however, last for years, compared with months seen with fillers and other minimally invasive techniques.
Exactly when to get a facelift is a personal decision based on many factors including the degree of aging (which doesn't always correlate with your actual age), tolerance for downtime and risks as well as cost. The advent of noninvasive facial rejuvenation techniques and procedures has allowed many to postpone the need for facelifts for years –sometimes permanently.
There are also many types of facelifts. Individuals in their early 40s may be candidates for a partial face-lift or just a lower face-lift; while those in their 50s or 60s and beyond usually require a full facelift. In general, the age range for facelifts is 40 up until the 70s, if the patient is in good health and has reasonable expectations. In some cases, women may request a lower facelift in their late 30s, after massive weight loss or other medical conditions that may promote premature aging and skin laxity.
The results of a facelift can last several years, which means that there may be a revision procedure in your future depending on the age and degree of your first facelift. You do continue to age after your facelift, but from a turned-back starting point. In general, a well performed facelift operation can last from 5 to 12 years, depending on how well your skin ages, your lifestyle, sun avoidance, and weight maintenance.
Advice from Dr. Rizk:
Facelifts can produce amazing and dramatic results, but these results don't last forever. There are ways to maximize the results including the judicious use of sunscreen, not smoking and taking good care of yourself and your skin. In my practice, we address deeper facial tissues by going under the muscle. This means less bruising and swelling. I also use absorbable devices which can raise and hold deep tissue in face in multiple areas to provide a longer-lasting lift regardless of your age. Having periodic BOTOX and other neuromodulators, fillers and skin laser treatments along the way can also maintain the results of facial rejuvenation surgery for longer.
If you are interested in facial rejuvenation, discuss your goals with a board certified facial plastic surgeon who is skilled in all of the available surgical and non-surgical techniques. This is the best way to make sure that you are choosing the right procedure for you, which will have the longest lasting and most natural looking results. There is no one-size-fits-all approach to facelifts or facial rejuvenation.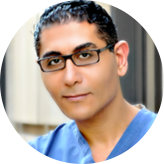 By Dr. Sam S. Rizk, M.D., FACS.
Dr. Rizk is a double board-certified facial plastic surgeon who specializes in rhinoplasty surgery and a recognized expert on the latest advances in facial plastic surgery techniques. He performs a range of facial plastic surgeries at his New York practice.