Is The Age of Patients Undergoing a Facelift Decreasing?
Posted by Dr. Sam Rizk April, 04/14/2021 - 04:21 PM
A facelift is a surgical procedure that rejuvenates the face by enhancing the visible signs of aging in the face and neck. This procedure is typically performed on women in their 60 and 70s. However, this trend is changing. Thirty four percent of all facelifts performed in 2019 were performed on people under the age of 54.
So can we see a trend? Is the age of patients undergoing a facelift decreasing? And why? Dr. Sam Rizk explores these questions in the blog post below. Dr. Rizk is a double board-certified facial plastic surgeon who specializes in facelifts in NYC.
What is a facelift?
Most people think this is an anti-aging procedure to lift sagging facial skin at an advanced age. This is partially true. In essence, a facelift restores youthful contours of the face and neck and this includes, for example, adding youthful volume and firming the skin.
This treatment can improve your appearance by:
Tightening droopy skin and jowls
Reducing a double chin
Adding youthful volume to the cheek area
Smoothing lines and deeper wrinkles
Reducing deep creases below the eyelids and next to the nose
Enhancing tone and muscle elasticity
Rejuvenating a tired appearance
Various factors can lead to the loss of facial contours and make people consider a facelift. This is a gradual process that advances over time. These factors include:
The loss of facial fat and youthful volume
Gravity
Thinning of skin
Excessive sun exposure
Lifestyle choices, such as smoking
Heredity
Stress
Why choose to have a facelift done?
The most common reason for a facelift is to look like your younger self. As aging is a gradual process, your skin starts to sag more over time, producing jowls along the jawline, double chin, turtle neck, etc. This process already starts in our 30s and affects both men and women.
Why are younger patients having facelifts done?
Dr. Rizk is noticing a trend in the decreasing age of patients seeking facelifts in his New York office. The average patients age is now between 42 and 45 years old. It appears that facelifts are growing more popular with younger people. People are more aware of how they look in pictures, social media and on video calls.
While people used to wait until their 60s, there are now more people in their 40s and 50s that decide to choose a surgical procedure.
There are some advantages to getting a lift at an earlier age:
Faster recovery process
Less invasive procedure options
Natural results
Slowing down the aging process
Always choose a board-certified specialist
When you consider a surgical procedure, make sure you choose a specialist who is board-certified. While the demand for surgical procedures is high, only certified professionals can perform this procedure. Look for credentials on the website of a plastic surgeon and find out how much experience the surgeon has with facelifts.
A facelift in your 40s requires a different approach than a facelift in your 70s. Perhaps you are a candidate for an NYC mini lift or you can choose a complementary procedure for better results. An experienced facelift specialist such as Dr. Rizk can talk you through the different treatment options and show you the results of New York patients with similar concerns.
Specialized facelift procedure in New York
Are you considering a facelift and looking for a facelift expert in New York? Dr. Sam Rizk is an NYC double board-certified facial plastic surgeon with ample experience with facelifts. He uses his skills and knowledge to give you the most natural-looking results with minimal downtime and scarring.
Book a consultation at his New York office to learn more about his facelift procedures in New York.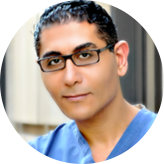 By Dr. Sam S. Rizk, M.D., FACS.
Dr. Rizk is a double board-certified facial plastic surgeon who specializes in rhinoplasty surgery and a recognized expert on the latest advances in facial plastic surgery techniques. He performs a range of facial plastic surgeries at his New York practice.