Plastic Surgery By The Season
Posted by Dr. Sam Rizk August, 08/21/2016 - 03:25 PM
Many people interested in plastic surgery are influenced by the seasons. For example, during springtime some people have surgery in order to look good during the summer months spent on the beach or by the pool. And during the winter, people are motivated by the fact that it's easier to hide any bruising or other temporary side effects of surgery. In either case way, it's a good idea to keep the seasons in mind when planning for cosmetic surgery.
 Winter Procedures
Many surgeons believe that wintertime is the ideal time to have almost any facial cosmetic surgical procedure, whether it's a facelift or forehead lift. During the winter, the colder weather allows patients to don certain articles of clothing (hat, scarf, etc.) that hide the effects of surgery. And since staying away from strong sunlight is crucial to a good recovery, winter is a great time to have cosmetic surgery. Frequent holidays and long weekends during the winter months are another plus.
Here are just some other reasons to have cosmetic surgery during wintertime:
Holidays such as Christmas, Hanukah, New Year's, Martin Luther King Day and President's Day; more time off in general
Business is often slow during winter
Less sunlight
The perfect New Year's resolution
How to Prepare:
Consider changing your hairstyle or the color of your hair to distract nosy friends and co-workers
If you're having a facelift, dieting and exercise that is focused on hitting your target weight before surgery can help improve the results
Examples of facial cosmetic surgical procedures best performed during the winter include:
Facelift
Blepharoplasty (eyelid tuck)
Nose job (rhinoplasty)
Brow lift
Laser resurfacing

Spring Procedures
Springtime is another great period during which to have facial plastic surgery. Many people choose to have surgery during spring in order to be prepared for summer activities (and the skimpier clothing they entail) like hitting the beach, going to weddings, going on vacations and so forth. And for those who during the winter are too busy with family obligations — or engaged in winter sports like skiing or snowboarding — to have surgery, spring may be the best time.
The following are some other reasons you might consider having facial plastic surgery during the spring:
In some areas it's still cold enough to hide the aftereffects with baggy clothing
Children are in school still
Several holidays/3-day weekends to recover
Still time to improve your look before summer arrives
Here are a few ways you can prepare for cosmetic surgery in springtime while hiding it from nosy friends and co-workers:
Diet/exercise
Go for a new hairstyle
Change up your makeup routine
Examples of good facial cosmetic surgical procedures to have during the spring include:
Facial surgery
Breast augmentation or lift
Body contouring procedures 
Summer Procedures
For most people, cosmetic treatment during the summer should be limited to minimally invasive procedures such as Botox and fillers. To put it plainly, summer isn't the best time to have facial plastic surgery — unless you are truly diligent about avoiding the sun, and you don't mind spending your summer vacation recovering.
Having cosmetic surgery during the summer means staying inside with the air conditioning on to encourage proper healing. "Recovering" by the pool is an oxymoron; that is, you won't recover properly if you're outside in the heat — particularly if you are in direct sunlight.
Summer is a particularly bad time for procedures like laser resurfacing because you have to avoid exposing areas treated to the sun for upwards of a month. Exposing new scars to direct sunlight interferes with healing and causes the scars to burn or tan, which makes them more noticeable.
Should you decide to have facial plastic surgery during the summer, be sure to follow your surgeon's instructions and stay inside for a couple of weeks.
 Fall Procedures
 The better shape you're in, the better you'll recover. So if you typically use the summer to get outside and get in shape, fall may be a good time to take advantage of your superior fitness and move forward with cosmetic surgery. Having surgery during the fall will also allow you enough time to properly recover before the winter holidays. What's more, the cooler weather will allow you to wear bulkier clothing that hides the effects of surgery. And, there are a couple of long weekends to help you recuperate.
As during other seasons, altering your hairstyle and changing up your makeup routine are good ways to divert people's attention from your cosmetic treatment.
Contact Dr. Rizk's office to learn more about how the seasons can or should affect your facial plastic surgery planning.
Related Blog Posts
What Facial Plastic Surgery Can and Can't Do for You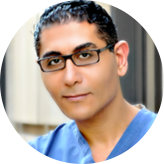 By Dr. Sam S. Rizk, M.D., FACS.
Dr. Rizk is a double board-certified facial plastic surgeon who specializes in rhinoplasty surgery and a recognized expert on the latest advances in facial plastic surgery techniques. He performs a range of facial plastic surgeries at his New York practice.