The Celebrity Facelift. The Truth Behind The Mask
Posted by Dr. Sam Rizk March, 03/01/2022 - 07:31 PM
Caitlyn Jenner has had quite a transformation, and her obsession with plastic surgery, at some stage, worried those around her, possibly even including her plastic surgeons. Celebrities like Jenner aren't exactly the best role models for others considering plastic surgery. Here in NYC, double board-certified plastic surgeon Dr. Sam Rizk discusses what you can realistically expect from your surgery, and sheds light on how much cosmetic surgery is too much.
A Facelift Is Not A Quick Ticket To Happiness
Plastic surgery does have the potential to positively affect your life but it does not lead to eternal bliss. In fact, in many cases, the results don't even last a lifetime. For example, a facelift won't keep you looking forever 30 — as you get older, the aging process will continue to affect your appearance.
The answer to your woes. We all have stress in our lives, and guess what…plastic surgery won't relieve it. It won't solve your marital problems, land you a new job or make retirement any more fulfilling either.
Cosmetic surgery procedures are intended to improve your appearance, not solve all your problems.
Think of all the celebrities that have ruined their looks by having too much plastic surgery. So don't assume that just because a celebrity had a procedure you should have it too. Plastic surgery is a personal decision that should be made for personal reasons. Also, you might not even need an invasive procedure; for some people, fillers or other injectables suffice.
Realistic Goals and Expectations
Having plastic surgery will change your appearance forever, and you are not guaranteed to end up with the outcome you envisioned. If you already like the way you look but would like to achieve perfection, guess what — you're probably a bad candidate for plastic surgery. It may sound harsh, but this goal is unachievable, and taking steps to look perfect when you already look good may be a sign that you have a psychological disorder known as body dysmorphia. Seeking multiple procedures for the same feature is another sign that you may have this disorder.
Reputable facial plastic surgeons will not agree to perform surgery on patients with unrealistic expectations. This is why they meet with potential patients prior to surgery to conduct a thorough evaluation of their goals and expectations.
Good surgeons also make sure that each prospective patient does not smoke, is in good overall health, and does not have any serious medical conditions that would interfere with the procedure.
What Does Dr. Rizk Recommend?
Comedienne Joan Rivers often jokes that she has had so much work done on her face (including a facelift or two or three) that her grandson calls her "nanny new face". While Rivers is an extremist when it comes to plastic surgery, other celebrities have also turned to facelifts to keep them looking as young as they feel.
We typically only notice celebrities who have had bad facelifts – the ones that are pulled way too tight. Many have had facelifts, only you would not know it by looking at them. This is largely due to the fact that the results are so natural and the celebs and their respective surgeons are so discreet.
Sam (Samieh) S. Rizk, M.D., F.A.C.S. a double board-certified New York City Facial Plastic Surgeon and Director of Manhattan Facial Plastic Surgery, is known globally for his subtle enhancements along with his rapid recovery protocols – both of which make him a favorite among celebrities and the rest of us.
Dr. Rizk is acutely aware that individuals – regardless of whether they have their own talk show or are stay-at-home moms- want to look better, and more refreshed, not overly and overtly "done."
• Quicker Recovery, Less Downtime
Dr. Rizk performs many different types of facelifts. The process begins with a consultation during which he will evaluate your face and neck, and listen to your concerns and goals. He will also consider how much downtime you are willing to accept before making a recommendation.
Dr. Rizk's technique and the technology he uses set him apart from other facial plastic surgeons. For starters, he goes deep under the muscles in the face to slide them into their original youthful position. Once deeper tissue is lifted, the excess skin is trimmed. Lifting skin alone will result in a tight look and the effects don't last. Going under the muscle results in less bruising and swelling than more superficial lifts. The age-defying results of Dr. Rizk's lifts also last around 10 years because of their depth. Whatsmore, scars heal better because there is no tension on the superficial layers and skin.
• Facelift Innovations Pioneered by Dr. Rizk
Dr. Rizk has pioneered the use of high-definition 3-D telescopes that empower him to visualize face and neck structures through the incisions. This crystal clear imagery enhances precision and helps improve the safety profile of the procedure.
Another technique that makes him a favorite for celebrities is his approach to scars. No celebrity wants a telltale scar and neither do the rest of us. Dr. Rizk hides scars inside of each ear, which allows individuals to wear their hair up after surgery with no visible evidence.
Dr. Rizk also uses Endotine Ribbon and tissue glues in all of his facelifts. He was the first surgeon to use this ribbon in the deep plane facelift and neck lift to attach tissue to tissue or tissue to bone instead of sutures or screws. This lessens bruising, pain, and swelling compared with conventional surgical techniques. In addition, he suggests various vitamins and herbal supplements to help accelerate recovery.
The best way to avoid having too much plastic surgery is to get it right the first time. Find a quality surgeon and listen to their advice regarding what you should and should not have done.
Contact us to schedule your consultation with Dr. Rizk today.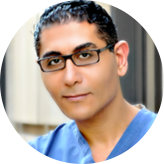 By Dr. Sam S. Rizk, M.D., FACS.
Dr. Rizk is a double board-certified facial plastic surgeon who specializes in rhinoplasty surgery and a recognized expert on the latest advances in facial plastic surgery techniques. He performs a range of facial plastic surgeries at his New York practice.