Top 10 Questions to Ask Before Your Facelift
Posted by Dr. Sam Rizk May, 05/21/2018 - 08:02 PM
The decision to undergo a facelift is a major one and should not be entered into lightly.
A facelift is the only procedure that addresses all of the signs of aging on the face namely skin changes such as wrinkles and age spots, dynamic lines from overactive muscles (think crow's feet), loss of volume in the cheeks and temples, loss of elasticity and the downward pull of gravity.
Choosing the right surgeon is the best way to maximize your satisfaction with the results of your facelift and minimize your risk of disappointment and complications.  Always ask these nine questions before you schedule your facelift.
Are you a board-certified facial plastic surgeon? This important qualification speaks to a surgeon's expertise in facial plastic surgery.
How often do you perform facelifts? There is no magic number, but your surgeon should perform facelifts often and not just "once in a while."
Which facelift procedure would you recommend for me and why? There are many different techniques available.
Where will the scars be? This is based on the type of facelift you choose and are specific to your anatomy.
Where will you perform the procedure?
Who will give me anesthesia and will it be General or Intravenous Sedation?
How long will my recovery be? The answer is based on the type of facelift you undergo.
What are the risks and complications associated with a facelift?
How are complications handled at your practice?
What are my options if I am dissatisfied with the cosmetic outcome of my facelift?
It is important that you never feel rushed during your consultation nor should you feel pressured to make a decision about undergoing a facelift on the spot. You should feel confident about your surgeon and comfortable that he or she has answered all of these nine questions before you schedule your facelift surgery. It is essential that you do your part as well which includes carefully following pre- and post-procedure advice to minimize bruising, swelling and stave off complications.
To schedule an appointment with double board-certified facial plastic surgeon Sam Rizk, MD,  call us at 212-452-3362.
Related Blog Posts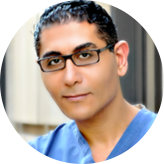 By Dr. Sam S. Rizk, M.D., FACS.
Dr. Rizk is a double board-certified facial plastic surgeon who specializes in rhinoplasty surgery and a recognized expert on the latest advances in facial plastic surgery techniques. He performs a range of facial plastic surgeries at his New York practice.